This Shakshuka is a vibrant and flavorful dish featuring poached eggs nestled in a vibrant tomato and bell pepper sauce, spiced with garlic, paprika, and more. This delectable Mediterranean-inspired recipe creates a satisfying and healthy breakfast, brunch or dinner.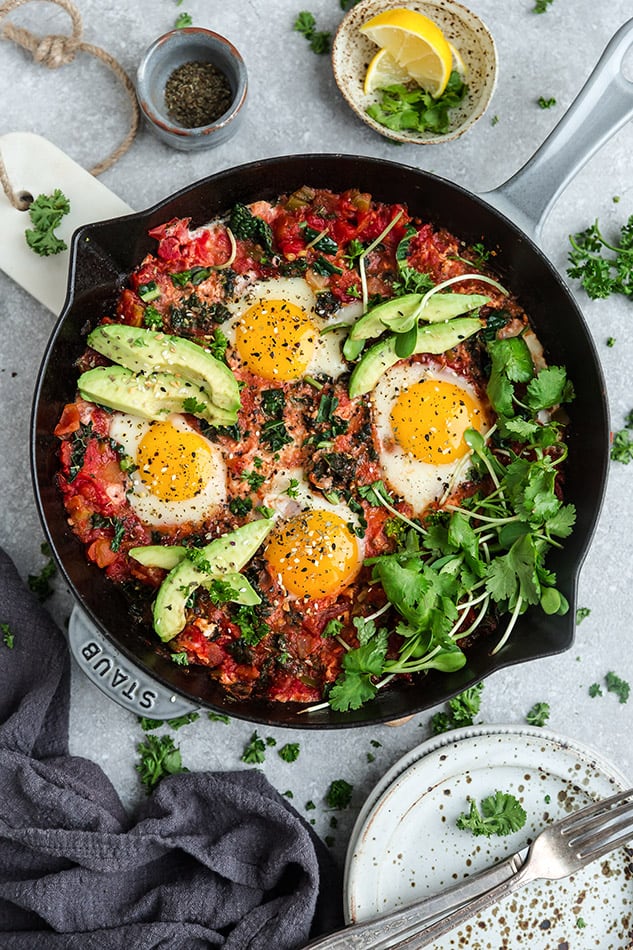 Updated June 2023
Shakshuka Recipe
Searching for a delicious and healthy brunch recipe? Look no further than this mouthwatering Shakshuka dish! Packed with vibrant flavors and nourishing ingredients, this Mediterranean-inspired recipe is sure to please both your taste buds and your body.
Shakshuka offers a delightful combination of flavors, with the sweetness of tomatoes, the smokiness of spices, and the creaminess of the eggs. It can be customized to suit individual preferences, allowing for variations in spice levels, vegetable choices, and additional ingredients.
Whether you're a fan of Mediterranean cuisine or simply looking to explore new flavors, shakshuka is a dish worth trying. Its simplicity, versatility, and rich history make it a perfect addition to your culinary repertoire. So, grab a skillet, gather your favorite vegetables, and embark on a flavorful journey with this delicious and nutritious dish!
Plus, this easy and healthy breakfast recipe is also gluten-free, low carb, keto-friendly and if you leave out the feta, it is also Whole30 and paleo-friendly.
What is Shakshuka
Shakshuka or Shakshouka is a delicious combination of poached eggs, tomatoes, and spices that you cook all in one pan or a skillet. It is similar to the Italian "eggs in purgatory" or Turkish menemen.
Where does Shakshuka originate from?
Shakshuka is a popular dish with North African and Middle Eastern roots, and is thought to likely originated from Tunisia or Yemin but has also become a breakfast staple in Libya, Egypt, Turkey and Israel. There are a few variations of this dish depending on where you have it and the word shakshuka in Arabic means "all mixed up" or a "haphazard mixture".
The traditional dish is known for its delicious combination of eggs poached in a flavorful tomato and vegetable sauce. It has gained popularity worldwide for its unique taste, simplicity, and versatility. The word "shakshuka" is believed to have originated from Arabic and Hebrew, meaning "a mixture".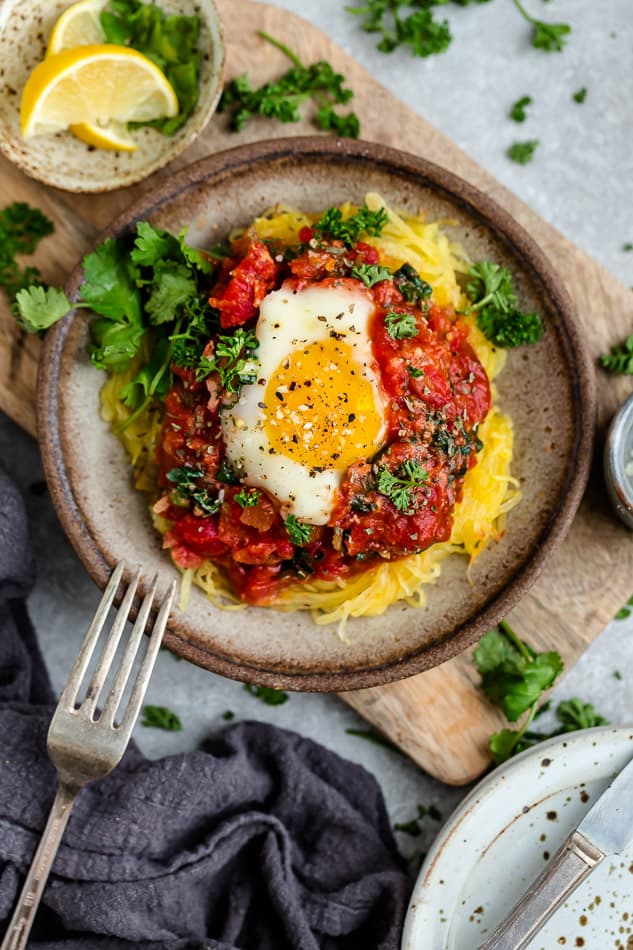 Recipe Ingredients
Let's take a look at the essential ingredients that make this Shakshuka so delightful:
Onion and Red Bell Pepper: These veggies form the flavorful base of the dish, adding natural sweetness and texture to the sauce.
Garlic: The minced garlic brings a wonderful aroma and depth of flavor to the dish.
Seasonings: Fine sea salt, freshly cracked black pepper, garlic powder, smoked paprika, dried oregano, dried basil, cumin, and optional chili powder create a symphony of flavors that make Shakshuka so irresistible.
Eggs: The stars of the show! Eggs are gently poached in the tomato-pepper sauce, adding richness and protein to the dish.
Diced Tomatoes: They form the foundation of the sauce, providing a luscious and tangy base.
Kale: This leafy green adds a nutritious boost to the dish, contributing vitamins and minerals.
Dairy-Free Ricotta or Feta (Optional): For those who prefer a creamier and tangier touch, dairy-free ricotta or feta can be added as a delightful topping.
Optional toppings: 
Microgreens
Avocado
Red pepper flakes
How To Make Shakshuka
Preheat and Saute: Preheat your oven to 375 degrees Fahrenheit. In a large pan. Add a drizzle of avocado oil and sauté the diced onions and red bell peppers over medium heat. Cook them until slightly soft, which usually takes about 3 minutes. Now, add the minced garlic and cook for an additional minute until its fragrance fills the air. Stir in the fine sea salt, freshly cracked black pepper, garlic powder, smoked paprika, dried oregano, dried basil, cumin, and optional chili powder. Let these amazing spices blend together and create a tantalizing aroma.
Sauce and Simmer: It's time to add the star ingredient – the diced tomatoes. Pour in the can of diced tomatoes, but slightly drain them before adding. Allow the sauce to simmer for about 8 minutes, during which it will thicken beautifully. Take a moment to taste the sauce and adjust the seasoning with more salt and black pepper, if needed. Next, stir in the chopped kale and let it wilt into the savory goodness for about 2 minutes.
Create Wells and Add Eggs: With a wooden spoon, gently make four small wells in the tomato-pepper sauce. Now, carefully crack an egg into each well. The sauce should be gently cradling the eggs, and it's essential not to break the yolks. For a beautiful presentation, sprinkle a little extra salt, pepper, and crumbled dairy-free ricotta or feta (if using) on top of each egg.
Into the Oven: Transfer the pan to the preheated oven, and let the magic happen. Bake the Shakshuka uncovered for approximately 20 minutes, or until the eggs reach your desired texture. Some prefer runny yolks, while others like fully cooked ones – the choice is yours!
Garnish and Serve: Once your Shakshuka is out of the oven, it's time to elevate its appearance and taste even further. Top it with fresh herbs and microgreens for a burst of color and flavor. If you love avocados, serve your Shakshuka with slices or chunks on the side for a creamy and delicious addition. The dish is now ready to be savored and enjoyed!
Tips for Success: Mastering the Art of Shakshuka
To ensure your Shakshuka turns out perfectly every time, consider these tips:
Use a large pan: Ensure you have enough space for the sauce and eggs. A wide skillet or cast-iron pan works best.
Preheat the Skillet: Preheating your skillet before adding the ingredients helps to achieve a beautifully cooked dish with a balanced texture.
Simmer the sauce: Allowing the tomato-pepper sauce to simmer helps thicken it and infuse the flavors.
Create wells for the eggs: Make gentle depressions in the sauce to hold the eggs while they cook.
Monitor egg doneness: Keep an eye on the eggs in the oven to achieve your desired level of doneness. The yolk can be runny or fully cooked, depending on your preference.
Customize the Spiciness: Adjust the amount of chili flakes or hot sauce according to your personal preference for spiciness.
Experiment with Seasonings: Feel free to get creative with herbs and spices like cumin, paprika, or coriander to add an extra layer of flavor to your Shakshuka.
Variations of Shakshuka:
Shakshuka is a versatile dish that can be customized to suit various tastes and dietary preferences. Here are a few popular variations you can try:
Green Shakshuka: This variation swaps the traditional tomato base with a bed of sautéed greens like spinach, kale, or Swiss chard. The eggs are then added on top of the greens and cooked until done.
Spicy Shakshuka: If you love heat, you can increase the spice level by adding more chili flakes, hot sauce, or even fresh chili peppers to the sauce. Adjust the spiciness to your liking and enjoy a fiery version of this classic dish.
Mediterranean Shakshuka: Incorporate Mediterranean flavors by adding ingredients like feta cheese, Kalamata olives, and fresh herbs such as basil or parsley. The tangy cheese and briny olives add a delightful twist to the traditional recipe.
Veggie-loaded Shakshuka: Feel free to get creative and add a variety of vegetables to your Shakshuka. Consider adding zucchini, eggplant, mushrooms, or any other vegetables you enjoy. Just ensure they are cooked until tender before adding the eggs.
Seafood Shakshuka: For seafood lovers, you can enhance the dish by adding shrimp, mussels, or white fish fillets to the sauce. Simmer the seafood in the sauce until cooked through and then proceed with adding the eggs.
Serving Suggestions for Shakshuka:
Shakshuka is a versatile dish that can be enjoyed in various ways. Here are some serving suggestions to elevate your Shakshuka experience:
Crusty Bread: Serve your Shakshuka with slices of crusty bread such as baguette, sourdough, or ciabatta. The bread can be toasted or warmed to provide a satisfying crunch when dipped into the flavorful sauce.
Pita Bread: Another great option for dipping is soft and fluffy pita bread. Cut the pita into wedges or tear it into smaller pieces for a delightful scoop of Shakshuka.
Flatbread: Try serving your Shakshuka with warm flatbread, such as naan or lavash. The soft texture and mild flavor of the bread complement the rich and tangy sauce.
Rice or Couscous: For a heartier meal, serve your Shakshuka over cooked rice or fluffy couscous. The grains absorb the flavorful sauce, adding a comforting element to the dish.
Side Salad: Pair your Shakshuka with a fresh side salad to add a burst of freshness and crunch. A simple salad of mixed greens, cucumber, cherry tomatoes, and a lemony dressing can provide a refreshing contrast to the warm and robust flavors of the Shakshuka.
Yogurt or Labneh: Add a dollop of plain yogurt or creamy labneh (strained yogurt) on top of your Shakshuka. The cool and tangy yogurt complements the spiciness of the sauce and adds a creamy element to each bite.
Fresh Herbs: Sprinkle some fresh herbs like chopped parsley, cilantro, or basil over the Shakshuka just before serving. The herbs add a pop of color and an aromatic freshness to the dish.
Feta Cheese: Crumble some feta cheese on top of the Shakshuka for a tangy and salty kick. The creamy texture of the cheese pairs well with the rich tomato sauce.
Storage and Freezer Instructions
If you have leftovers or want to make Shakshuka ahead of time, follow these storage and freezer instructions:
Refrigeration: Allow the Shakshuka to cool completely before transferring it to an airtight container. It can be stored in the refrigerator for up to 3-4 days.
Freezing: If you want to freeze the Shakshuka, let it cool and then transfer it to a freezer-safe container. It can be stored in the freezer for up to 2-3 months. When ready to consume, thaw overnight in the refrigerator and reheat gently on the stovetop.
Frequently Asked Questions (FAQ):
Can I make shakshuka ahead of time? Yes, you can prepare the sauce ahead of time and refrigerate it. When you're ready to serve, reheat the sauce and then add the eggs and cook them as directed in the recipe.
Can I use canned tomatoes instead of fresh ones? Absolutely! Canned tomatoes work well in shakshuka and can provide a consistent flavor throughout the year. Opt for whole or diced canned tomatoes and crush them slightly with a spoon before adding them to the sauce.
Can I make shakshuka without eggs? If you prefer a vegan or egg-free version, you can substitute the eggs with tofu cubes or chickpeas. Add them to the sauce and cook until heated through.
How do I adjust the spiciness level of shakshuka? The level of spiciness in shakshuka can be adjusted to your taste. Start with a small amount of chili flakes or hot sauce, and gradually add more as needed. Remember, you can always add more spice, but it's challenging to reduce it once added.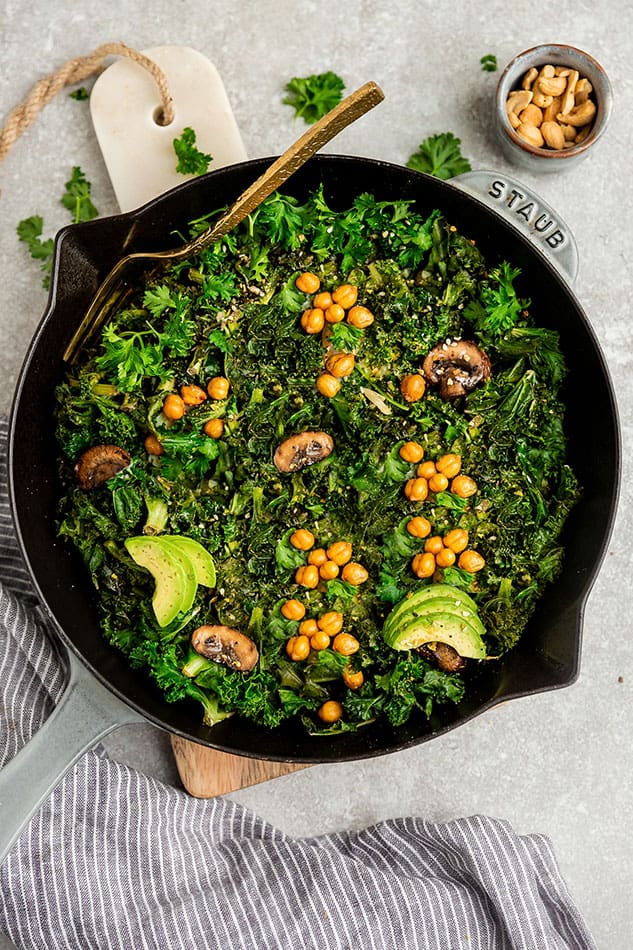 Other Healthy Mediterranean-Inspired Recipes You Will Love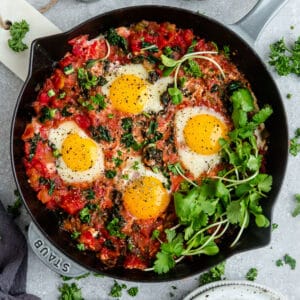 Shakshuka
This Shakshuka is a vibrant and flavorful dish featuring eggs poached in a savory tomato and vegetable sauce. It's a Mediterranean-inspired recipe combines the goodness of tomatoes, bell peppers, onions, and aromatic spices to create a satisfying and healthy breakfast, brunch or dinner.
Keyword:
shakshuka, shakshuka recipe, shakshuka with feta
Ingredients
1

small onion

, diced

1

red bell pepper

, seeded and diced

2

cloves

garlic

, minced

fine sea salt

to taste

freshly cracked black pepper

to taste

1/4

teaspoon

garlic powder

1

teaspoon

smoked paprika

4

eggs

1/2

teaspoon

dried oregano

1/2

teaspoon

dried basil

1/4

teaspoon

cumin

1/8

teaspoon

chili powder

m optional

1

28 oz

can diced tomatoes

, slightly drained

1/2

cup

chopped kale
OPTIONAL: LEAVE OUT FOR PALEO OR WHOLE30
1/3

cup

dairy-free ricotta OR feta

, crumbled
Instructions
Preheat the oven to 375 degrees Fahrenheit. In a large pan with avocado oil, add the onions and bell peppers and saute over medium-heat.

Cook the onions and bell peppers until slightly soft, about 3 minutes or so. Add the garlic and cook an extra minute until fragrant. Stir in the seasonings.

Pour in the drained tomatoes and allow to simmer until the sauce thickens, about 8 minutes. Season with salt, black pepper and stir in the kale and cook until kale wilts, about 2 minutes

Use a wooden spoon to create four small wells in the mixture. Gently crack an egg into each well. Top with salt, pepper, and crumbled cheese, if using. Transfer the pan to the oven.

Bake uncovered for about 20 minutes or until the eggs have reached desired texture. Top with fresh herbs, microgreens and serve with avocado as desired.
Recipe Video
Recipe Notes
Notes*
In place of the eggs, add 1 tablespoon of chickpeas into each well of the mixture and bake uncovered for 7-10 minutes.
Nutrition Facts
Shakshuka
Amount Per Serving (1 serving)
Calories 89
Calories from Fat 36
% Daily Value*
Fat 4g6%
Carbohydrates 6g2%
Protein 6g12%
* Nutrition facts are provided as a courtesy using the WPRM recipe calculator. It is best to make your own calculations to ensure accuracy. We expressly disclaim any and all liability of any kind with respect to any act or omission wholly or in part in reliance on anything contained in this website. Percent Daily Values are based on a 2000 calorie diet.
Disclaimer: This updated post was generated on June 6, 2023 by ChatGPT, an AI language model, and all info should be reviewed and validated by a human for accuracy and relevancy before implementation.