Strawberry shortcake truffles made with Golden Oreo cookies and cream cheese.   The dough balls are stuffed with fresh strawberries and whipped cream then dipped into melted white chocolate.  A simple and fun way to enjoy the classic strawberry shortcake.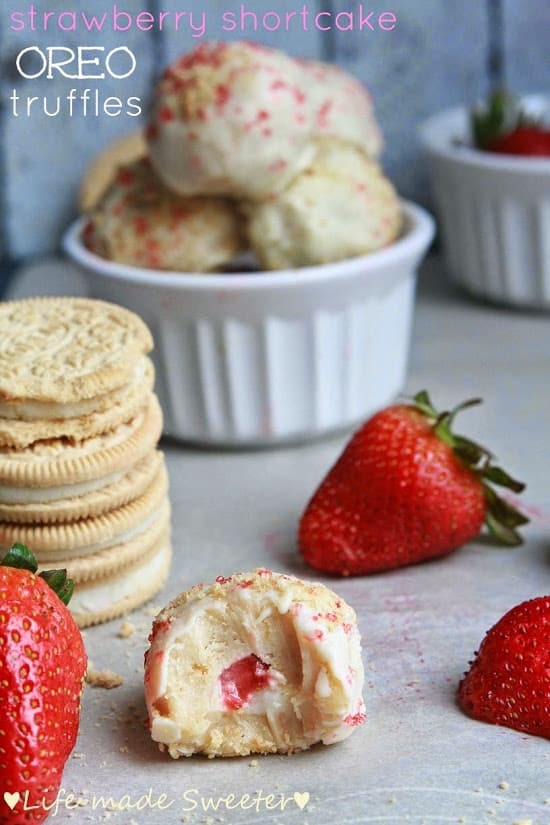 center>
Happy Friday friends!
I brought truffles to celebrate that the weekend is almost here again!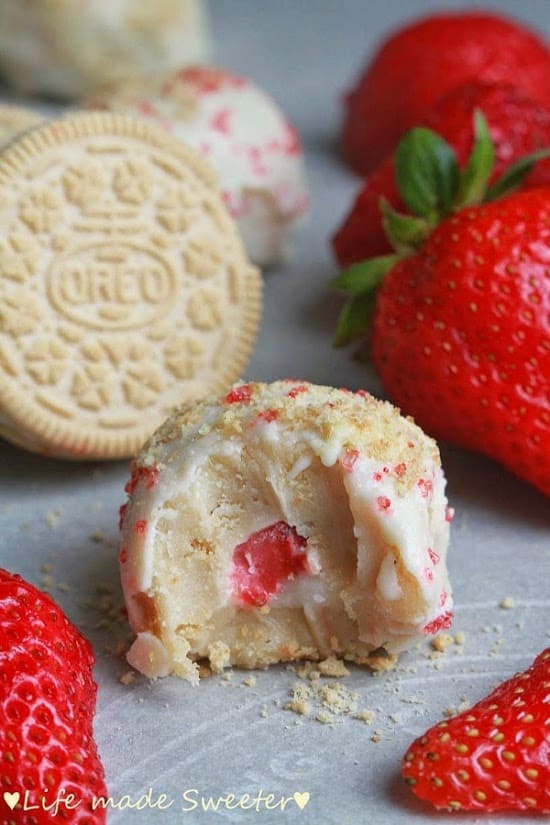 Not just any truffles though…
Strawberry Shortcake Golden Oreo Truffles!
Because it's felt like a long and tiring week and truffles were just what I needed to keep me going.
Oreo truffles are so easy to whip up and you ONLY need 3 ingredients.
Oreo cookies, cream cheese and melted chocolate.
Of course adding sprinkles or sanding sugar makes them prettier.  So make that 4 ingredients.
But since I had some strawberries that were getting lonely,  I chopped some up and stuffed them into the truffle balls along with some fresh whipped cream.
Because stuffed desserts are just so much more fun.
Coated with white chocolate and Oreo cookie crumbs, these guys are like strawberry shortcake in truffle form.
So, if you've had a long week and are craving strawberry shortcake but don't feel like turning on your oven, these simple no-bake treats are just what you need.
You might also like these stuffed treats:
Stuffed Almond Joy Energy Bites
Cranberry Stuffed Oreo Truffles
Thanks so much for reading Life Made Sweeter.  You can also stay connected with me on:
Facebook | Twitter | Pinterest | Google+ | Instagram | Bloglovin