Confused about what to do with those canned black beans? This incredible list of simple recipes  features some of our favorite meals that are so easy to make! By using canned beans and basic ingredients, these recipes will satisfy any craving for dinner. From pastas and soups to skillet-meals, these bean recipes are awesome!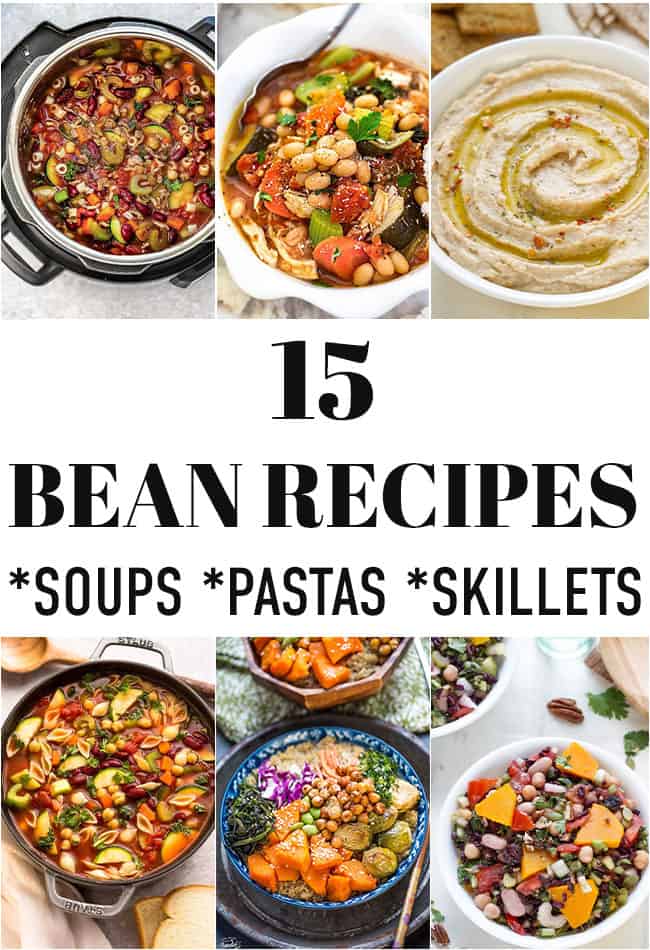 Canned Beans
Canned beans are great because of the amount of protein located in them. Not only are they full of protein, but they are super budget-friendly, too. Now that most of us are staying home, canned beans are probably one of things most families have stocked up on beans for your pantries.
The options are limitless when it comes to bean recipes, like soups, pastas, salads, chili, etc. When we are in a pinch for dinner, we simply resort to a can of beans (or two) to really take care of things. Perfect for vegan or vegetarian meals, canned beans can honestly be life-savers as long as there is not a known allergy to them.
Roasted Vegetable Buddha Bowls
These vegetable bowls loaded with protein and fresh ingredients are incredibly colorful and delicious! This yummy recipe contains basic ingredients like quinoa, broccoli,  savory brussels sprouts, and garbanzo beans. Perfect for lunch or dinner, these Buddha bowls come together in no time and can really please a crowd.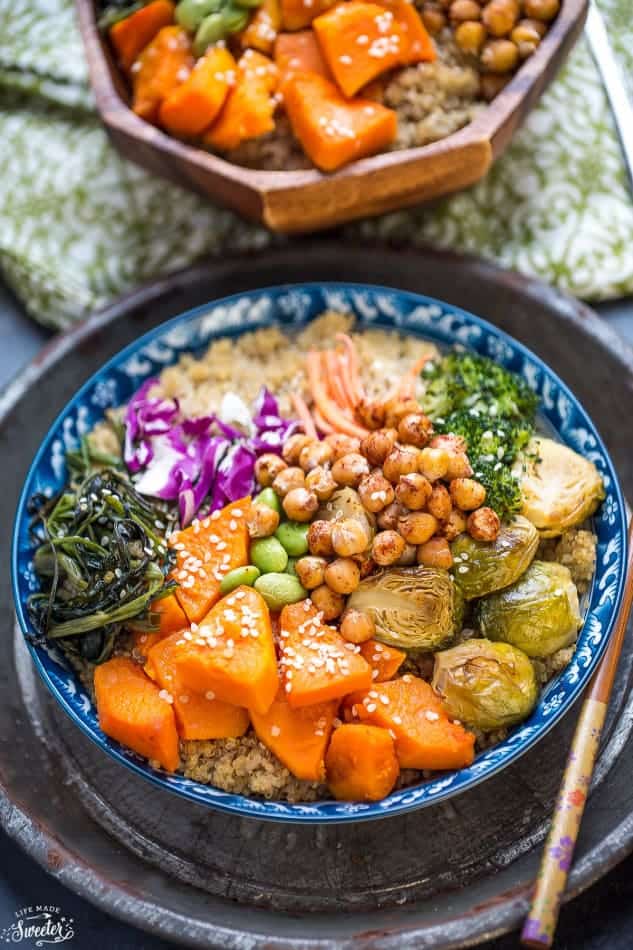 Roasted Vegetable Buddha Bowls
Classic Bean Burgers
This classic bean burger recipe is one of our favorite ways to use canned black beans for a recipe, and they are hearty and full of protein! These burgers are great for any family night at home, which is great. Effortless and delicious, these burgers can be paired with our easy  sweet potato fries.
Classic Bean Burgers by Pinch of Yum
One Pan Taco Pasta Skillet
Our pasta skillet meal is savory and tastes incredible for any dinner. Made with canned black beans and other basic zesty  ingredients, this taco recipe truly stands out with corn, tomatoes, and fresh herbs. Pasta is great for the entire family, especially when it is freezer-friendly and loaded with warm spices!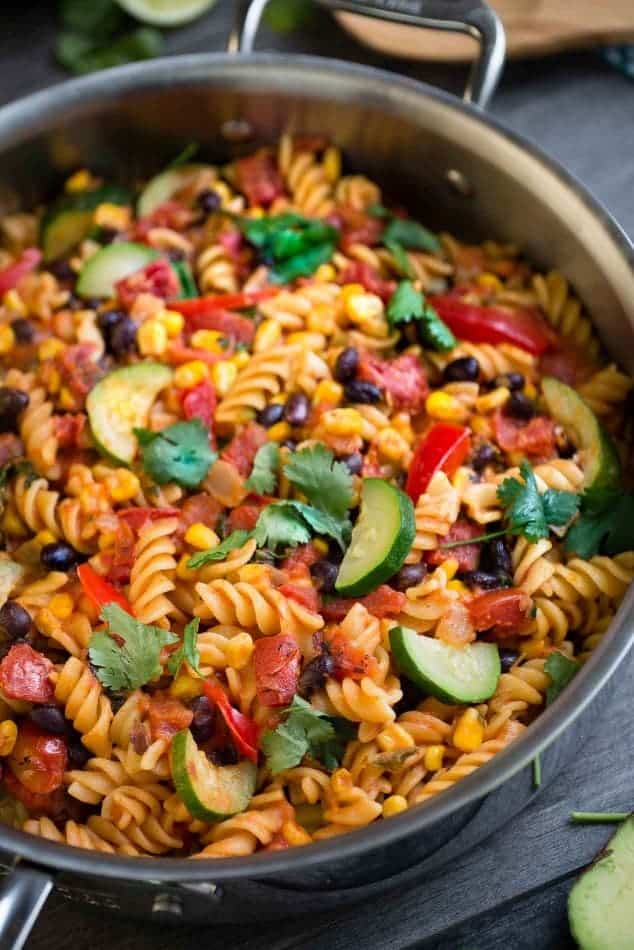 Sweet Potato and Black Bean Nachos with Green Chile Salsa
These sweet potato nachos are irresistible and contain just the right amount of spices to really heat things up. Healthy, then flavorful, this simple recipe uses black beans and is covered with a yummy chile sauce. The sauce can be made from canned green chiles!
Sweet Potato and Black Bean Nachos by Half Baked Harvest
Hearty Vegetable Tuscan Chicken Soup
Inspired by Italy, this savory soup is loaded with tender chicken and fresh flavors. Super easy to throw together for a busy night at home, this Tuscan soup made with beans is definitely a classic and family-friendly recipe. You'll love this one pot meal because it freezes so well.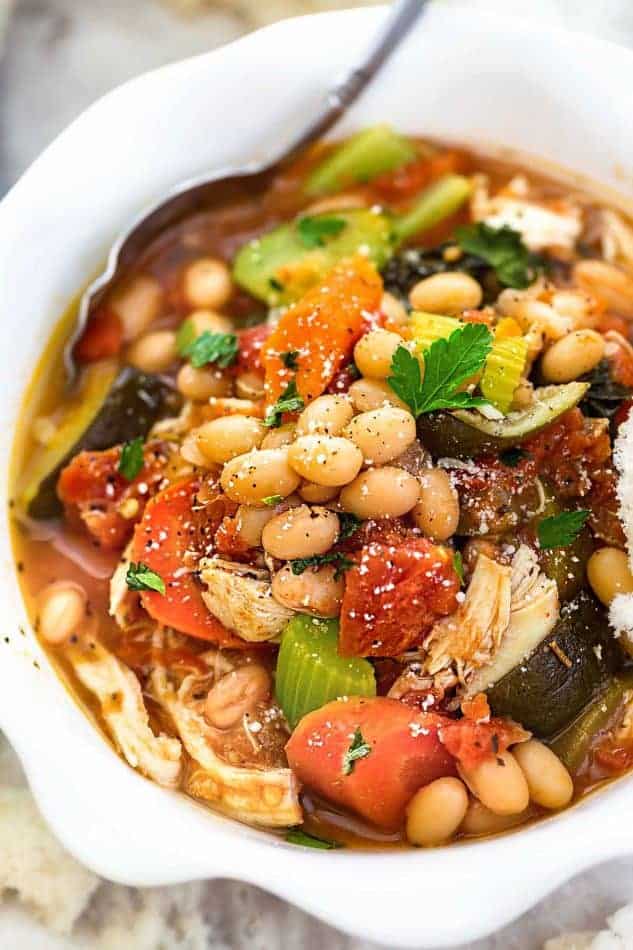 Hearty Vegetable Tuscan Chicken Soup
Roasted Red Pepper Pasta
This pasta is definitely comfort food material and suitable for any family meal! Delicious and savory, this red pepper pasta is filled with canned beans, fresh garlic, basil, and pepper. Pasta is satisfying and so easy to make, especially when it contains pantry ingredients.
Roasted Red Pepper Pasta by Half Baked Harvest
Minestrone Soup
This classic minestrone soup is made with canned beans, pasta, and flavorful vegetables that are so full of flavor and easy to find. Comforting, mess-free, and just all-around-delicious, this simple soup is great as a weekly rotation for dinner. The best part? It's great for meal prep and the leftovers are incredible!
Sweet Potato, Black Bean, and Corn Enchiladas
These vegetarian enchiladas are super easy to make and taste amazing. Besides canned black beans, all that is needed for this recipe are just a few basic ingredients such as corn tortillas, sweet potatoes, corn, cheese, and a yummy enchilada sauce. This is one of our favorite recipes for weekly dinners at home because it also freezes well.
Sweet Potato, Black Bean, and Corn Enchiladas by Flavor The Moments
Simple & Easy Hummus Without Tahini
Do you know that making hummus at home is incredibly simple? Ready in about 10 minutes, this easy hummus recipe uses basic ingredients such as canned garbanzo beans, garlic, fresh lemon juice, and shelf stable spices. Of course, it is perfect for snacking or as an appetizer!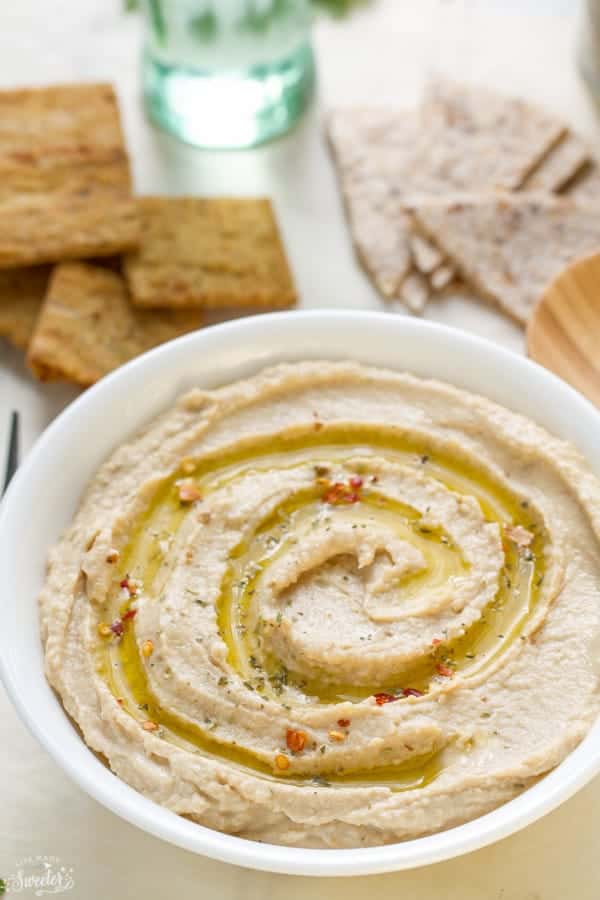 Simple & Easy Hummus Without Tahini
Skillet Rice and Beans with Creamy Avocado Sauce
This easy rice and beans recipe made in the skillet is so good, and it's perfect for quick dinners. Super simple and mess-free, this recipe is filled with canned black beans, corn, spices, tomatoes, and lime. It comes together in hardly no time, and it is versatile, too!
Skillet Rice and Beans by Healthy GF Family
Instant Pot Pasta e Fagioli Soup
Classic and full of flavor, this delicious Italian soup is so bright and tastes incredible.  This soup made in the Instant Pot contains canned kidney beans, ground turkey (can be left out), tomatoes, and other delicious flavors typically found in Italian cuisines. We love how quickly it can come together all thanks to the pressure cooker.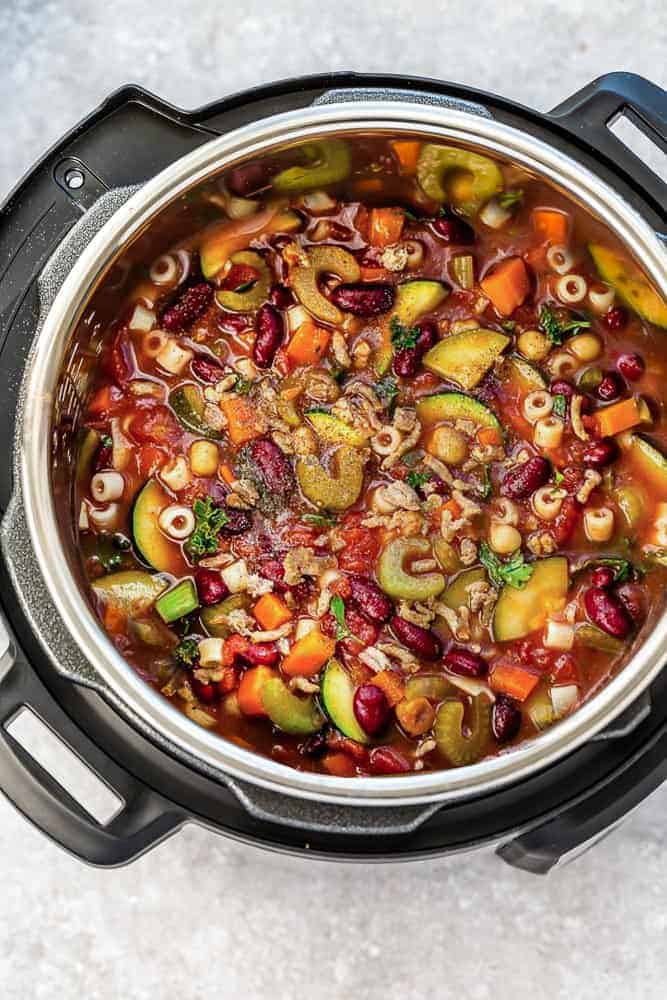 Instant Pot Pasta e Fagioli Soup
Instant Pot Veggie Loaded Turkey Chili
Made in Instant Pot, this turkey chili is loaded with fresh vegetables which make it super healthy! This comforting chili contains some additional protein all thanks to the canned black beans and turkey, and it is truly a family favorite!
Instant Pot Veggie Loaded Turkey Chili by The Real Food Dieticians
Mixed Bean and Wild Rice Salad
This salad is perfect for summer and comes together within minutes, and it is full of fresh ingredients! Tender rice is combined with canned beans and fresh ingredients like parsley, tomatoes, and onions. Simple and fun, mixed bean salad is perfect for backyard fun.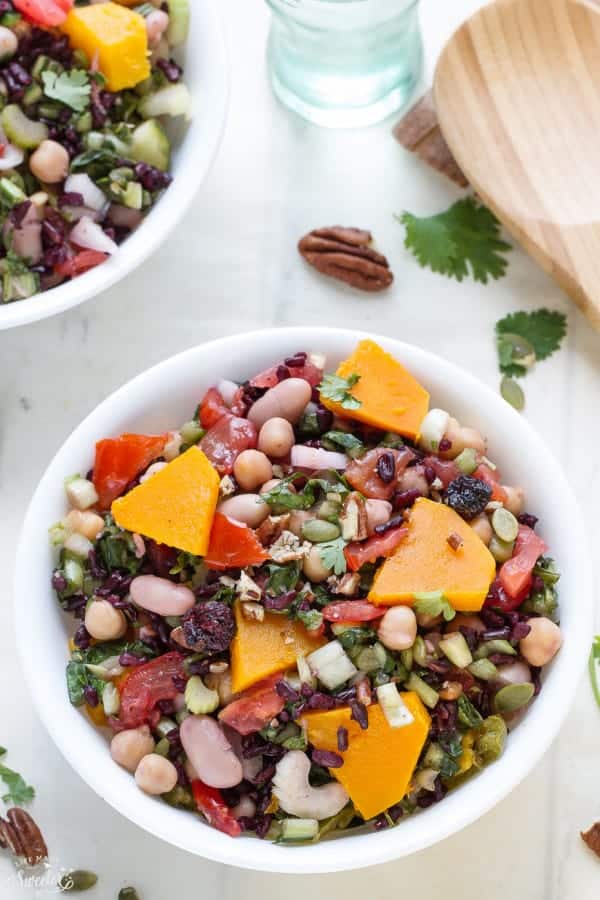 Mixed Bean and Wild Rice Salad
Bourbon Peach BBQ Baked Beans
This baked beans recipe uses some incredible ingredients, which can typically be found around the kitchen. A rich barbecue sauce paired with canned cannellini and pinto beans makes this recipe  suitable for warm weather. The family will really love this festive recipe!
Bourbon Peach BBQ Baked Beans by Half Baked Harvest
Slow Cooker Chicken Enchilada Quinoa Soup
This "dump it and forget about it" soup is super zesty and so easy to make. We make this Mexican meal at least once a week because it is so simple! Our families love the fresh and healthy ingredients that are combined with tender chicken and canned beans.