Trying to brainstorm how to stock your pantry with healthy pantry staples? We have gathered a comprehensive list of healthy ingredients we like to keep in our pantries all year long so we can make easy pantry recipes. Whether you are trying to cut back on spending or wanting to stay in more, these family-friendly ingredients are great for any meal of the day! 
PIN HERE for later and follow my boards for more recipe ideas
This list of pantry staples for healthy eating is definitely handy and convenient in the event of an emergency and for those times when you're stuck at home if you're sick. With these essential items, any recipe can be created out of comfort of your own kitchen without having to make a trip to the grocery store or supermarket.
Having a well stocked pantry is key especially during these uncertain times when you need to stay at home more.
It's important to have a good variety of perishable and non-perishable foods so be sure to keep a well stocked fridge and freezer when thinking of pantry staples. This way, you can put together a quick and easy meal for your family without having to leave the house or go out for takeout.
PANTRY ESSENTIALS
Here are some of the most essential items we try to keep on hand, or stock up on when we are able to. For the fresh items, we have listed food that tends to keep longer than a few days. If there is a particular method for keeping them fresher longer, we've listed them. 
BAKING FLOURS
Coconut flour
Almond flour
Gluten-free all purpose flour
All Purpose flour
Tapioca flour
ARE THERE ANY OTHER STAPLES FOR BAKING?
We are definitely in love with a variety of baking ingredients, and we strongly suggest keeping the basics on-hand. No matter what type of lifestyle one may follow, there are so many types of ingredients suitable for any need.
Arrowroot starch – paleo friendly
Tapioca starch – paleo friendly
Baking powder
Baking soda
Cacao powder or unsweetened cocoa powder
Salt
Dark chocolate, cacao nibs and dairy-free chocolate chips
HEALTHY SWEETENERS TO KEEP IN THE PANTRY
Granular and Liquid Monk Fruit Sweetener (a few other low carb sweeteners include erythritol and liquid stevia)

paleo sweeteners: Maple syrup, date syrup and coconut sugar
Other sweeteners that other members of my family use are: honey, agave syrup and molasses
WHAT OTHER DRIED GOODS SHOULD I KEEP STOCKED IN THE PANTRY?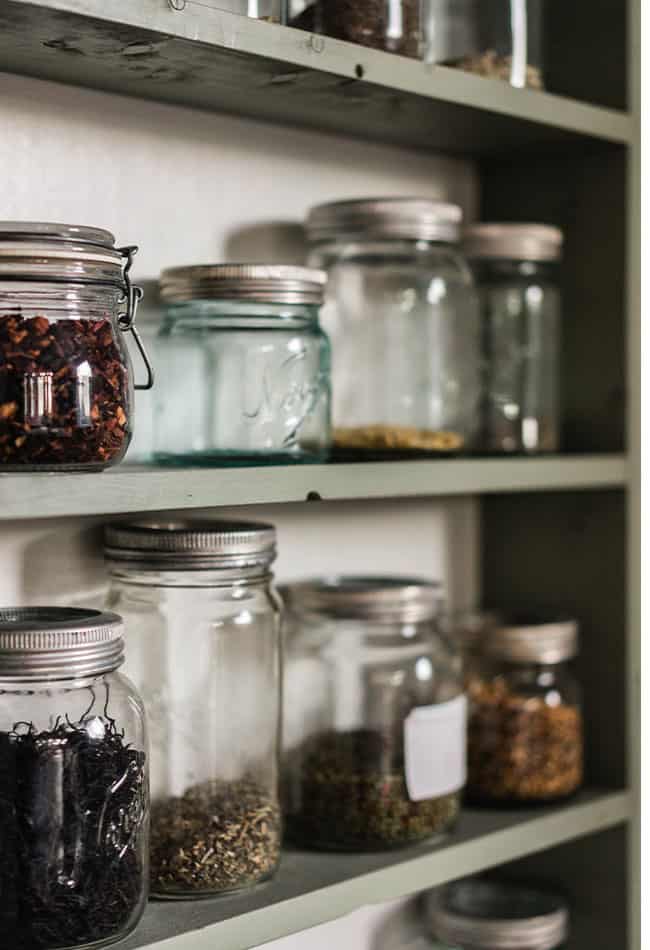 These essential dried goods and super important for baking and cooking! With these simple ingredients, almost any dish can be created.
Nuts and seeds such as:

roasted and / or raw almonds
cashews
peanuts
pecans – we like to purchase the big bags from Costco
pumpkin seeds / pepitas
sunflower seeds

Dehydrated or dried fruit such as:

dried apples – we get this from Costco
dried blueberries
dehydrated cranberries
apricots
dates
figs
prunes
raisins

Coconut: shredded coconut, coconut flakes and coconut chips
Oats:

steel cut oats
rolled oats
quick oats
instant oats – we usually buy the plain organic ones and add our own flavors or sweeteners as needed

Freeze dried blueberries or apples
Dehydrated mango
Any kind of rice, but we prefer jasmine or basmati
IMPORTANT SPICES AND SEASONINGS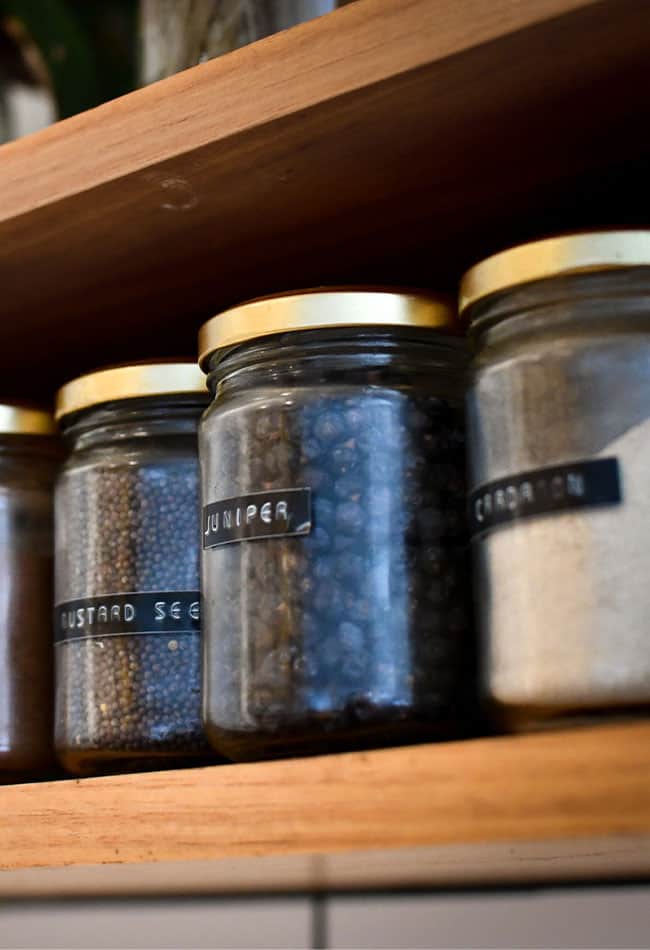 With these simple and important seasonings, any meal can be prepared. Why miss out on flavorful dishes? These key ingredients will transform any healthy dish.
Trader Joe's Everything But the Bagel Seasoning
Himalayan Pink Salt
Mulit-purpose Umami Seasoning
Garlic powder
Onion powder
Pepper
Paprika
Cumin
Turmeric
HEALTHY CANNED GOODS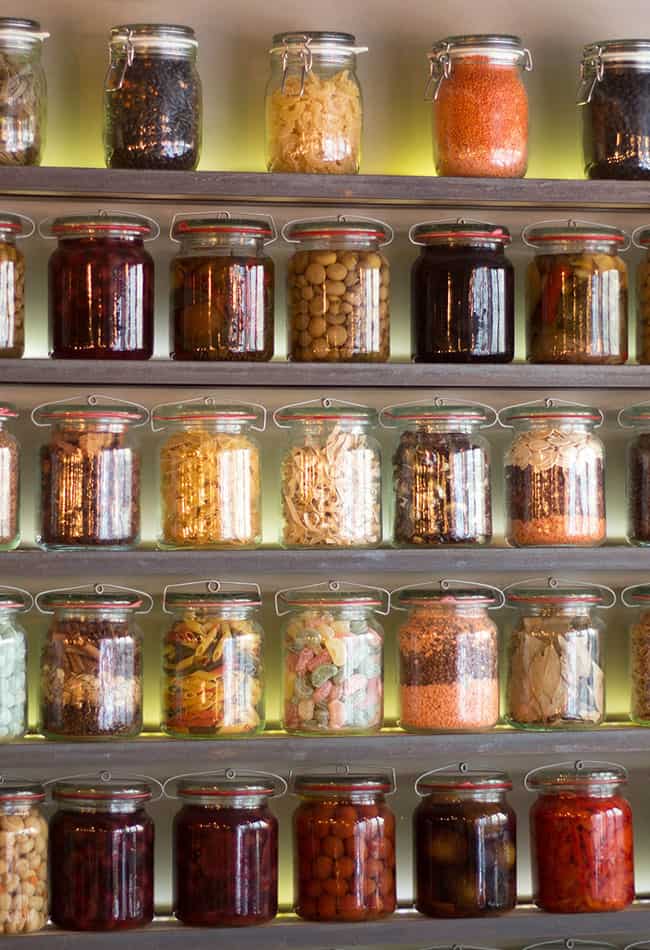 The options are limitless when it comes to canned goods. We love to keep these healthy pantry staples for soups, casseroles, homemade sauces, you name it…
Canned palmini
Jackfruit
Diced tomatoes
Peas and corn
Artichoke hearts
Coconut milk
Black beans (if you are not following a paleo, Whole30, or ketogenic diet)
Kidney beans (if not following strict nutritional lifestyle)
Garbanzo beans / Chickpeas (if you are not following a paleo, Whole30, or ketogenic diet)
Tomato paste
Tomato sauce
WHAT CONDIMENTS AND SAUCES SHOULD I HAVE AS PANTRY STAPLES?
The basics are important here. Since a lot of sauces are super easy to make and require hardly any ingredients, keep this list simple.
We love these kitchen staples for healthy eating:
Avocado Oil Mayonnaise: our favorite brands include Primal Kitchen and Chosen Foods
Sugar-free barbecue sauce
No sugar ketchup
Trader Joe's Coconut Aminos
Red Boat Fish Sauce
OILS AND FATS
These ingredients are super important, and they transform any recipe. With the right types of oils and fats, the pantry will be fully accessible.
SHELF STABLE PRODUCE FOR THE PANTRY
Looking for some produce that will last a while? This list of produce features some of our favorite must-haves when it comes to healthy and budget-friendly pantry staples for healthy eating.
Sweet potatoes
Potatoes (golden, red, or brown).
Winter Squash such as: butternut squash, spaghetti squash and acorn squash
Tomato (might have to store in the refrigerator if not using immediately. Tomatoes can also be canned)
Onions (a small variety of brown, red, and white).
Garlic
Ginger
OTHER KITCHEN STAPLES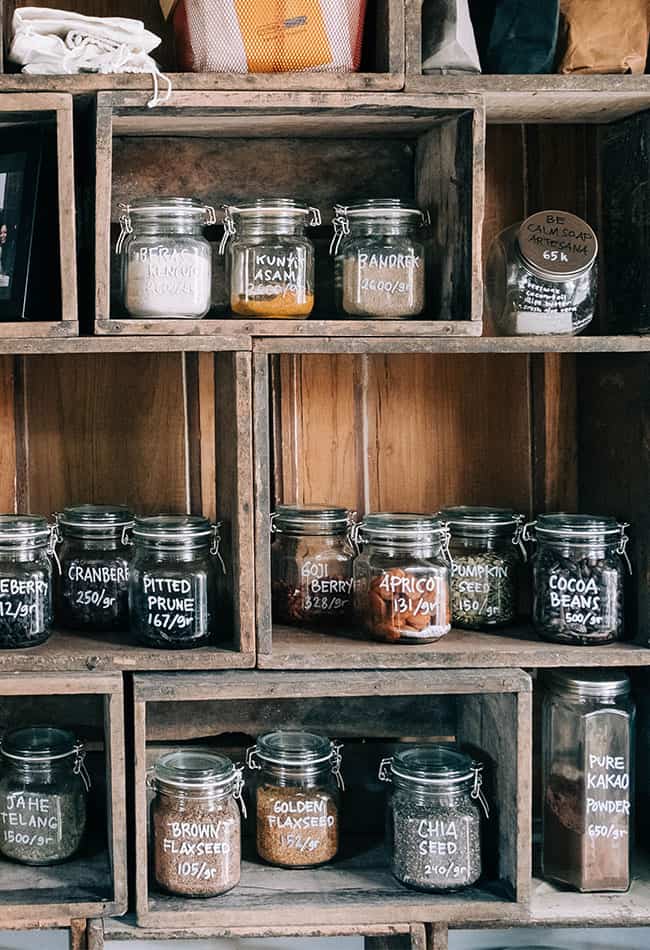 Not only do we like to stock just the basics, but we probably could not live without these additional essential pantry items. Rice is super important and can last for a really long time!
Jasmine and basmati rice
Parmesan crisps or whisps
Turkey sticks
Pork rinds
Freeze dried berries
Pili nuts
REFRIGERATED ITEMS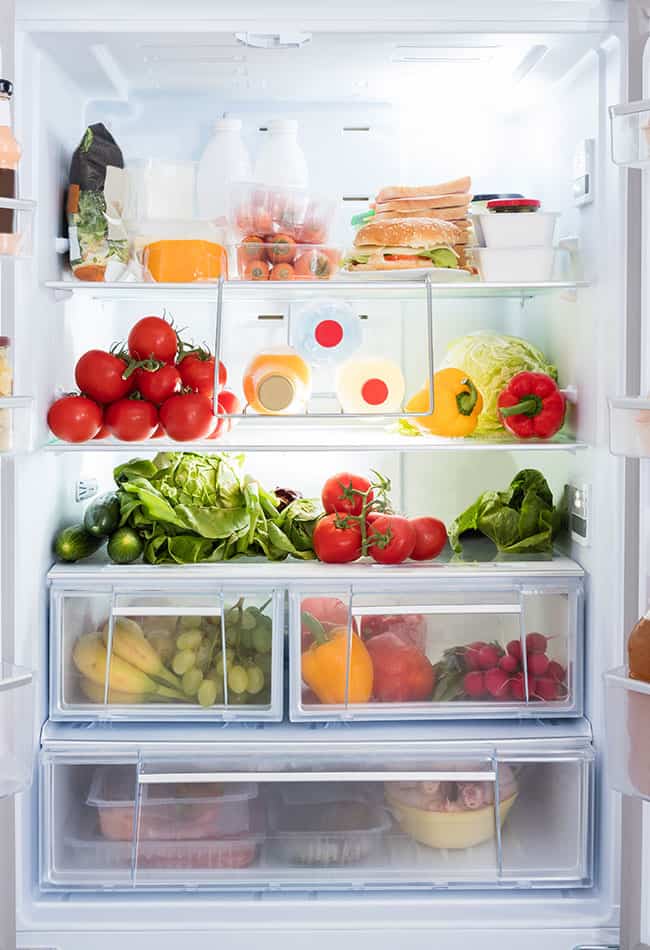 Don't forget to keep your fridge stocked with some key ingredients you and your family use often. Some of our favorites include:
Fresh produce:
We like keep a variety of fresh vegetables in our fridge:
A variety of leafy greens for salads such as: romaine lettuce, shredded iceberg lettuce, baby spinach, kale, arugula
Cabbage
Chopped carrots
Cucumber
Celery
Tomatoes: cherry tomatoes and hot house tomatoes
Mushrooms
Zucchini
Fresh fruit for the family depending on the season
Apples
Peaches
Pears
Grapes
Citrus: Oranges / Grapefruit / Lemon
Kiwi
Berries: Raspberries, Strawberries, Blueberries and Blackberries
Milk: 
dairy or dairy-free: we like to keep unsweetened almond milk – our favorite is Malk Organics or Elmhurst

Other plant milks you can include are oat, cashew etc.
Cheese 
cheddar, mozzarella, parmesan and dairy-free cream cheese / ricotta and vegan shreds  – from KiteHill, Miyokos and TreeLine
Yogurt
Greek yogurt, Skyr and dairy-free from KiteHill
Eggs
Sauces and Condiments:
Avocado Oil Mayonnaise from Primal Kitchen or Chosen Foods
Hot Sauce
Dijon Mustard
Homemade and store-bought dressings: our favorites are Primal Kitchen, Tessamae's and Chosen Foods
FREEZER ITEMS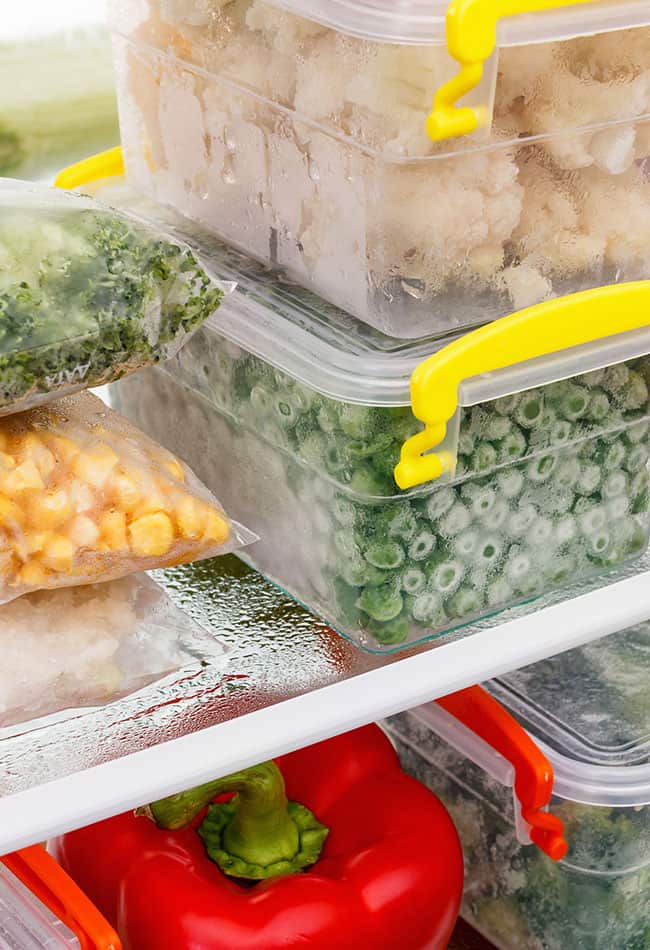 We have two freezers for our family to store a variety of things we stock up on as well as meal prepped freezer meals to keep on hand throughout the week.
A variety of Frozen vegetables such as:
 broccoli florets, frozen spinach, corn, peas, mixed vegetable medleys for stir-fry, cauliflower florets, cauliflower rice
Frozen fruits (we usually try to buy the ones with no added sugar) – these are great for making smoothies, ice cream / frozen yogurt or adding to your morning bowl of oatmeal:
blueberries, raspberries, mango, avocado chunks
Protein:
Frozen Meats: chicken, turkey, ground meat, steak and meatballs
Frozen Seafood: salmon, shrimp and scallops
Meal prepped items: 
soups
casseroles / lasagna / salmon patties
chopped garlic cubes / grated ginger cubes
OUR FAVORITE PANTRY STAPLE MEALS FOR HEALTHY EATING
We have compiled a list of our favorite meals that can be created from just the basic staples from the pantry. A lot of these recipes are family and freezer-friendly, too, which makes healthy eating and meal prepping such a breeze!
BREAKFAST AND SNACK IDEAS
OVERNIGHT OATS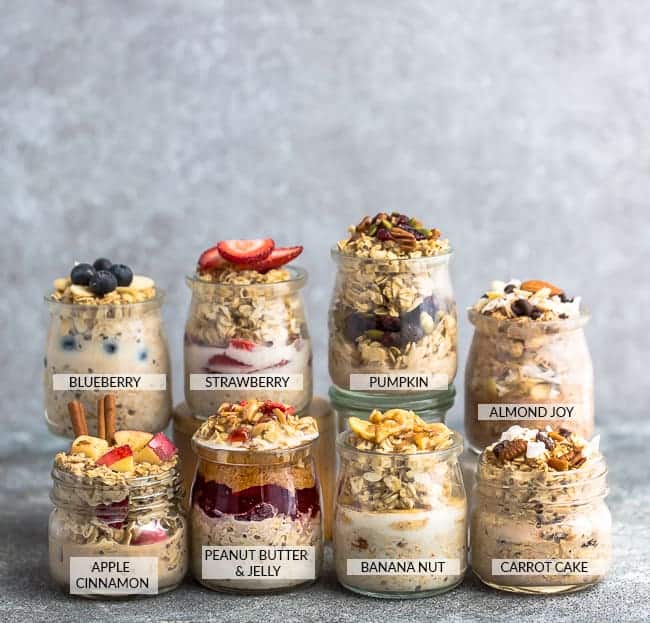 These overnight oats are not only insanely delicious, but they are incredibly healthy, too. Made with just some basic ingredients from the pantry, these oats can be prepared within minutes and last the entire week.
GRANOLA BARS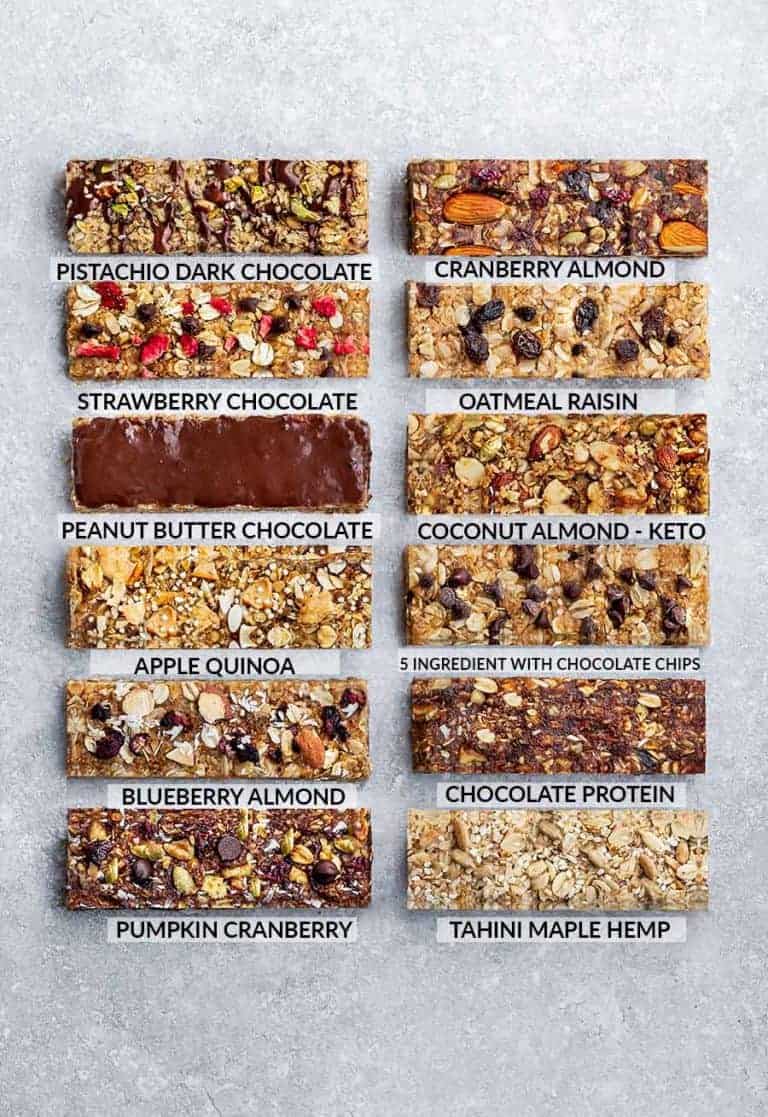 Super healthy and delicious, this granola bar recipe is the perfect pantry staple. With 12 different satisfying variations, these granola bars are great for snacking around the house. These granola bars are made with simple and cheap ingredients, and the kids will swoon over them.
BANANA BREAD OATMEAL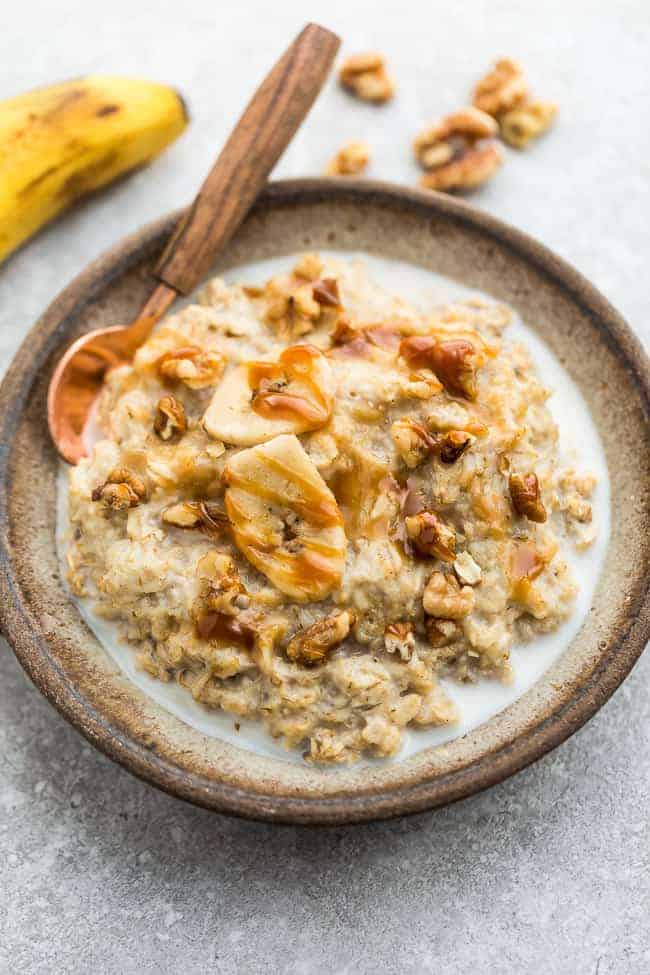 Made within minutes, this comforting banana nut bread oatmeal recipe is definitely a keeper. Super filling all thanks to pantry oats, this breakfast recipe is the perfect solution to any morning. Made with walnuts, cinnamon, and oats, this recipe is certainly a crowd-pleaser.
PALEO WAFFLES
Gluten-free and delicious, these waffles made from pantry ingredients will steal anyone's heart. Created with just a few foods, these waffles are ready in no time and super tasty. Not only are these paleo waffles nutritious, but the kids will definitely love these waffles, too!
KETO MUFFINS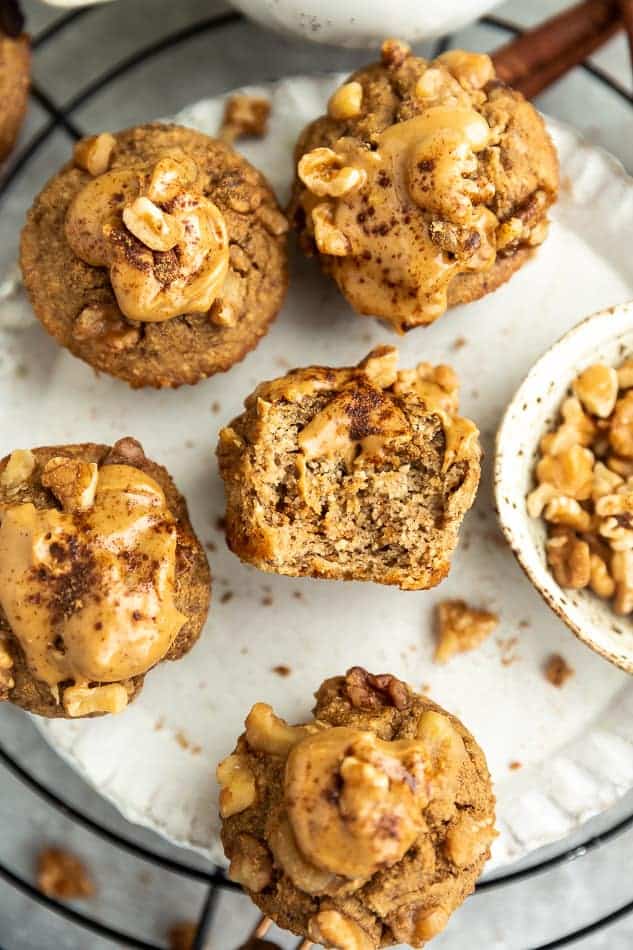 These keto muffins are super tender and delicious. Made with just a handful of basic ingredients from the pantry, these gluten-free muffins are great for the entire family. With interchangeable ingredients, these muffins can make anyone's day. The best party? They are freezer-friendly.
PROTEIN BALLS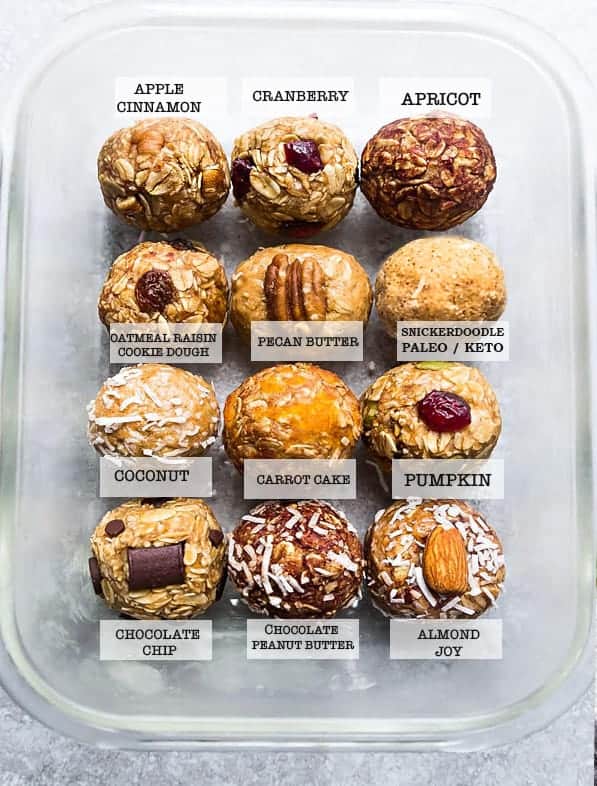 With 12 different recipes, there are options for everyone with these protein balls. Made with just some basic shelf-stable ingredients, these healthy treats will satisfy any craving whether it is breakfast or snack-time!
HEALTHY GRANOLA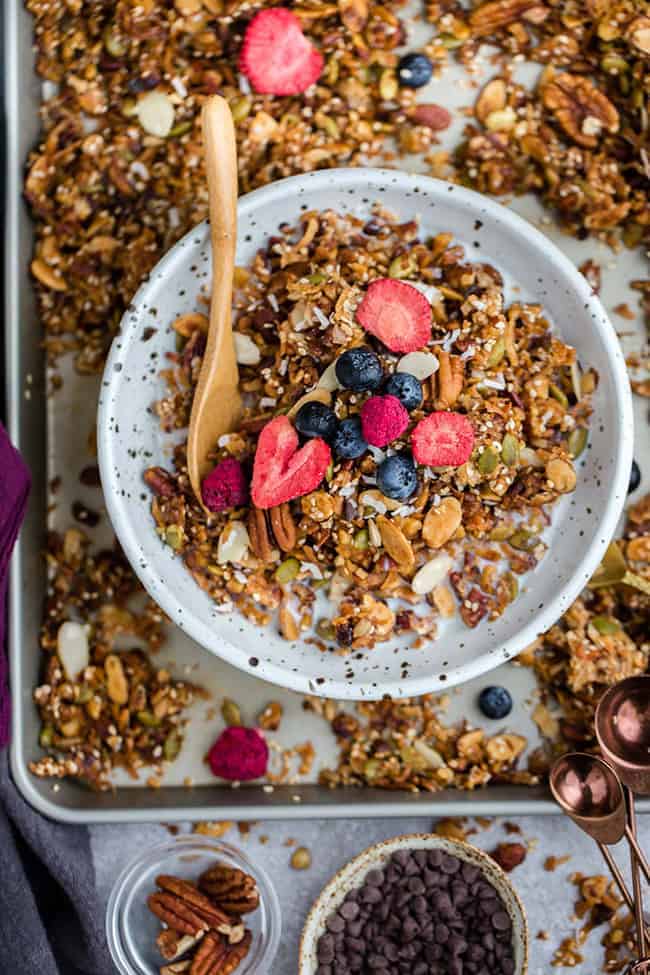 Super beautiful and bright, this healthy granola recipe is friendly for low-carb and paleo diets. This granola created in about 10 minutes is made with just a few pantry staples such as nuts, seeds, and coconut oil. Granola is great for kids and can be for breakfast or lunch!
CARROT CAKE STEEL CUT OATMEAL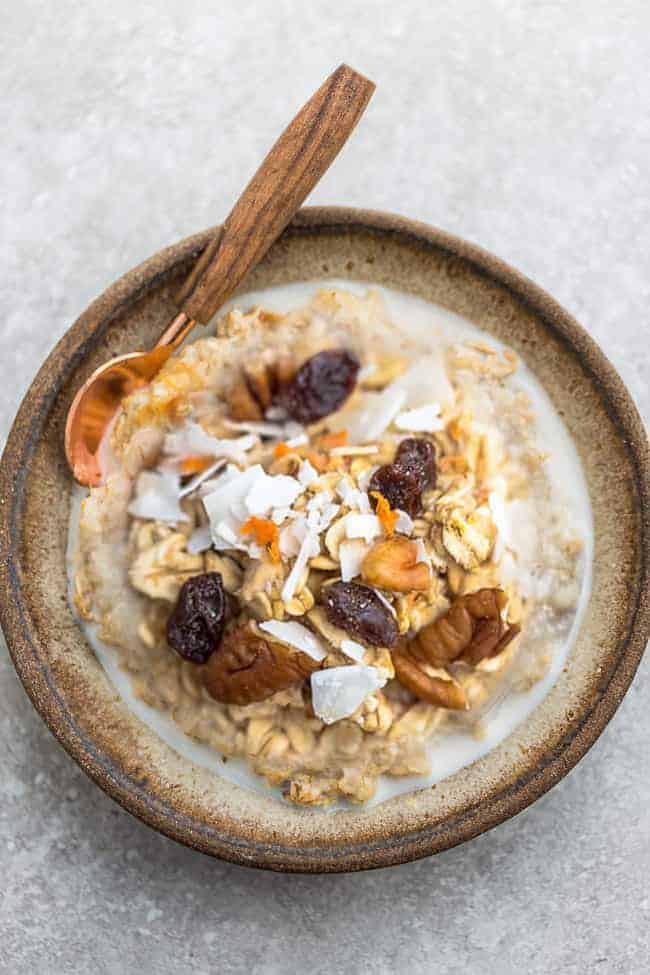 This carrot cake oatmeal is definitely a favorite. Ready in less than 20 minutes, this healthy recipe is made with just a few simple ingredients from the pantry. The kids will definitely love this sweet breakfast recipe filled with oats, raisins, carrots, and walnuts!
EDIBLE COOKIE DOUGH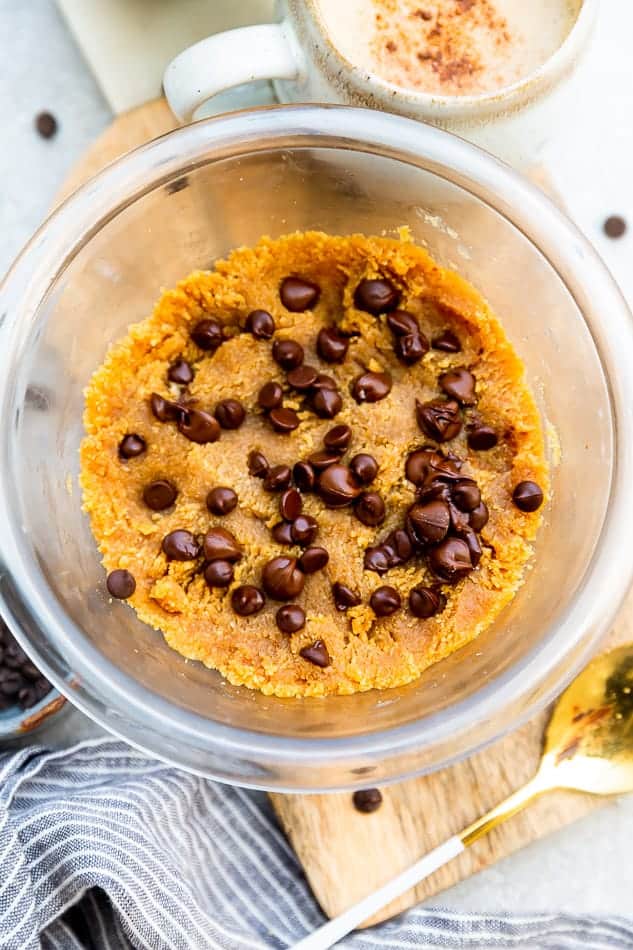 Are you looking for a healthy treat to snack on while the kids are in bed? This edible cookie dough is made by using shelf-staples such as almond flour, almond butter, and chocolate chips! Delicious and guilt-free, this cookie dough recipe is super flavorful!
DINNER MADE FROM PANTRY STAPLES
Are you eating healthy and looking for some simple dinner recipes that are created in about 30 minutes? These recipes from the pantry are super flavorful and family-friendly.
ONE POT CHICKEN CHOW MEIN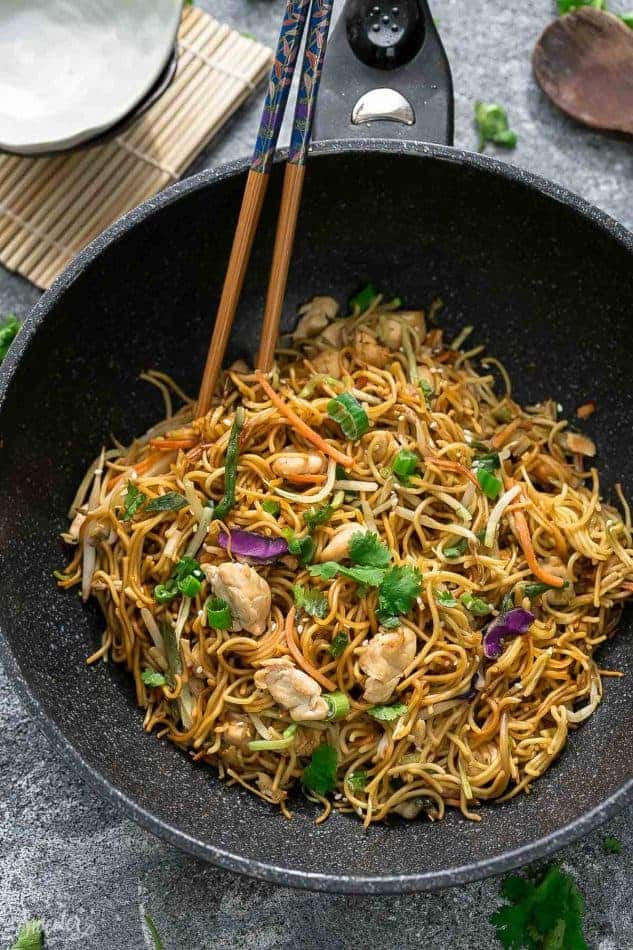 This chicken chow mein is filled with savory ingredients, and this recipe comes together in about 30 minutes! Made from simple ingredients from the pantry, this chicken chow mein recipe is great for any night of the week. With such comforting flavors, this pantry favorite comfort meal will please anyone.
INSTANT POT MACARONI AND CHEESE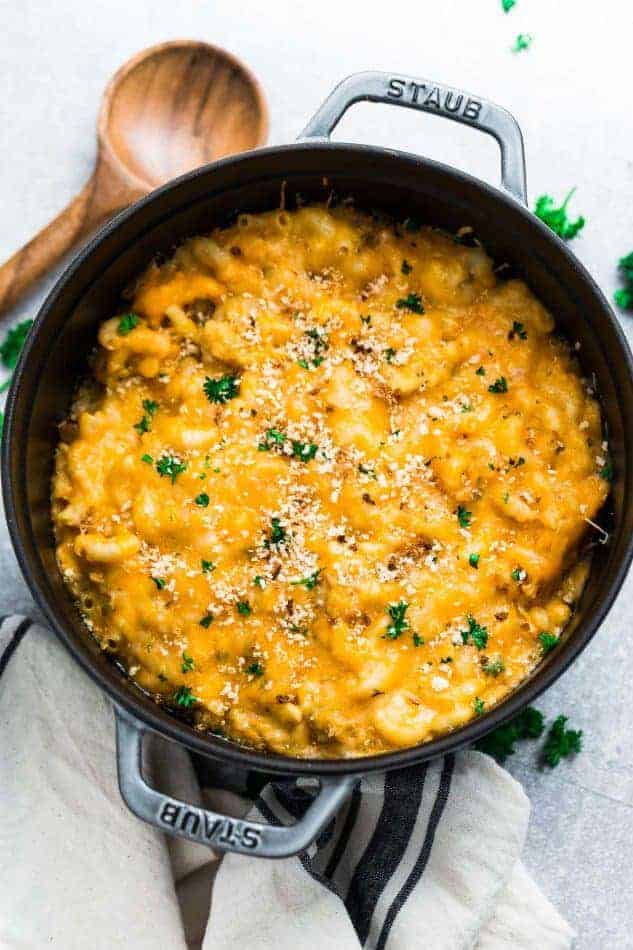 Instant Pot Macaroni and Cheese
This macaroni and cheese made in the Instant Pot is incredible simple and flavorful. Perfect for kids AND adults, this recipe is a classical comfort dish. Made with pasta staples from the pantry, this macaroni is our favorite go-to idea.
ONE POT CASHEW CHICKEN AND RICE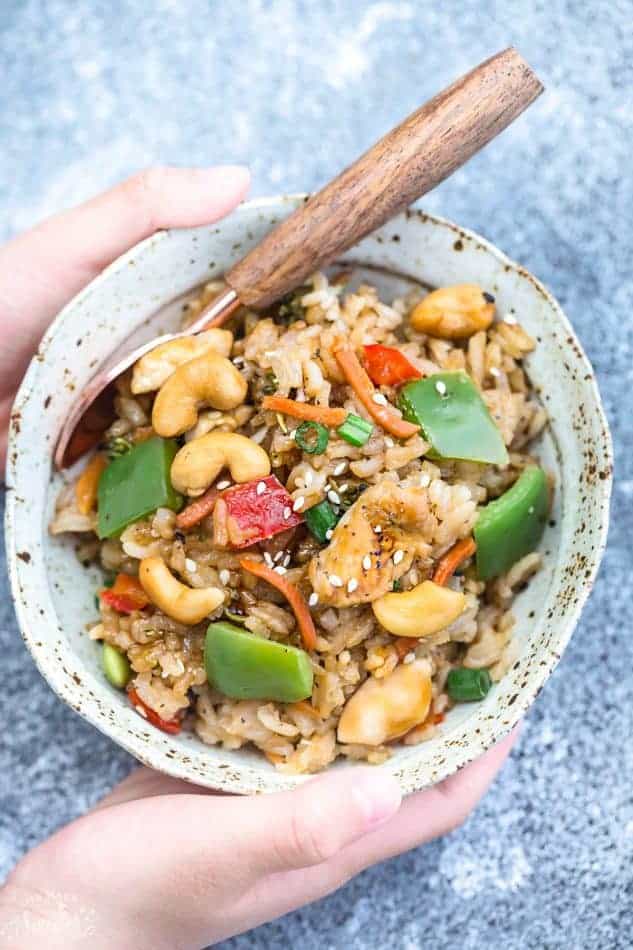 One Pot Cashew Chicken Rice (+Instant Pot)
Ready in just about 30 minutes, this one pot meal is loaded with rice, cashew, chicken, and other simple vegetables. The best part about this recipe is that it is made in one pot which makes dinner at home super easy! The family will love this comforting dish made from basic pantry staples.
LEMON CHICKEN ASPARAGUS PASTA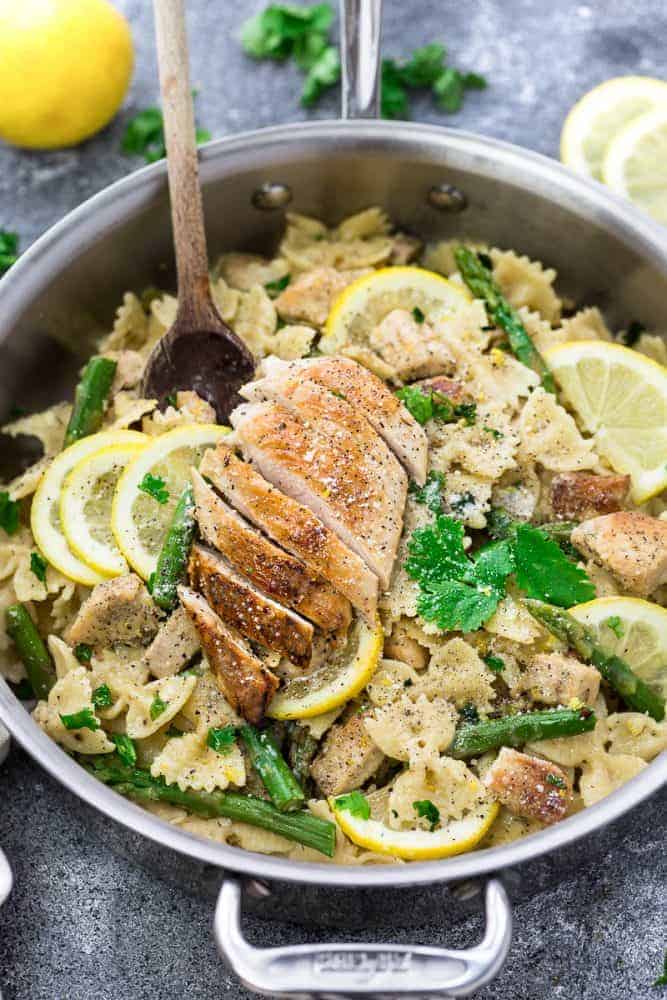 Made with simple ingredients from the pantry, this chicken pasta is definitely a dinner staple. This recipe is super easy to make and filled with simple ingredients such as pasta, dried herbs, and chicken. An easy to way to brighten any dinner, this chicken recipe will be a keeper!
INSTANT POT QUINOA FRIED RICE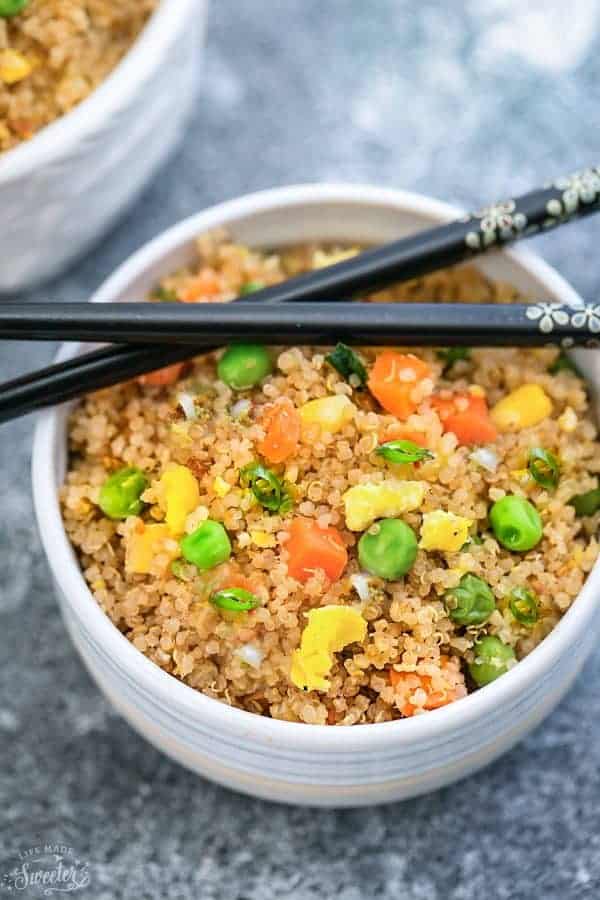 This fried rice made in the Instant Pot is super healthy all thanks to the quinoa. Filled with canned or frozen veggies, this pantry staple recipe is filling and filled with protein. Perfect for meal prep, this delicious quinoa is super satisfying and family-friendly.
INSTANT POT PASTA E FAGIOLI SOUP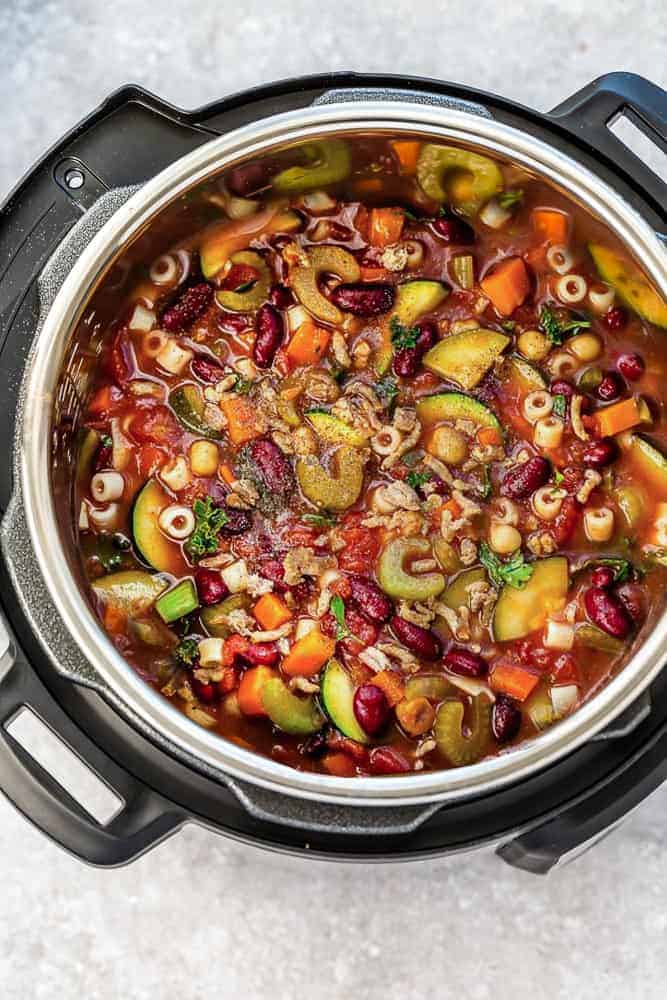 Instant Pot Pasta e Fagioli Soup
This Olive Garden classic is definitely a winner in our homes. Simple and flavorful, this pasta recipe made with pantry ingredients such as beans and pasta is seriously made within minutes. Don't want to venture out to the restaurant? Our easy recipe has you covered.
LOOKING FOR MORE HEALTHY PANTRY RECIPES?
This list features some of our favorite meals made from pantry essentials!