These Grilled Chicken Fajitas featuring tender and juicy chicken, vibrant bell peppers, zesty lime, and a homemade fajita seasoning come together for a mouthwatering Tex-Mex inspired fiesta on your plate.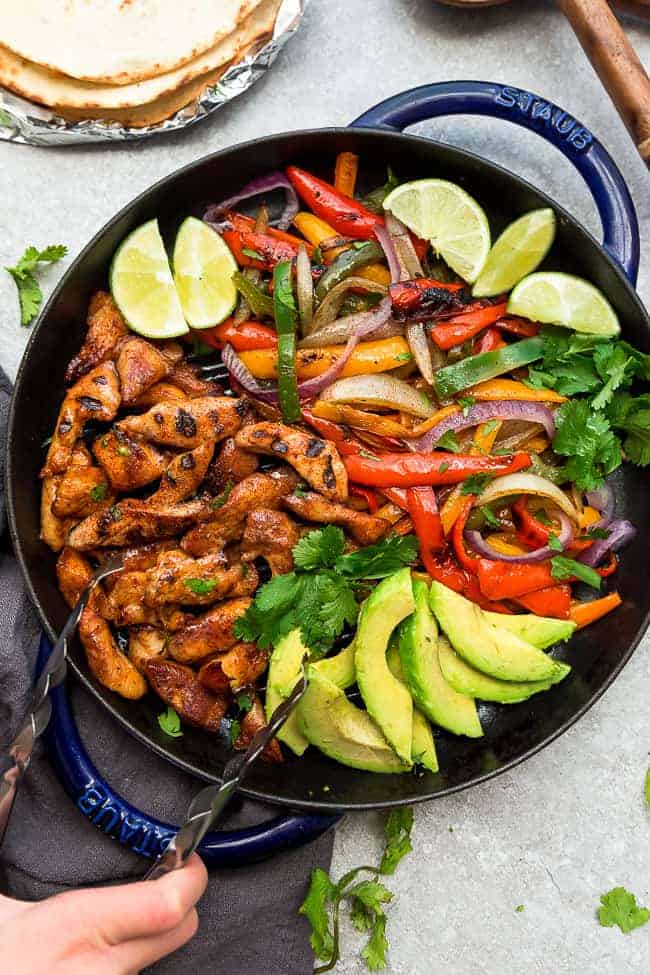 Pin HERE for later and follow my boards for more recipe ideas
Updated July 2023
Easy Grilled Chicken Fajitas
Looking to spice up your dinner routine? These sizzling and delicious Grilled Chicken Fajitas are bursting with mouthwatering Tex-Mex inspired flavors and colorful bell peppers, and sure to impress your family and friends. Made with tender and juicy grilled chicken, vibrant bell peppers, zesty lime, and a homemade fajita seasoning that's sure to impress your family or any guests.
Ditch the takeout and treat yourself to a homemade Mexican-inspired fiesta with this easy fajita recipe. From the tantalizing aroma to the explosion of flavors, every bite will transport you to a culinary adventure that you'll want to repeat time and time again.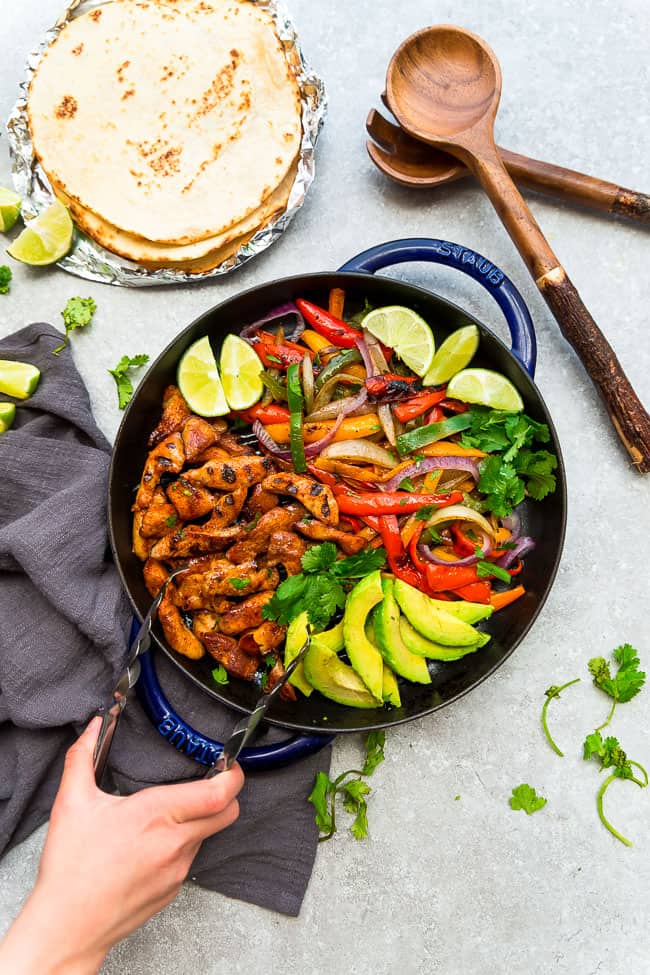 Recipe Ingredients
Homemade Fajita Seasoning:
Chili Powder: Adds a kick of heat and depth of flavor to the seasoning mix.
Cumin: Infuses a warm and earthy essence, a classic fajita seasoning component.
Garlic Powder: Enhances the overall taste with its rich, savory notes.
Smoked Paprika: Imparts a subtle smokiness, elevating the fajitas to a whole new level.
Salt: Balances and brings out the flavors of the other spices.
For the Fajitas:
Olive Oil: Helps tenderize the chicken and delivers a pleasant taste to the dish.
Lime Juice: Adds a zesty and tangy element to the marinade, complementing the other flavors.
Chicken Breasts: The star of the show, juicy and succulent after marinating in the seasoning.
Bell Peppers: Colorful and crunchy, these peppers provide a burst of freshness.
Red Onion: Offers a mild sweetness and vibrant color to the fajitas.
Unsalted Butter or Olive Oil: Used for grilling and sautéing the vegetables to perfection.
To Serve:
Lime Wedges: Squeeze over the fajitas for a burst of citrusy goodness.
Sliced Avocado: Creamy and smooth, avocado pairs perfectly with the flavors of the fajitas.
Warm Tortillas (Flour or Corn): A classic choice for wrapping up the delicious chicken and veggies.
For Low Carb:
Instructions:
Prepare Fajita Seasoning: Mix chili powder, cumin, garlic powder, smoked paprika, and salt. Set aside 1 1/2 tsp for peppers.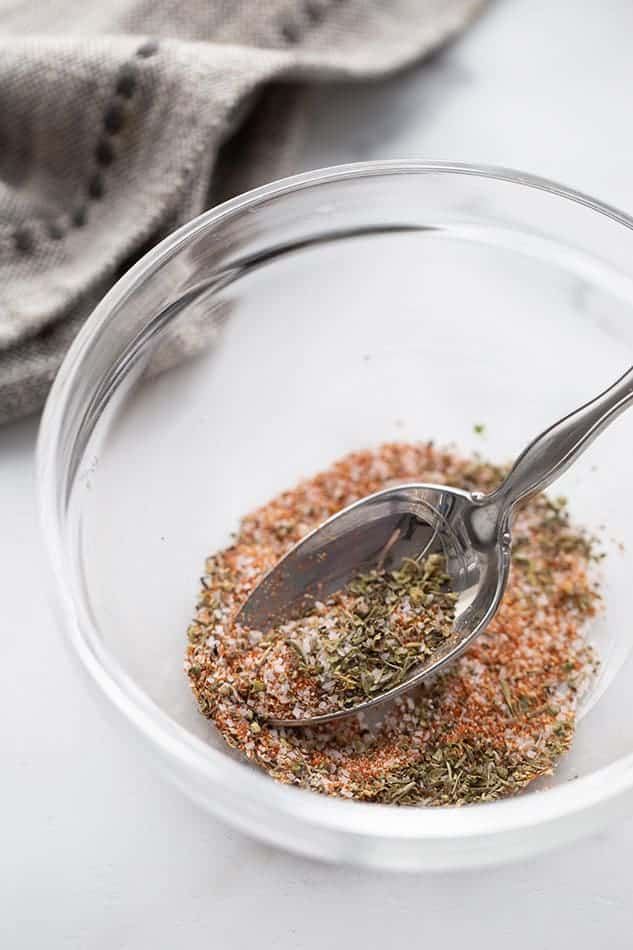 Marinate Chicken: Combine olive oil, lime juice, seasoning, and marinate chicken while prepping veggies.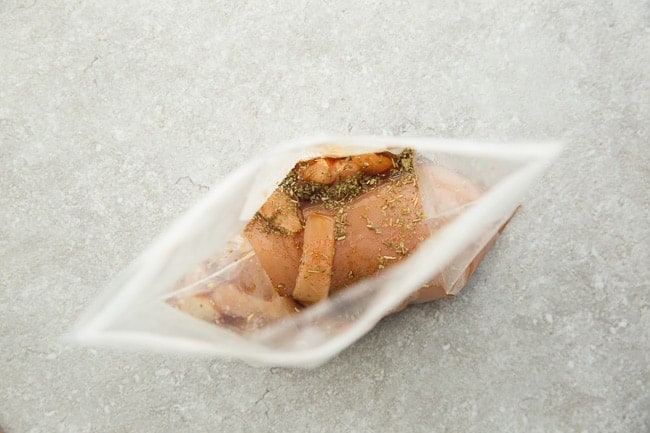 Slice Veggies: Thinly slice bell peppers and red onion.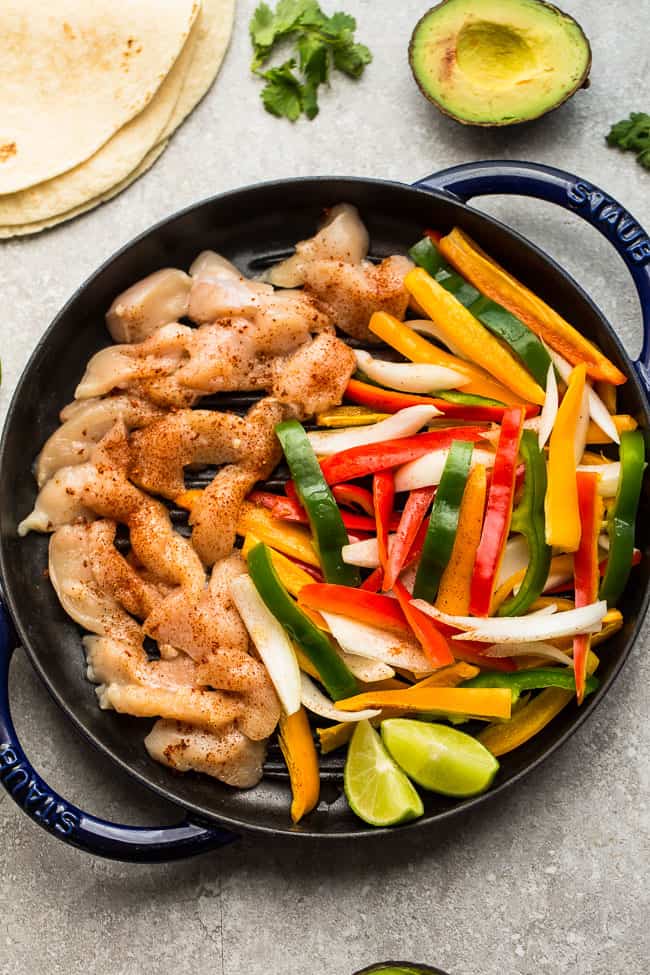 Preheat Grill: Heat grill to medium-high, grease grates generously.
Season and Grill Veggies: Toss vegetables with seasoning and grill on a tray until softened, stirring often.
Grill Chicken: Grill marinated chicken for 6-8 minutes per side until fully cooked.
Slice Chicken: Cut chicken into 1/4-inch chunks.
Serve: Enjoy the grilled chicken and veggies in warm tortillas with lime wedges, avocado, and desired toppings.
Tips for Success:
To ensure even cooking, pound the chicken breasts to an even thickness before marinating.
Don't overcook the chicken to maintain its juiciness and tenderness.
Storage and Freezer Instructions:
Store any leftovers in an airtight container in the refrigerator for up to 3 days.
For freezer-friendly fajitas, place the cooled chicken and veggies in a freezer-safe container or bag, removing as much air as possible. Freeze for up to 2 months.
Serving Suggestions:
Customize your fajitas with toppings like shredded cheese, sour cream, salsa, or fresh cilantro.
Create a fajita bar and let your guests build their own with a variety of toppings and tortillas.
Variations and Substitutions:
For a Low Carb Delight:
Meal Prep Made Easy:
Divide the grilled chicken and veggies evenly into lunch containers for a week's worth of flavorful meal prep.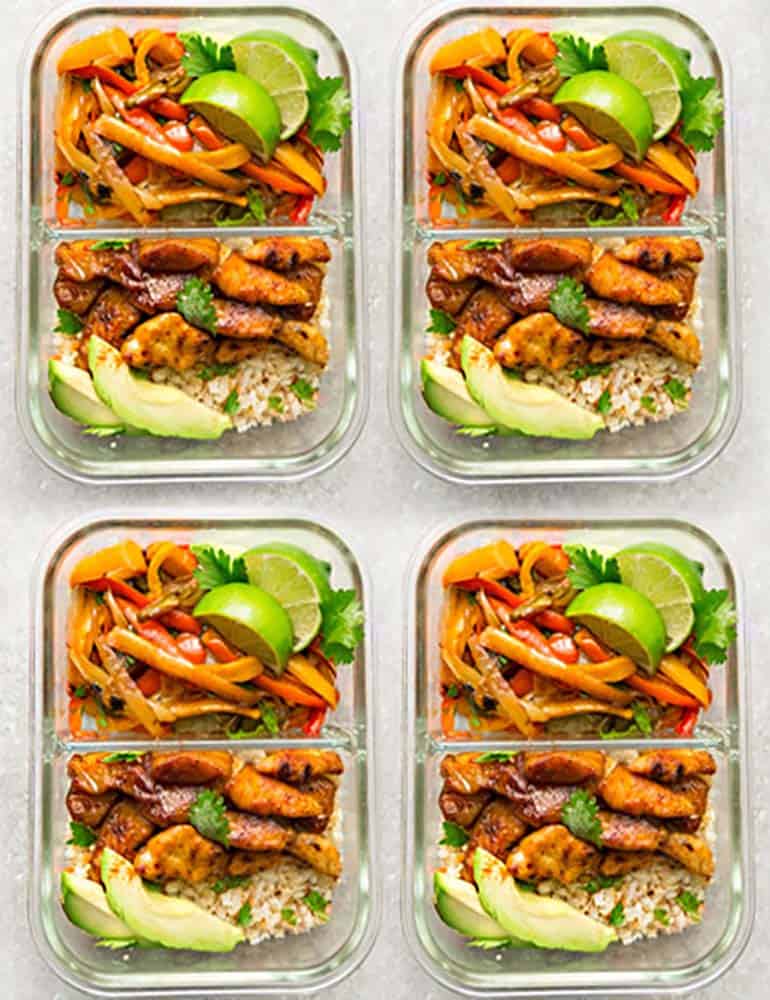 Why You Should Make This Recipe:
Flavor Explosion: The combination of homemade fajita seasoning, tender grilled chicken, and colorful bell peppers creates a burst of flavors that will tantalize your taste buds.
Versatility: Whether you're hosting a summer BBQ, looking for a quick weeknight dinner, or planning a meal prep session, these fajitas fit every occasion and dietary preference.
Healthy and Nutritious: Packed with lean protein from the chicken and a rainbow of fresh vegetables, these fajitas offer a nutritious and satisfying meal for you and your loved ones.
Quick and Easy: With simple preparation and minimal cooking time, this recipe allows you to spend less time in the kitchen and more time enjoying a delightful and satisfying meal.
Frequently Asked Questions:
1. Can I use a different protein instead of chicken? Absolutely! While the recipe calls for chicken breasts, you can easily swap it with beef, shrimp, or even tofu to cater to your dietary preferences or restrictions.
2. How can I make the fajitas spicier? For an extra kick of heat, you can add sliced jalapeños to the vegetable mix or increase the amount of chili powder in the homemade fajita seasoning.
3. Are low-carb or Whole30 options available? Yes! For a keto-friendly version, you can serve the fajita mixture over lettuce or cauliflower rice instead of traditional tortillas.
4. Can I make these fajitas ahead of time? Absolutely! You can prepare the marinade and seasoning in advance, marinate the chicken, and slice the vegetables. When you're ready to serve, simply grill the chicken and veggies, and you'll have a delicious meal in no time.
More fajita recipes you will love:
Asian Sesame Steak Fajita Salad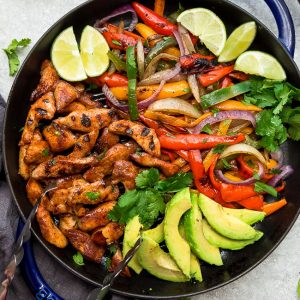 Grilled Chicken Fajitas
Indulge in a burst of flavors with these Grilled Chicken Fajitas! Juicy chicken, vibrant bell peppers, zesty lime, and a homemade fajita seasoning come together for a mouthwatering Tex-Mex inspired fiesta on your plate.
Keyword:
chicken, fajitas, grill, low carb, skillet
Ingredients
HOMEMADE FAJITA SEASONING:
2

tsp

chili powder

1

tsp

cumin

1

tsp

garlic powder

1

tsp

smoked paprika

fine sea salt

, to taste (we used about 1/2 teaspoon)
FOR THE FAJITAS:
2

tablespoons

avocado oil or olive oil

juice from 1 lime

2 medium

chicken breasts

, pounded to even thickness

2-3

medium bell peppers

, thinly sliced

1

medium red onion

, thinly sliced

1

tbsp

ghee,

dairy-free or unsalted butter OR olive oil
For serving:
lime wedges

sliced avocado

warm tortillas of choice

, we like Siete Almond Flour Tortillas or Maria Ricardos Almond Flour Tortillas for low carb
FOR LOW CARB / WHOLE30:
cauliflower rice

, lettuce wraps, coconut wraps, jicama wraps or low carb tortillas of choice
Instructions
In a resealable small jar, combine all the ingredients for the seasonings. Seal and shake well. Reserve 1 1/2 teaspoons of the seasonings for the vegetables.

In a large resealable bag, combine 2 tbsp of the oil along with lime juice and 5 teaspoons of the fajita seasonings. Add the chicken to the bag and seal. Press the marinade into the chicken and allow to marinate while you prepare the vegetables (or chill in the refrigerator until ready to use).

Slice the the onions and bell peppers.

Preheat the grill (or grill pan) to medium-high heat. Clean grill with a brush and grease the grates generously with oil to prevent sticking.

Add the vegetables to a grill tray. Drizzle with 1 teaspoon of oil and sprinkle with the reserved 1 1/2 teaspoons of the seasonings. Toss to coat well. Cook until softened, stirring often.

Place the chicken breasts directly on the preheated grill. Cook chicken for 6-8 minutes per side, or until cooked through.

Transfer to a cutting board and cut into 1/4-inch chunks.

Serve hot with heated tortillas, avocado slices and lime wedges plus any other toppings of your choice.
For a low carb version:
Serve over some lettuce or cauliflower rice.
For Meal Prep:
Divide evenly into lunch containers.
Nutrition Facts
Grilled Chicken Fajitas
Amount Per Serving (1 g)
Calories 156
Calories from Fat 99
% Daily Value*
Fat 11g17%
Carbohydrates 11g4%
Protein 1g2%
* Nutrition facts are provided as a courtesy using the WPRM recipe calculator. It is best to make your own calculations to ensure accuracy. We expressly disclaim any and all liability of any kind with respect to any act or omission wholly or in part in reliance on anything contained in this website. Percent Daily Values are based on a 2000 calorie diet.
Disclaimer: This updated post was generated in July  2023 by ChatGPT, an AI language model, and all info should be reviewed and validated by a human for accuracy and relevancy before implementation.