Delicious grilled vegetables are a summer time staple and this simple method shows you how to grill your favorite vegetables on the barbecue perfectly every time!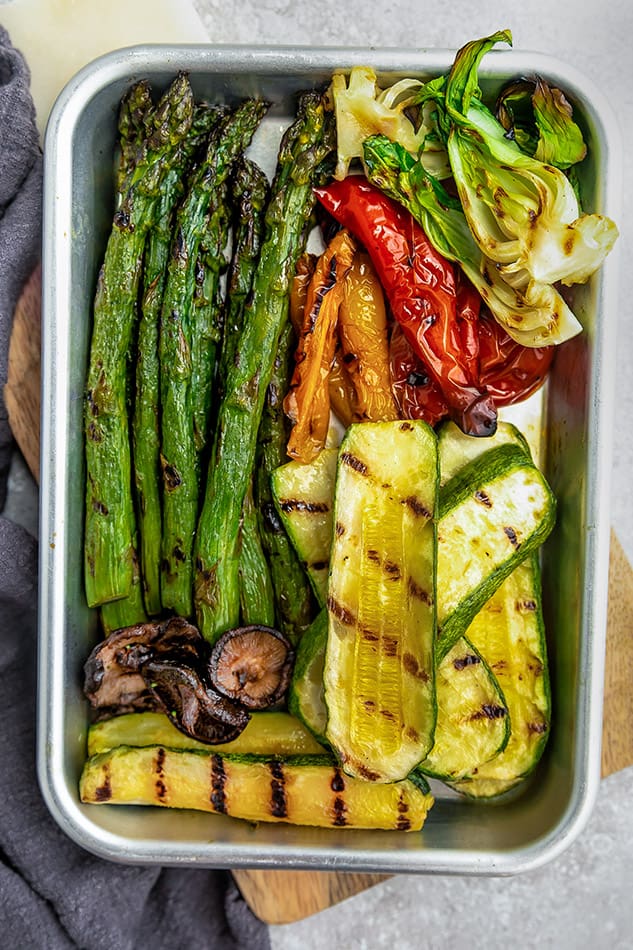 PIN HERE for later and follow my boards for more recipe ideas
Updated May 2023
Grilled Vegetables: A Healthy and Flavorful Delight
Are you craving a delicious and nutritious dish that will tantalize your taste buds? Look no further than our mouthwatering recipe for grilled vegetables. Whether you're a vegetarian, vegan, or simply love adding more plant-based options to your diet, this recipe is a must-try. Get ready to fire up your grill and savor the flavors of perfectly charred vegetables with a delightful blend of seasonings. We'll guide you through the process of grilling vegetables to perfection, providing you with an easy-to-follow recipe that will make your next barbecue a hit.
Grilled vegetables are a fantastic addition to any meal, offering a healthy and flavorful alternative that will satisfy your cravings. Whether you're hosting a backyard barbecue or simply looking to incorporate more plant-based options into your diet, these charred and seasoned vegetables are sure to impress. So fire up your grill, gather your favorite vegetables, and embark on a culinary adventure that will delight your taste buds and leave you wanting more.
Ingredients you need:
To create this delectable grilled vegetable dish, you'll need the following ingredients:
Assorted vegetables: Such as bell peppers, zucchini, eggplant, and mushrooms
Olive oil
Garlic powder
Dried herbs (oregano, thyme, or basil)
Salt and black pepper
Our Favorite Vegetable Marinade
Avocado oil OR olive oil
Sea salt & black pepper
Italian seasoning
Other Whole30 Vegetables:
Artichoke
Broccoli
Cauliflower 
Green Onion
Eggplant
Onions
Other vegetables that are also delicious but not low carb:
Carrots
Corn 
Potatoes and Sweet Potatoes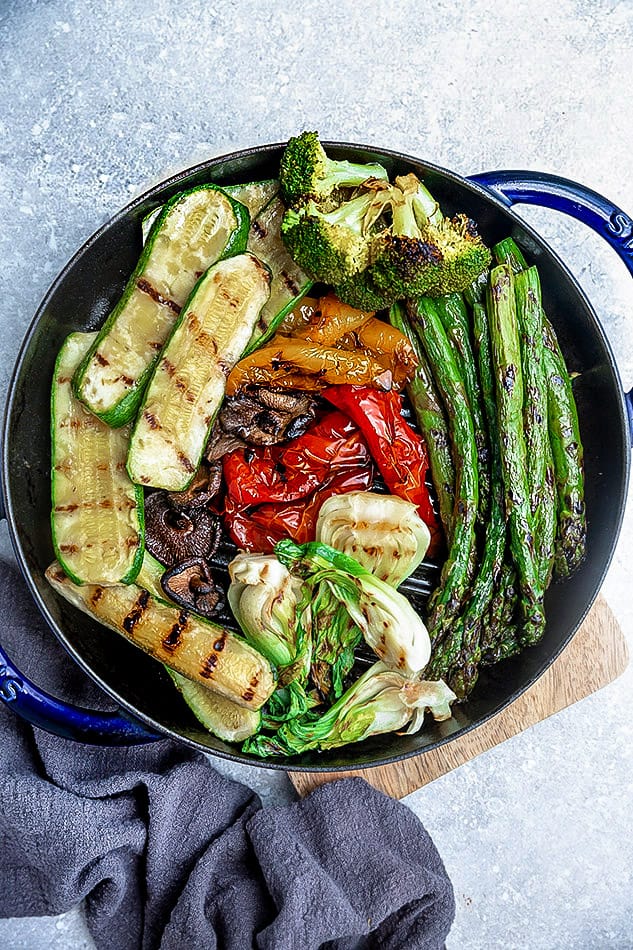 Preparing the Vegetables:
Before you start grilling, it's essential to prepare the vegetables properly. Follow these simple steps:
Wash the vegetables thoroughly and pat them dry with a paper towel.
Slice the vegetables into even pieces, ensuring they're large enough to handle the heat of the grill.
Drizzle olive oil over the vegetables, coating them evenly. This will prevent sticking and add a hint of richness to their flavor.
Sprinkle garlic powder, dried herbs, salt, and black pepper over the vegetables, allowing the seasonings to penetrate and enhance their taste.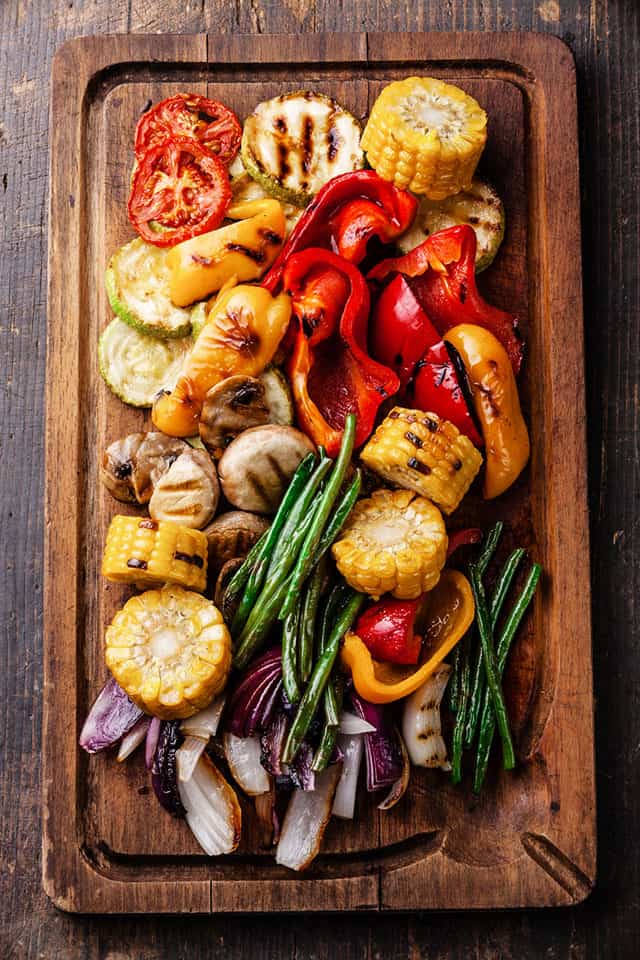 How long to grill vegetables for
Cooking times for grilled vegetable will vary depending on the size and shape. To prevent burning, you want to try to cut the same type of vegetables to the same thickness.
Also, be sure to place heartier vegetables such as the peppers and onions close to the hot spots and softer vegetables further away or in indirect heat.
Cook undisturbed for for a few minutes in order to get the grill market. Then flip and cook following the cooking times below or until desired doneness. Don't be afraid to move the vegetables around for even cooking.
Asparagus: 4-6 minutes (depending on the thickness)
Bell pepper: 8-10 minutes (cut into quarters)
Corn: 15-20 minutes in husk
Eggplant: 7-8 minutes (depending on the thickness)
Green onion: 4-5 minutes
Onion: 7-8 minutes (cut into slices)
Portabello mushroom: 8-10 minutes
Onion: 7-8 minutes (cut into slices)
Tomato on the vine: 4-6 minutes
Zucchini: 7-8 minutes (depending on the thickness)
Grilling the Vegetables:
Now that your vegetables are prepped and seasoned, it's time to fire up the grill and let the magic happen:
Preheat your grill to medium-high heat. Make sure the grates are clean and lightly oiled to prevent sticking.
Place the vegetables on the grill, ensuring they're spread out evenly to allow for even cooking.
Grill the vegetables for approximately 8-10 minutes, flipping them occasionally to achieve a beautiful char on all sides.
Keep a close eye on the vegetables to prevent them from burning. Adjust the heat or move them to a cooler part of the grill if needed.
Once the vegetables are tender and lightly charred, remove them from the grill and transfer them to a serving platter.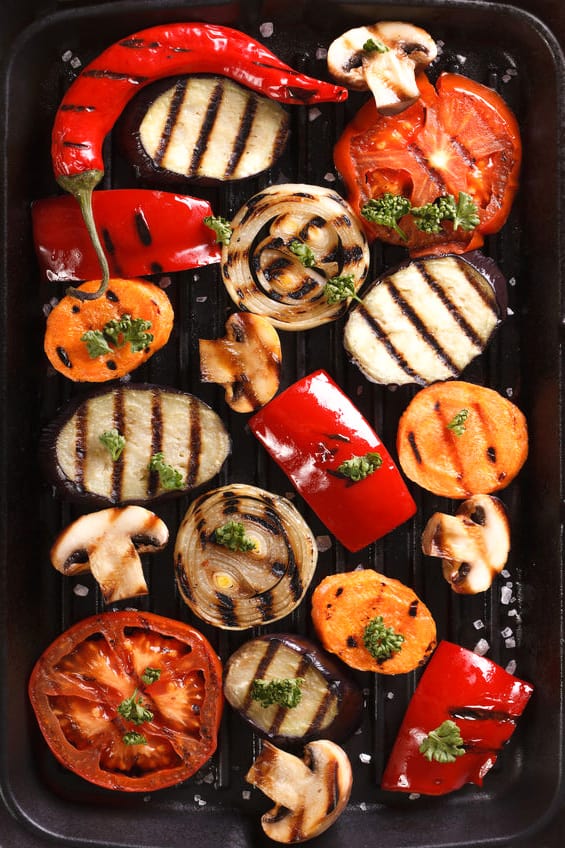 What to serve grilled vegetables with
Now that your grilled vegetables are ready, it's time to dig in and enjoy the fruits of your labor. Here are a few serving suggestions to elevate your dish:
Sprinkle freshly chopped herbs, such as parsley or cilantro, over the grilled vegetables for a burst of freshness.
Squeeze some lemon juice or drizzle balsamic glaze over the vegetables to add a tangy and vibrant flavor.
Serve the grilled vegetables alongside a refreshing dip, such as tzatziki or hummus, for an extra layer of creaminess.
Incorporate the grilled vegetables into other dishes, like salads, wraps, or pasta, for a wholesome and versatile meal.
We also love them with some Grilled Shrimp, Grilled Chicken Fajitas or Steak and Potato Foil Packets.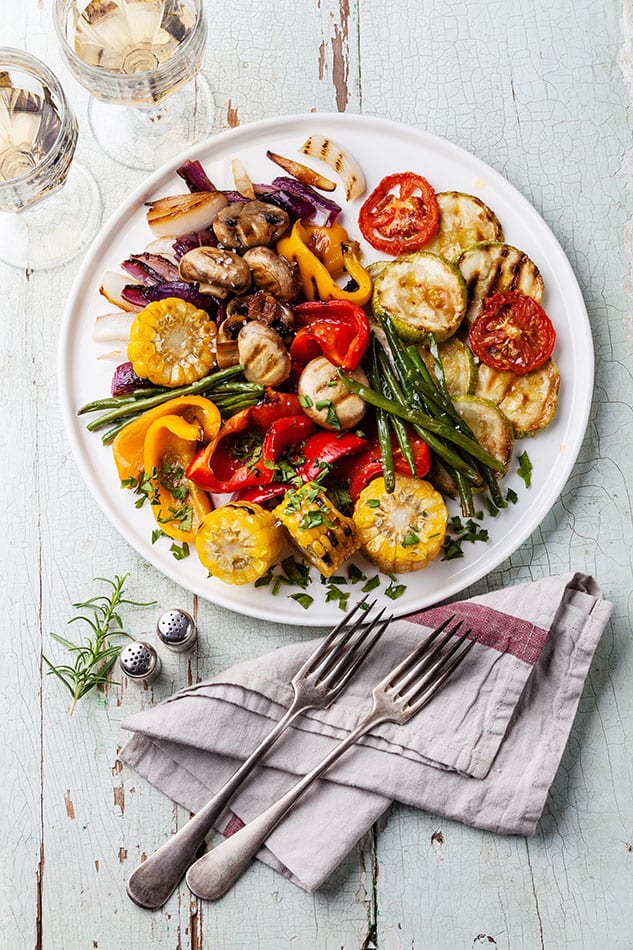 Storing Grilled Vegetables:
If you have any leftovers or simply want to meal prep, it's important to know how to properly store your grilled vegetables. Here are a few tips to keep them fresh:
Let them cool: Allow the grilled vegetables to cool down to room temperature before storing them. This helps prevent condensation, which can make the vegetables soggy.
Use airtight containers: Transfer the grilled vegetables to airtight containers or resealable plastic bags. This helps maintain their freshness and prevents them from absorbing any odors from the refrigerator.
Refrigerate promptly: Place the containers in the refrigerator as soon as possible. Grilled vegetables can typically be stored in the refrigerator for up to 3-4 days.
Freezing Grilled Vegetables:
If you have a surplus of grilled vegetables or want to preserve them for later use, freezing is a great option. Follow these steps to freeze your grilled vegetables:
Cool and portion: Allow the grilled vegetables to cool completely. Divide them into smaller portions based on your future serving sizes or recipe needs. This makes it easier to defrost and use only what you need.
Wrap and seal: Wrap each portion tightly in plastic wrap or aluminum foil. This helps prevent freezer burn and maintains the vegetables' quality.
Place in freezer bags: Transfer the wrapped portions into freezer-safe bags. Squeeze out any excess air before sealing the bags. Label them with the date for easy identification.
Freeze: Place the bags in the freezer, ensuring they lay flat for efficient freezing. The grilled vegetables can be stored in the freezer for up to 3 months.
Thawing and Using Frozen Grilled Vegetables:
When you're ready to enjoy your frozen grilled vegetables, follow these steps for thawing and using them:
Thawing: Remove the desired portion of frozen grilled vegetables from the freezer and transfer it to the refrigerator. Allow them to thaw overnight. This gradual thawing helps maintain their texture and flavor.
Sauté or roast: Once thawed, you can use the grilled vegetables directly in sautés, stir-fries, or roasted dishes. Heat them in a skillet with a little oil or roast them in the oven to warm them up and bring back their delicious flavors.
Please note that the texture of the grilled vegetables may soften slightly after freezing and thawing. While they may not be as crisp as fresh vegetables, they still retain their delightful flavors and can be a convenient addition to various dishes.
By knowing how to store and freeze your grilled vegetables, you can minimize food waste and have a tasty and nutritious option readily available whenever you need it.
More grilling recipes you might like:
Easy Grilled Shrimp Skewers with Vegetable Skewers
Mediterranean Salmon Foil Packets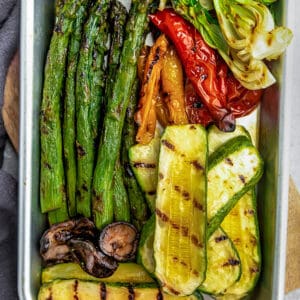 Grilled Vegetables
Delicious grilled vegetables are a summer time staple and this simple method shows you how to grill your favorite vegetables on the barbecue perfectly every time! 
Course:
Main Course, Side Dish
Keyword:
grilled vegetables, grilled zucchini
Ingredients
2

pounds

assorted vegetables trimmed and halved or cut into 2 inch pieces. I used asparagus

red and yellow bell peppers, zucchini, mushrooms and bok choy

3-4

tablespoons

avocado oil or olive oil

1-2

teaspoons

fine sea salt

1/2

teaspoon

black pepper

1

teaspoon

dried Italian seasoning
Instructions
Clean grill grates and preheat to medium heat, 350°F to 450°F.

Trim the ends of zucchini and cut into 1/3" to 1/2" slices. Seed the red bell pepper and cut into quarters. Trim the ends of the asparagus Cut the bok choy into quarters.

Drizzle the vegetables with oil and sprinkle evenly with salt, pepper and Italian seasoning. Grill the vegetables with the lid closed until tender and lightly charred all over, about 8 to 10 minutes for the bell peppers and mushrooms; 5-7 minutes for the zucchini, bok choy and asparagus.

Transfer to a serving platter and serve warm.
Disclaimer: This updated post was generated on May 19, 2023 by ChatGPT, an AI language model, and all info should be reviewed and validated by a human for accuracy and relevancy before implementation.