Honey Lime Sriracha Chicken Wings are the perfect appetizers for game day or any party. The best part is, they are easy to make in the oven or your slow cooker with a sweet and sticky Asian inspired glaze.
Football season is in full swing and even though I'm not really into watching the game, you can't beat all the awesome food that goes along with it.
Wings are my husband's absolute favorite. Back when we were dating, he was on a mission to find the best chicken wing joint around town.
I was amazed to see how much he could eat and still be hungry for more. I swear he has a bottomless stomach because anytime I make him these Honey Lime Sriracha Chicken Wings, he can finish a double batch easily.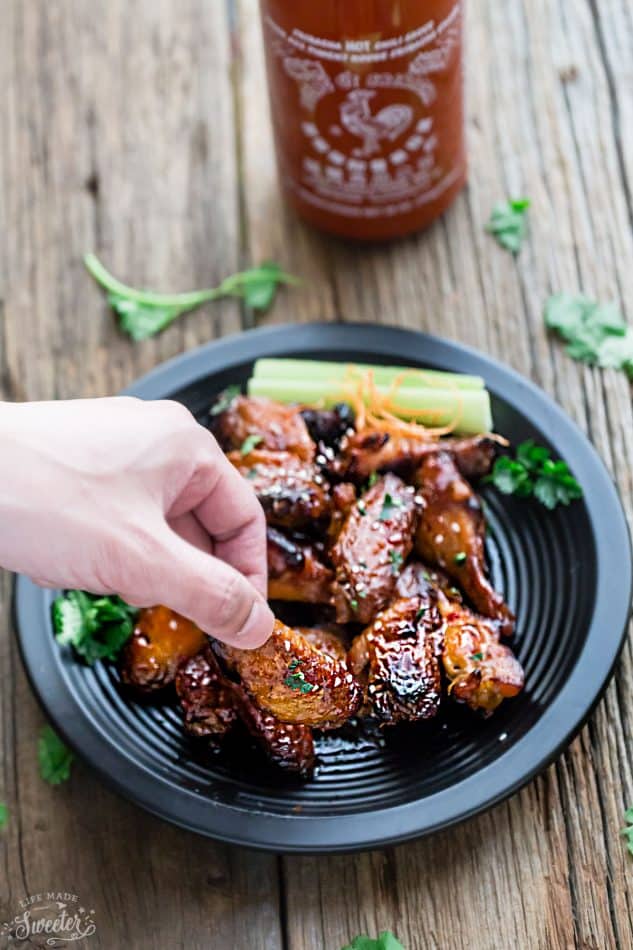 The sweet and sticky flavor-packed glaze for these wings comes together in no time.
If you're worried whether they are too spicy, you can totally customize the amount of sriracha to your preference.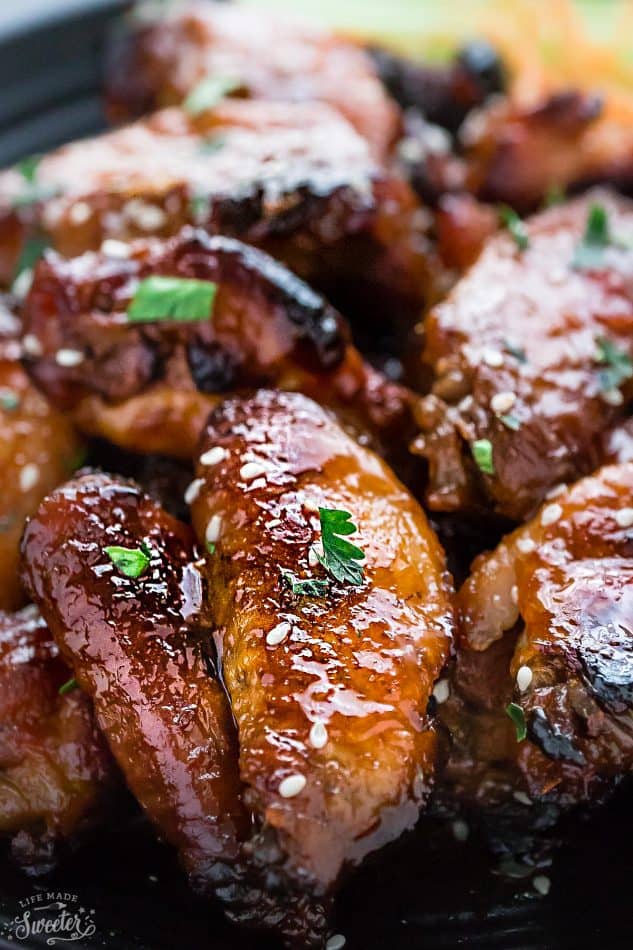 The best part of all? You can easily bake these Honey Lime Sriracha wings in the oven or toss them into your slow cooker!
To get that extra crispy skin on the crock-pot version, I like to toss them under the broiler for a few minutes to seal in the flavor.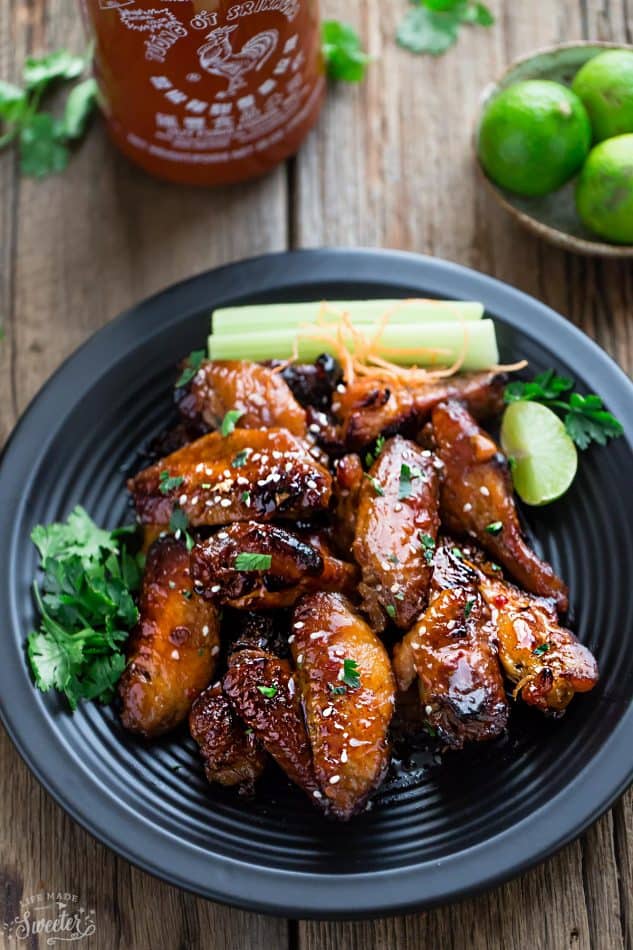 These chicken wings are the perfect addition to your Sunday game day lineup and make great appetizers for any other parties or gatherings.
You can also serve them as your main along with a few sides.
Just make sure to make a BIG batch if your significant other is anything like mine 😉 These babies are bound to fly off the platter…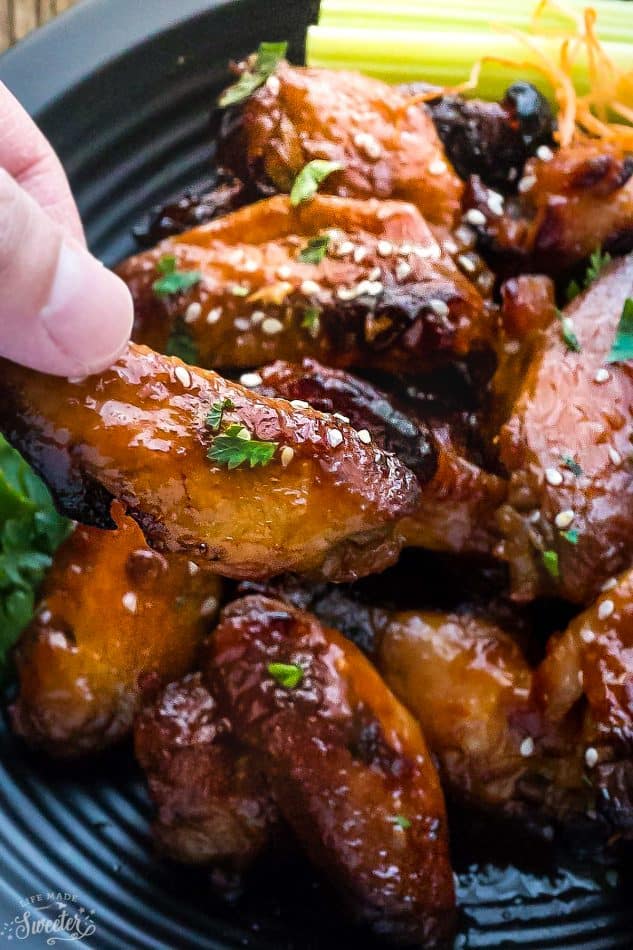 Make ahead tips:
make the glaze the day before and store in an airtight container in the fridge
season the chicken wings the day before with the salt and pepper – they will be even more flavorful!
Honey Lime Sriracha Chicken Wings
Ingredients
2.5

pounds

chicken wings

approximately 18-20 wings, rinsed and patted dry

1

teaspoon

garlic powder

1

teaspoon

kosher salt

1/2

teaspoon

black pepper

For the glaze

4

tablespoons

unsalted butter

1/3

cup

honey

1/4 - 1/3

cup

Sriracha sauce

or to taste

2

tablespoons

low sodium soy sauce

coconut aminos or fish sauce <--choose fish sauce for the best flavor

2

tablespoons

lime juice

1

teaspoon

cornstarch
Instructions
In a large freezer bag or bowl, combine the chicken wings, garlic powder and season with salt and pepper to taste.

To make the glaze

Heat all the ingredients together in a saucepan on the stovetop over medium heat and allow to simmer until slightly thickened. You can also heat the sauce in a microwaveable bowl for 2-3 minutes until the glaze is hot and thickened slightly.

Baked Version

Preheat oven to 400F degrees. Line a rimmed baking sheet with foil for easy cleanup. Place an oven-proof baking rack on top and lightly spray with nonstick cooking spray.

Bake on upper middle rack for 40 minutes, flipping the wings over halfway through. Brush the wings with half of the glaze and turn the oven to broil - for about 4-5 minutes, or until crispy, watching closely so they don't burn. Flip chicken over and brush on remaining glaze and broil the other side until crispy.

Slow Cooker Version

In a 5-6 quart slow cooker, add the chicken wings and pour half of the glaze over top. Stir to combine. Cook on high for 2-3 hours (or low 4-6 hours) or until wings are cooked through.

Remove wings from slow cooker and place on a baking sheet lined with foil. Brush the wings with remaining glaze and broil for approximately 4-5 minutes or until crispy, watching closely so they don't burn. Flip chicken over and brush on remaining glaze and broil the other side until crispy.

Sprinkle with sesame seeds if desired.
More recipes you might enjoy:
Sriracha Honey Chicken Skillet Nachos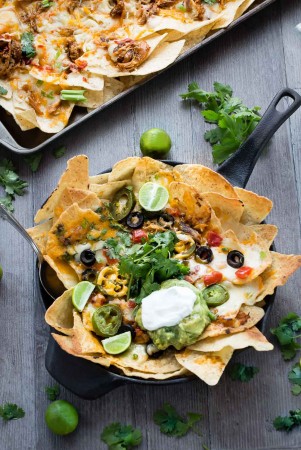 Buffalo Chicken Dip with Zucchini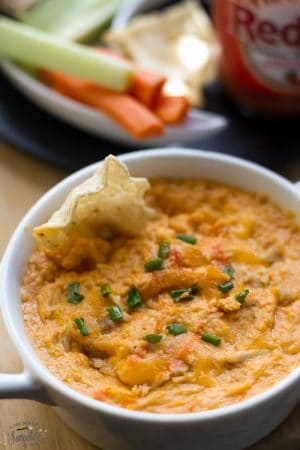 Slow Cooker Pizza Potatoes