These Roasted Green Beans are crispy on the outside, tender on the inside and are the ultimate side dish. They're seasoned to perfection then topped with toasted almonds and pecans, and all-around irresistible! Vegan, low carb, keto, gluten free, Whole30 compliant and paleo-friendly.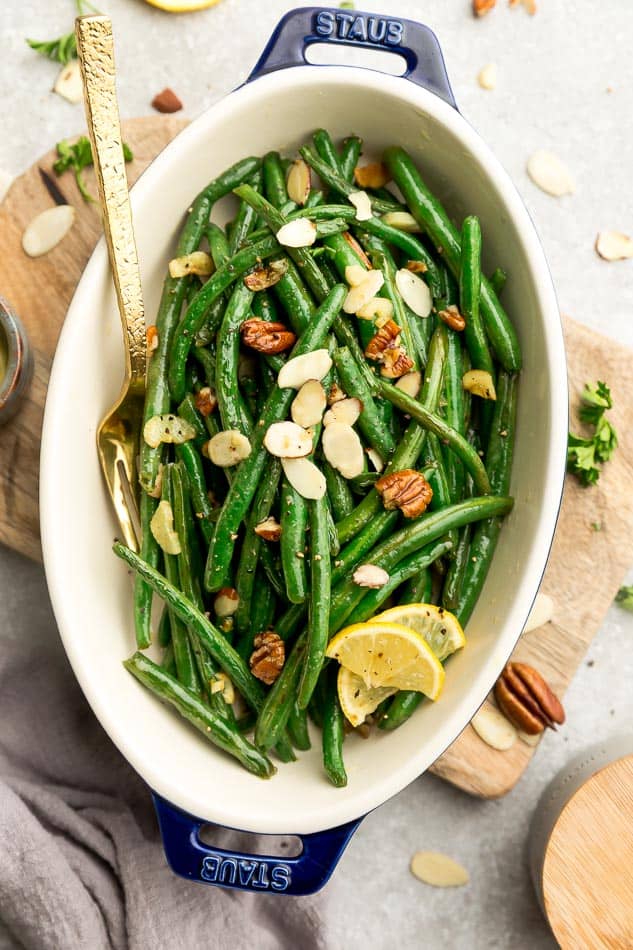 PIN HERE for later and follow my boards for more recipe ideas
Updated April 2023
Quick and Easy Crispy Roasted Green Beans
Whipping up a healthy side dish is easier than ever before with these roasted green beans. You can keep them simple or dress them up however you'd like – their versatility makes them a fail-proof side dish for all sorts of different main courses! From big holiday feasts to light weekend lunches, these tender-crisp green beans make an amazing addition to any meal.
These green beans are fancy enough to fit in at the holiday table, but they're easy enough to make that they can become a go-to in your kitchen year round. Plus, they're super healthy! Not only do they have the best taste and texture, but they also supply your body with plenty of vital nutrients. They're a wonderful source of vitamins, magnesium, dietary fiber and more! Plus, this recipe ensures that they remain vegan, gluten-free, keto/low-carb, paleo-friendly and Whole30 compliant.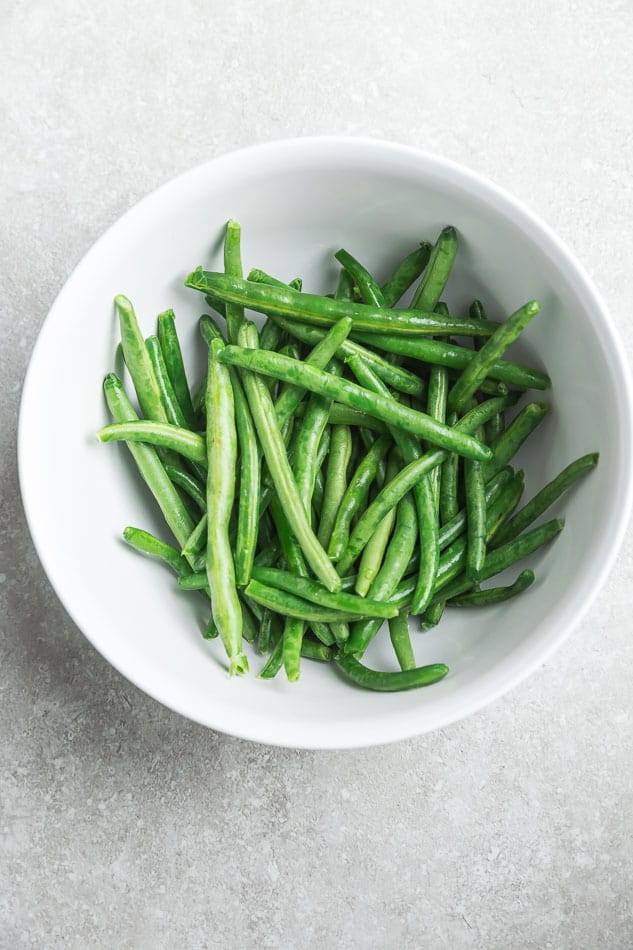 What You'll Need
You only need a handful of ingredients to make flawless Air Fryer green beans. Feel free to add or sub in any seasonings you're in the mood for.
Fresh Green Beans: Be sure to choose brightly colored green beans with no blemishes.
Avocado Oil: Or olive oil.
Fine-Grain Sea Salt: Or kosher salt, added to taste.
Freshly Ground Black Pepper: To taste.
Garlic powder – This is an optional ingredient, but garlic goes very well with green beans.
Onion powder – Onion powder is also an optional ingredient. 
Pecans – Pecans are an optional garnish.
Almonds – These are also an optional garnish. If you use them, you'll want slivered almonds.
Can I Use Frozen Green Beans Instead?
Fresh green beans will give you the best flavor, but frozen ones can be used if that's all you have on hand. Simply thaw them out in the fridge before working with them. You could also thaw them out in a bowl of cool water if preferred.
How to Trim Green Beans
After you cut the ends off of your green beans, it's important to give them a good wash and then dry them off thoroughly. This removes any potential dirt or pesticides from the surface of the beans.
Line Them Up: Grab a handful of green beans and line them up on a cutting board so that all of the ends on one side form a straight line.
Cut Off the Ends: Press a sharp kitchen knife down toward the tips of the lined-up green beans and cut off the ends all at once.
Flip & Repeat: Line up the opposite ends of the green beans and trim off the tips all at once. Repeat the process with any remaining green beans until all of the ends are removed.
Wash & Dry: Place the trimmed green beans into a large bowl filled with cold water and let them sit for 15-20 minutes. Then rinse them off with cold water and pat them dry with paper towels.
How to Make Roasted Green Beans
Here's how to make these easy holiday roasted green beans.
Prep. Preheat the oven to 425F, and line a baking sheet with parchment paper. 
Season the green beans. Place the green beans on the parchment paper and coat with olive oil. Then season with the salt, pepper, and optional garlic powder and onion powder. 
Roast. Cook the green beans in the oven for 15-18 minutes, shaking and turning the baking sheet halfway through. If you want the green beans to be crispy, broil them for 1 additional minute. 
Finish. Remove the roasted green beans from the oven, and toss with the optional nuts. Then serve. 
Tips for Success
Read through the tips and tricks below before you start prepping your green beans. Each one will help ensure the perfect outcome!
Dry the Green Beans Thoroughly: After your green beans are soaked in cold water for at least 15 minutes and rinsed off with more cold water, dry them off as best you can. If they're still damp when you put them in the Air Fryer, they won't come out as crispy.
Don't overcrowd the green beans. Make sure that the green beans aren't too crowded on the baking sheet. If the beans are crowded, then they won't get crispy at all. If you have more green beans than fit on the baking sheet without overcrowding, then roast the veggies in batches, or use two baking sheets. 
Customize the recipe. You can have a lot of fun with these roasted green beans by customizing the recipe based on what you like, what you have around, and what holiday you may be celebrating. You can add fresh garlic or red chili flakes if you want a little kick. Dried cranberries or fresh pomegranate seeds make the green beans perfect for Christmas. A sprinkling of parmesan cheese or nutritional yeast will make the beans very rich. Fresh lemon makes the veggies even lighter. And who doesn't love some bacon crumbled on green beans? 
Variation Ideas
You can take these Air Fryer green beans in tons of different directions. Here are some easy ways to change them up:
Add More Seasonings: We often add half a teaspoon of garlic powder and 1/4 teaspoon of onion powder to our green beans for extra flavor. You could even throw in some crushed red pepper for a kick of heat!
Make Them Extra Crispy: For an even crispier result, place your cooked green beans under the broiler for a minute or two. Keep a close eye on them so you can take them out before they burn.
Make Balsamic Green Beans: Balsamic vinegar tastes amazing on top of crispy air fried green beans. It gives them a satisfying tang that's guaranteed to make a splash at the dinner table.
Add Toasted Almonds: Want to incorporate some nuttiness and crunch? Toast up some chopped or slivered almonds and sprinkle them over your green beans before you serve them.
Make Cheesy Green Beans: Adding a sprinkle of nutritional yeast is a diet-friendly way to give your green beans a cheesy flavor. You can use grated Parmesan cheese if you're not dairy-free or vegan.
Add Bacon: If your diet permits, introduce some protein by sprinkling cooked and crumbled bacon over your finished green beans. Yum!
Make Them Festive: Serving these green beans on Thanksgiving or another holiday? Garnish them with pecans and dried cranberries for a festive finishing touch.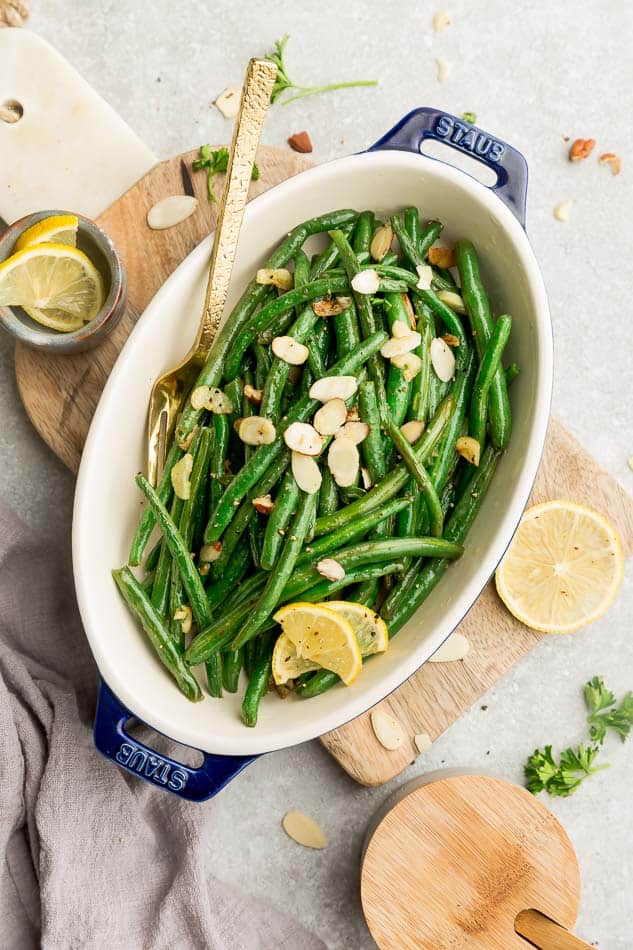 Serving Suggestions
These green beans make a great healthy snack by themselves, though we usually serve them as a side dish during lunch or dinner. We've listed some of our favorite entrees to pair them with below.
Serve with Falafel: This classic Falafel can be cooked in the Air Fryer, over the stove or in the oven! No matter which route you take, it's guaranteed to be a tangy, savory and spicy delight.
Pair with Teriyaki Salmon: So long as you're not vegan, this Teriyaki Salmon is an absolute must-try. Made with a sumptuous pineapple orange sauce, it tastes lovely alongside air fried green beans.
Serve with Sesame Tofu: I don't know about you, but our family is always in the mood for Sesame Tofu. Especially when it's homemade!
Storing and Reheating Air Fryer Green Beans
Once your green beans have cooled completely, transfer them to an airtight container or a resealable storage bag. Place them in the fridge and enjoy them within 4 days. Reheat them in a 350°F Air Fryer or oven for about 5 minutes, shaking the basket halfway through, until the beans are warmed through.
Do These Freeze Well?
They do! Place the cooled green beans into an airtight container and freeze them for up to 6 months. Thaw them out in the fridge overnight before reheating and enjoying them.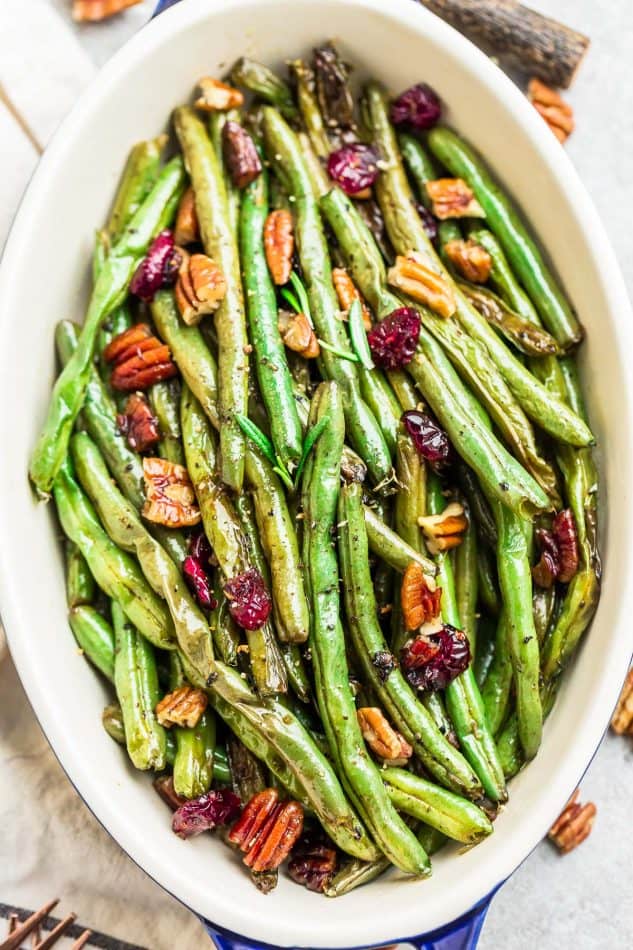 More Veggie Side Dishes
Here are some other of my favorite vegetable side dishes for you to make.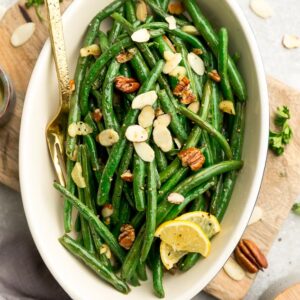 Roasted Green Beans
These roasted green beans are fresh, healthy, and the perfect side dish at Thanksgiving or Christmas. They only use a few ingredients, and take less than half an hour to make.
Keyword:
almond green beans, christmas dinner sides, how to cook fresh green beans, thanksgiving sides
Ingredients
1

lb

fresh green beans

trimmed (make sure they are dry)

2

tablespoons

avocado oil

OR olive oil

1/3

teaspoon

fine sea salt

or more to taste

1/4

teaspoon

freshly cracked black pepper

or more to taste

1/4

teaspoon

garlic powder

, optional

1/8

tsp

onion powder

, optional
OPTIONAL TOPPINGS:
1/4

cup

toasted chopped pecans

1/4

cup

toasted sliced almonds
Instructions
Preheat the oven to 425°F. Grease or line a baking sheet with parchment paper for easy clean-up.

Place green beans on the baking sheet and drizzle with oil. Season with salt, pepper, garlic powder and onion powder and toss to evenly coat.

Spread green beans out evenly on the pan and bake in preheated oven for 15-18 minutes. Shake and turn the pan halfway through. For crispier beans, broil for 1 minute, watching closely so they do not burn.

Remove from the oven and sprinkle with toasted nuts, if desired.
Nutrition Facts
Roasted Green Beans
Amount Per Serving (1 serving)
Calories 98
Calories from Fat 63
% Daily Value*
Fat 7g11%
Carbohydrates 7g2%
Protein 2g4%
* Nutrition facts are provided as a courtesy using the WPRM recipe calculator. It is best to make your own calculations to ensure accuracy. We expressly disclaim any and all liability of any kind with respect to any act or omission wholly or in part in reliance on anything contained in this website. Percent Daily Values are based on a 2000 calorie diet.