15+ Easy and Delicious Whole30 Breakfast Recipes to help you kick start your morning. These simple breakfasts are perfect for sweet and savory breakfast fans! What better way to start a healthy day than with a Whole30 recipe? This collection includes everything from eggs, avocado, smoothie bowls, frittatas, casseroles and more!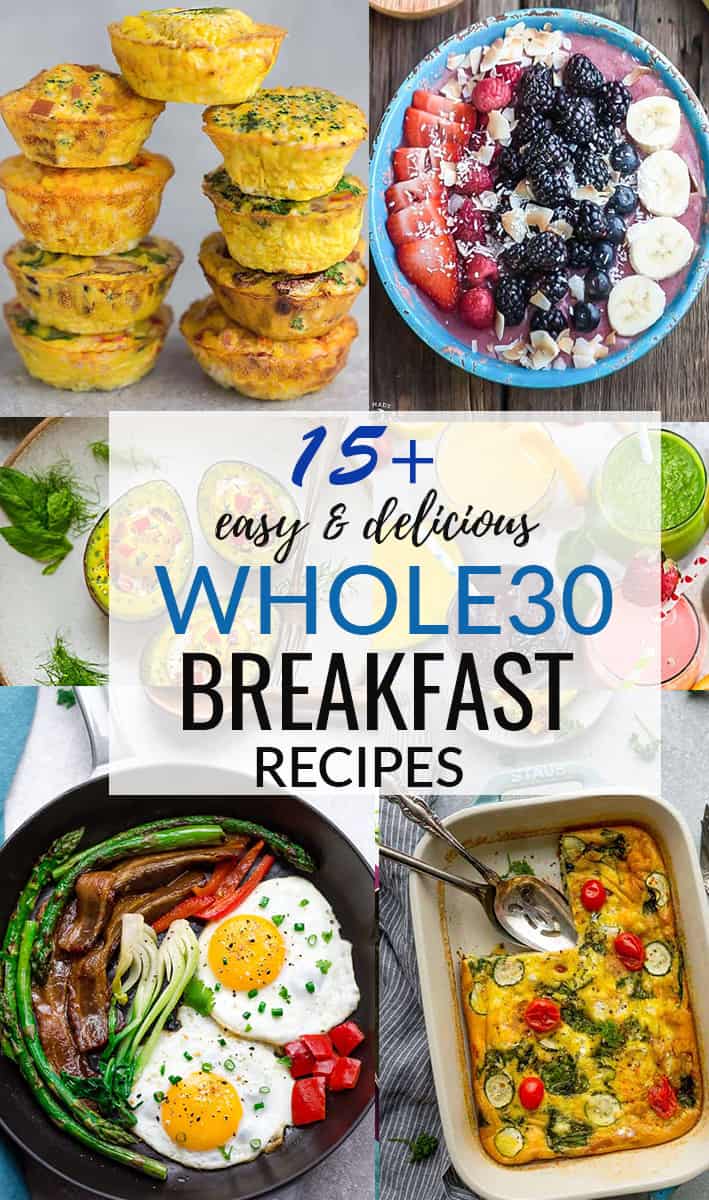 PIN HERE for later and follow my boards for more Whole30 recipes
Article written by Amanda S.
What is Whole30?
Whole30 is a 30-day program that focuses on whole, nutritious foods. You can read more about it in this helpful Whole 30 Guide & Shopping List
Whole30 diet rules
Foods that are Whole30 approved:
Fruits
Vegetables
Unprocessed meats
Seafood
Eggs
Nuts and seeds
Some types of oils
Coffee
Foods that are not Whole30 compliant:
Legumes
Soy (this includes tofu and edamame)
Grains
Alcohol
Added Sugars
Whole30 makes you rethink all food labels and get comfortable preparing meals from scratch in the kitchen.
This can be a challenge for some, but with these great Whole30 approved breakfast recipes, you'll want to be cooking!
15 Whole30 Breakfast recipes:
Whole30 Breakfast Egg Muffins by Life Made Sweeter
These egg muffins are perfect for breakfast on the go. Plus the flavor combos are endless!
Bacon Wrapped Egg Cups by Fit Foodie Finds
Doesn't everything in life taste better wrapped in bacon?
Whole30 Breakfast Bowl By Bravo For Paleo
This breakfast bowl is loaded with goodness!
Mixed Berry Smoothie Bowl by Life Made Sweeter
Every morning should start with an Instagram-worthy smoothie bowl!
Green Chili Frittata by One Lovely Life
Frittatas are the best for a quick and easy breakfast. Plus, leftovers taste great!
Sunny Side Up Eggs and Bacon by Life Made Sweeter
If anything more satisfying than a perfect sunny side up egg? This skillet breakfast is the perfect low-carb meal.
Sweet Potato Skillet by Confessions of a Clean Foodie
Sweet potatoes for breakfast are always a good idea. And a Whole30-approved breakfast too!
Paleo Smoothie Bowl by Bravo For Paleo
A smoothie bowl is a quick and healthy breakfast option. Plus, you can get creative with all the healthy toppings!
Avocado Egg Cups by Life Made Sweeter
Eggs baked in an avocado and topped with veggies and bacon – YUM!
Healthy Egg McMuffins by Fit Foodie Finds
Who would've thought "healthy" and "mcmuffins" would be in the same statement!
5 Breakfast Smoothies by Life made Sweeter
Smoothie make the best healthy breakfast on-the-go!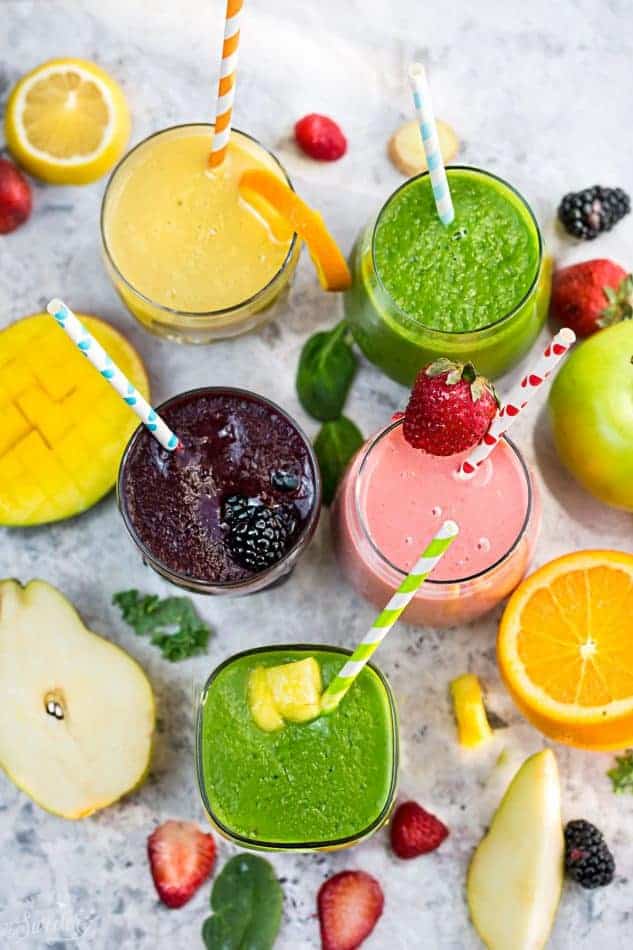 Roasted Breakfast Potatoes with Veggies by One Lovely Life
This one-sheet breakfast recipe is quick, easy, and Whole30 approved.
Egg casseroles are great for meal prepping and feeding a crowd!