Following Whole30 and wondering what to buy at Costco? This is the ultimate Guide for Whole30 Costco Products. It's perfect for those beginning their Whole30 journey and includes an extensive shopping list of Whole30 snacks and groceries as well as things to avoid.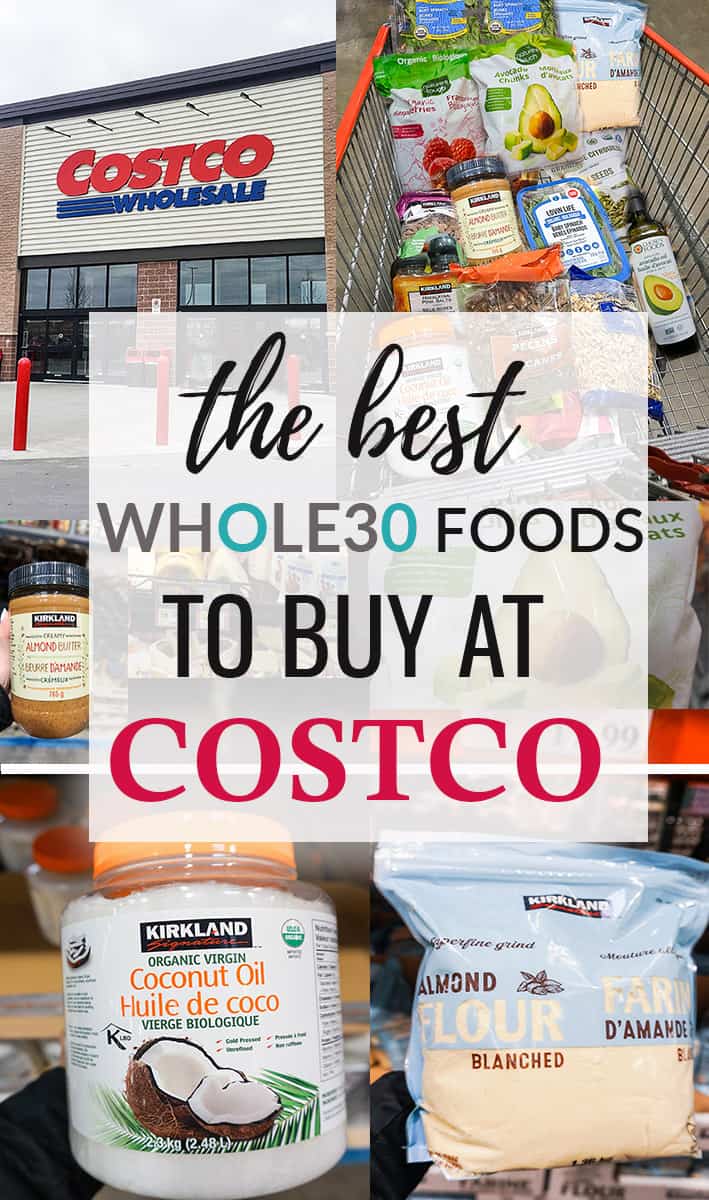 Your Guide to Whole30 Foods at Costco
If you're new to Whole30 or a seasoned pro, you're likely always on the lookout for exciting, new Whole30 compliant foods whenever you're shopping.
Following this program can be intimidating if you don't know where to start to find great options. I've found that Costco is a wonderful source for Whole30 foods. They actually have an impressive selection of Whole30 compliant foods and of course their prices are hard to beat!
And if you don't have a Costco nearby, you can also check out our popular blog posts for Trader Joe's Whole30 Shopping List and Whole30 Whole Foods Shopping List and Guide, and Whole30 Foods at Target for Whole30 compliant foods.
More helpful Whole30 guides include: Whole30 Restaurants and our Whole30 Meal Plan with tons of Whole30 Recipes.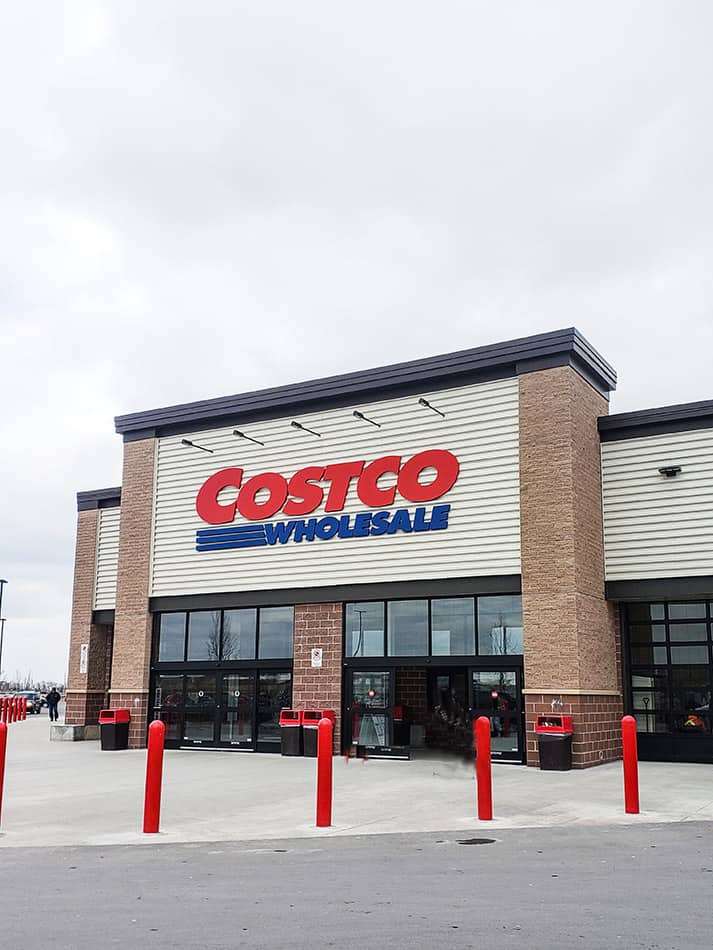 What Exactly is Whole30?
Whole30 is a nutritional diet plan that focuses on eating real-food (unprocessed and whole) for 30 days. This food plan is designed to help you change how you feel and eat by:
Eliminating/cutting out all problematic foods that may be making you feel bad, such as:

grains
legumes
soy
dairy
alcohol
added sugars
artificial sweeteners
and processed foods containing any of these ingredients

Consuming healthy "whole" foods / real food that will help you feel your best:

vegetables
fruits
eggs
quality meats – preferably grass-fed
fish – sustainably sources, wild caught
nuts
seeds and healthy fats.
What Makes Costco Unique
Costco is not a traditional supermarket, it's a membership warehouse club. There's no free membership option, day pass, guest pass, or trial period. What this means for customers is that you will need a membership to shop here regularly. There are four different tiers of membership so there is likely one that will fit your needs. However, if you are undecided as to whether or not joining is right for you, you can enter and look around without showing a membership card.
At Costco, they are dedicated to bringing their customers the best possible prices and quality in products. For instance, Costco prices are often anywhere from 15-50% lower than the prices found at Trader Joe's.
How to Find Whole30 Foods at Costco
If you've been wondering what is Whole30 compliant at Costco, this ultimate Whole30 shopping list of What to Buy at Costco is for you.
Don't forget to check out our Whole30 Prep and Shopping Guide that gives a more detailed breakdown of which foods and ingredients are Whole30 compliant and what you should avoid if you plan on participating in Whole30 January or Whole30 September.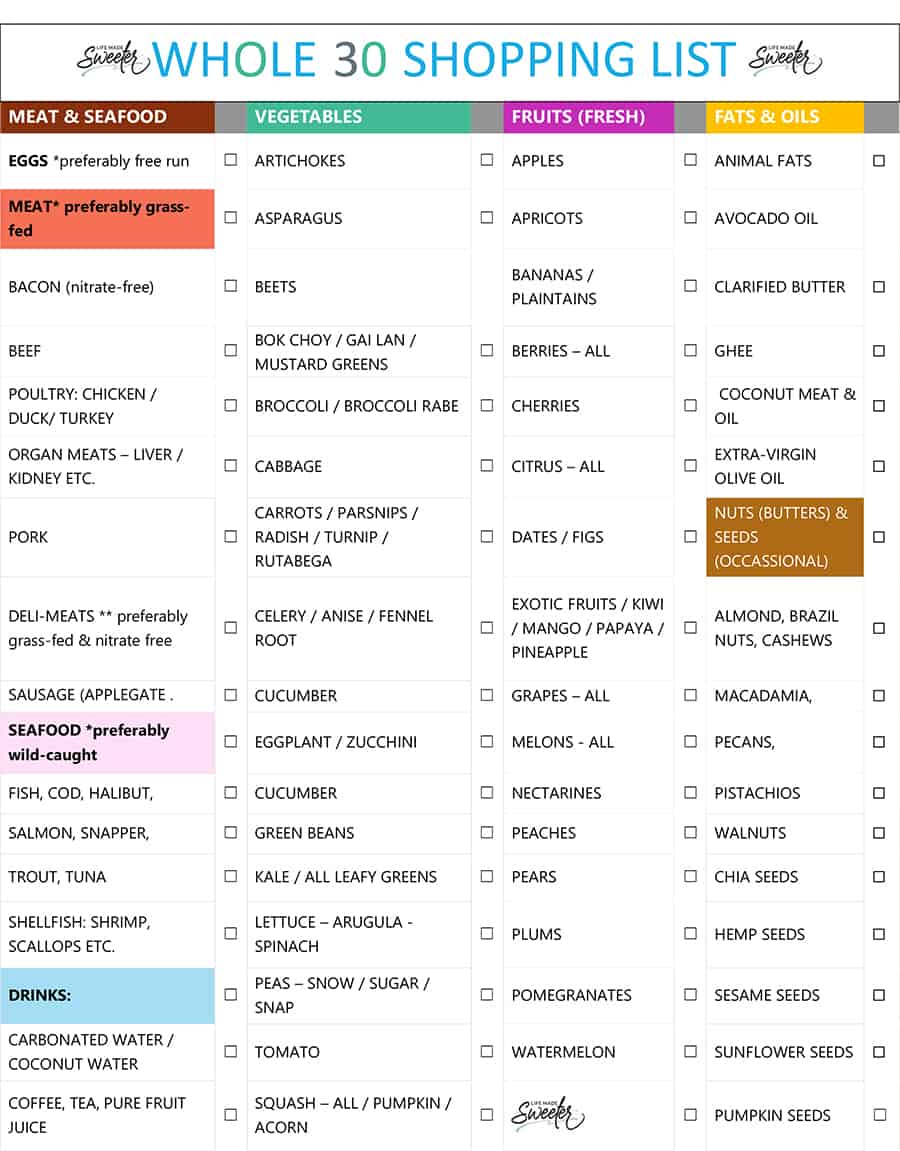 Do Your Research and Read Nutritional Labels
When doing Whole30, it's important to check every ingredient and nutrition label. Please remember that ingredients on products can change from time to time. This Costco Whole30 shopping list is being published in 2020 and fits a Whole30 plan at the time of publication.
If you spot something that changes, be sure to let me know so we can update it!
Costco Secret Shopping Tips
Here are some helpful tips for finding the best Whole30 foods at your local Costco:
Selections vary: Depending on where you live, your Whole30 Costco options might vary a bit as each Costco location doesn't always stock the same products.
BYOB: Costco is BYOB – bring your own bags – Costco does not provide them at checkout.
Everything is in bulk: Items you purchase at Costco are often bulk volume – sometimes the quantities are so large you may not be able to  finish before the food goes bad. You can always split bulk items with friends or put your freezer to work!
Weekday shopping is always easier and less crowded. 
Clearance: Items that end in $.97 are on clearance.
My Favorite Whole30 Foods at Costco:
Staples & Canned Goods
There are some Whole30 staples you'll want to have on hand at all times to make your meal planning more simple – like oil, flour, chicken stock, and tomato sauce. All of these can be found at Costco.
Chosen Foods Avocado Oil – my favorite heart healthy oil
Canned Salmon:

Wild Salmon
Wild Sockeye Salmon

Sardines: Canned Sardines
Fresh and Frozen Produce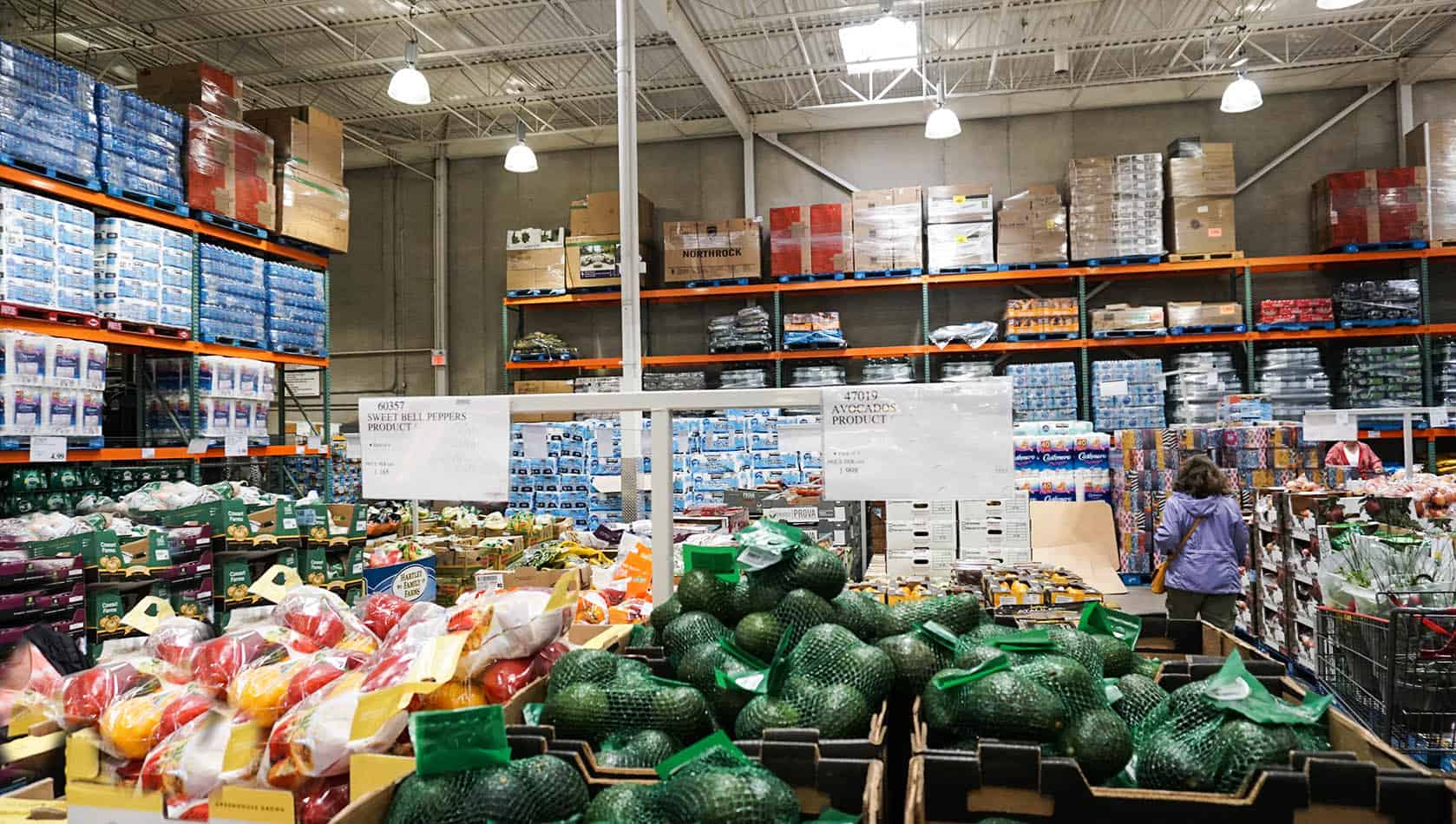 All fresh produce is Whole30 compliant. Costco offers a multitude of organic produce options. These are some of my favorite organic produce options at Costco:
Mixed Greens
Organic Baby Spinach
Cauliflower
Broccoli Florets

Sweet Potatoes
Carrots
Avocados
Bell Peppers
Pears Grapes
Bananas
Apples
If you're cooking for a smaller amount of produce, Costco might not be the best place to grab your Whole30 fruits and veggies. Produce comes in such large quantities it may go bad before you can use it unless you cook it ahead of time. Frozen fruits and vegetables are a great way to still shop for your Whole30 produce at Costco. You can find some great Whole30 compliant frozen produce, as long as there are no additives like sugar. Here are my top picks:
Frozen Avocado Chunks – love how convenient these are – great for adding into smoothies
Frozen Organic Raspberries
Wild Blueberries
Organic Strawberries

Mango
Pineapple
Vegetable Stir Fry Blend
Riced Cauliflower – an easy low carb and Whole30 side and perfect for smoothies or using in stir-fries
Meat
There are many options when it comes to protein at Costco.
Any organic meat will meet Whole30 regulations. I love to use organic chicken breasts, chicken thighs, grass fed steak, pork, turkey, or ground meats like ground beef and ground turkey.
Also seafood is a great protein option on Whole30, such as wild-caught salmon, shrimp, cod, halibut, scallops from sustainable sources.
If you are looking for something pre-prepared, check out these fabulous and flavorful Whole30 options.
Aidells Chicken and Apple Sausage
Whole30 Snacks
I love dried fruits and nuts as a Whole30 snack option. Just be sure to confirm that your dried fruit does not have any added sugar and that your nuts weren't roasted in a non-compliant oil. I typically prefer to choose raw nuts or seeds for this reason.
Nut Butters and Seeds Butters such as Almond Butter, Cashew Butter, Sunflower Seed Butter or Pumpkin Seed Butter are all great sources of healthy fats
If you're craving something outside the flavor profile of fruit and nuts, you may want to grab some of these snacks:
Wholly Guacamole (great for dipping your veggies in)
LaraBars (be sure to check the ingredient list to make sure the bars you're looking at are compliant)
Perrier or other sparkling water brands such as La Croix or Spindrift
Costco Foods to Avoid While on Whole30
Anything with added sugar
ALL dairy. The dairy section at Costco will look yummy but don't give in (try not to make eye contact with the cheese sample folks). Instead go for plant-based milks like almond milk, coconut milk or cashew milk.
Grains
Alcohol – Costco has a large wine section, but you will want to skip this if you are sticking to Whole30
More shopping guides you might like:
Best Keto Trader Joe's Products