Thinking of doing the Whole30 and wondering what you can buy at Whole Foods? This Whole Foods Whole30 shopping guide includes a comprehensive list of Whole30 snacks and groceries plus things to avoid.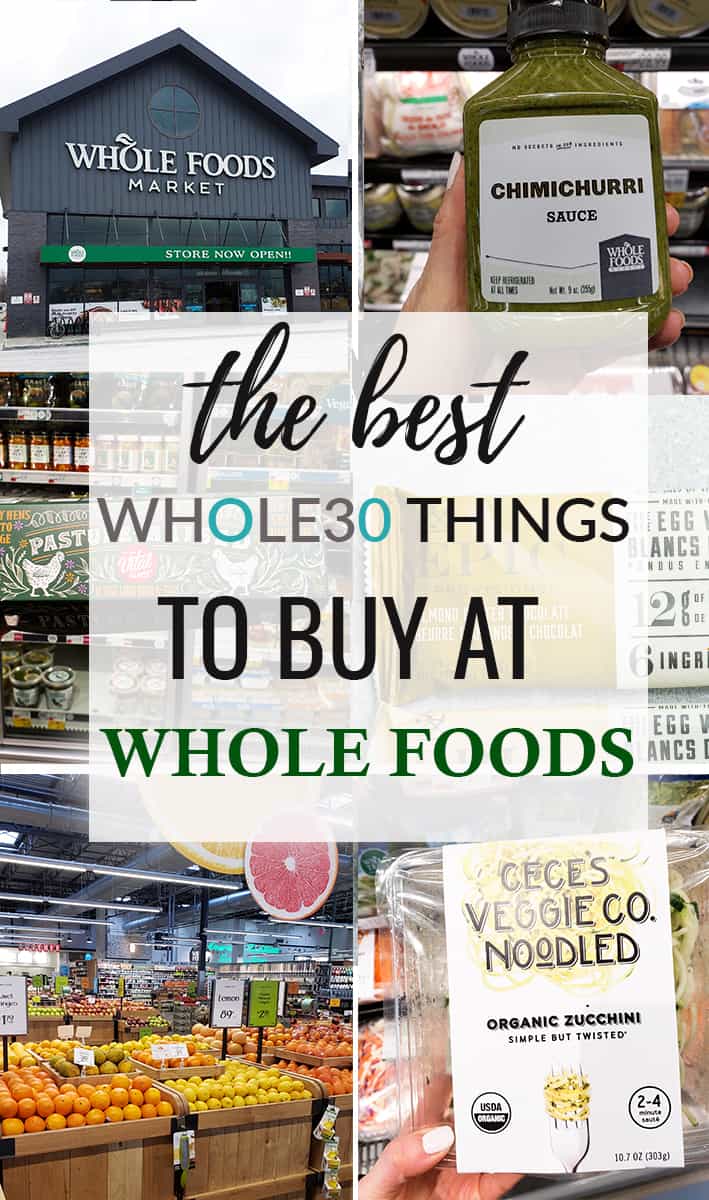 PIN HERE for later and follow my boards for more keto recipe ideas
Updated January 2022
WHAT IS WHOLE FOODS?
Whether you're just starting your first round of Whole30 or it's your 15th round, Whole Foods Market is a healthy grocery store haven for those living a lifestyle with dietary restrictions. They have a ton of options if you're looking for healthy organic, keto, paleo, vegan or Whole30 compliant products.
Ever since posting two of our popular blog posts on The Best Keto Foods to Buy at Whole Foods and The Best Keto Foods to Buy at Trader Joe's, we've been getting lots of requests to post one for the best Whole30 foods to buy at Whole Foods.
To help you get started on your Whole Foods grocery haul, be sure to head over to the Whole30 Guide to grab your our favorite Whole30 Shopping List for a detailed breakdown of what foods to add to your shopping cart and printable list of whole foods.
Keep in mind that if you don't live near a Whole Foods or find it on the pricey side, you can also check out our popular blog posts for Target Whole30 Shopping List, Whole30 Costco Shopping List and Guide and Trader Joe's Whole30 Shopping List and Guide for Whole30 compliant foods.
More helpful Whole30 guides include: Whole30 Restaurants and our Whole30 Meal Plan with tons of Whole30 Recipes.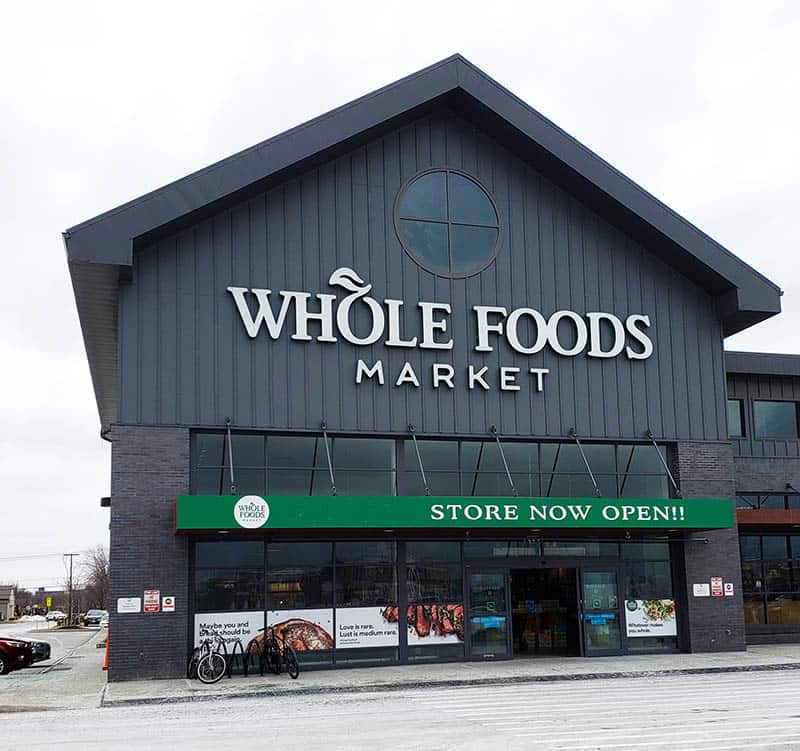 SO WHAT EXACTLY IS WHOLE30?
The Whole30 program is a nutritional diet plan that focuses on eating real-food for 30 whole days.
This food plan is designed to help you change how you feel and eat by:
1. Eliminating / cutting out all problematic foods that may be making you feel bad such as:
grains
legumes
soy
dairy
alcohol
added sugars
artificial sweeteners
and processed foods containing any of these ingredients
2. Consume all sorts of:
vegetables,
fruits
eggs
quality meats
fish
nuts
seeds, and healthy fats.
Whole Foods Shopping Tips:
Shop in Bulk: Whole Foods has a big bulk section which allows you to only buy what you need. The labels list the ingredients and nutrition facts too so you know what you're getting!
Are you an Amazon Prime member? Did you know you can get a discount at Whole Foods for Whole30 products! Yup, ever since Amazon and Whole Foods merged, you can get an extra discount at Whole Foods if you are an Amazon Prime member. Simply scan a QR code at the register using the Amazon app.
Shop the Produce, Salad and Hot Food Bars: If you are craving a healthy and fresh snack, check out the extensive organic produce section, salad and Whole30 Whole Foods hot bars. They have a robust salad bar with Whole30 salad dressings as well as a delicious olive bar to help with some snack cravings.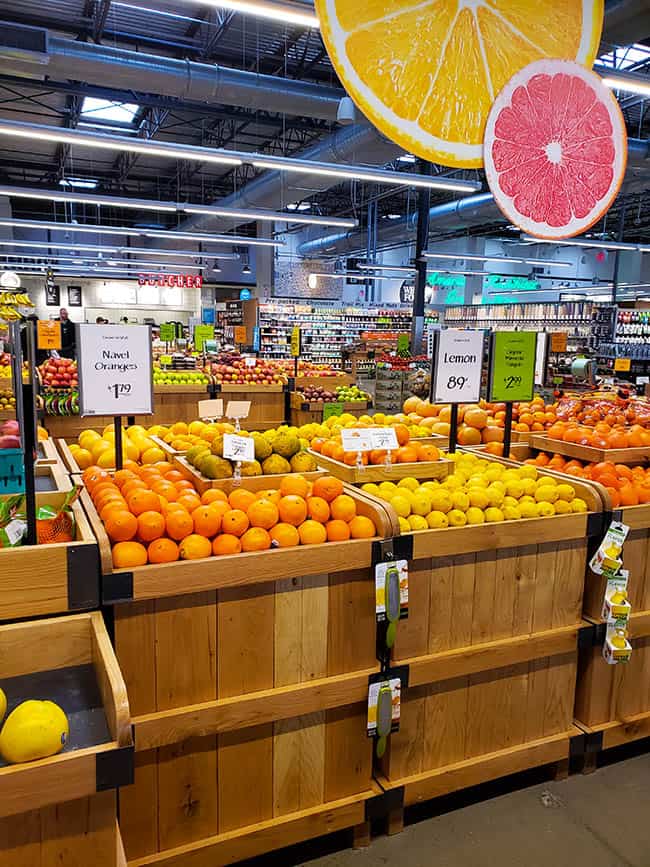 Check out their conveniently prepared fresh foods:
With pre-cut fruits, spiralized veggies or bagged salads you can find a healthy snack or Whole30 lunch for on the go!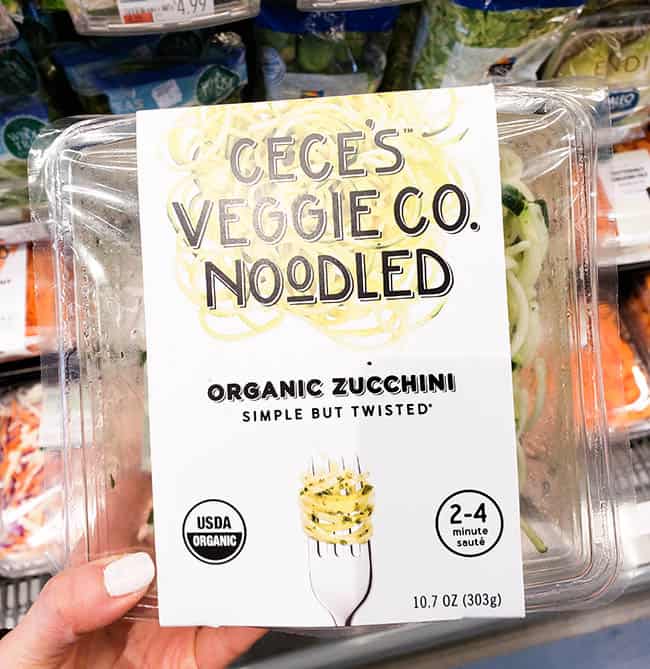 WHAT TO GET IN THE REFRIGERATED SECTION:
Dairy free yogurt – Kite Hill is our favorite
Dairy free cream cheese – Kite Hill
Unsweetened Almond (Malk, Califia Farms, 365, Elmhurst, Friendly Farms)
Organic Coconut Milk or Canned Coconut Milk (Pacific Foods – carton, So Delicious, Califia Farms)
Cashew milk – unsweetened
WHOLE30 MEATS & PROTEIN:
Uncured Bacon – read the labels: Applegate, Wellshire Farms, Pederson's
Pasteurized Eggs – (Vital Farms is our favorite if your budget allows for it)
Chicken: preferably organic – whole chicken, chicken breast, chicken thighs, chicken drumsticks, ground chicken
Turkey: preferably organic – whole turkey, turkey breast, ground turkey
Pork: pork chops, pork tenderloin, pork shoulder – you can head over to the butcher for tons of options for fresh meat
Beef: flank steak, T-bone steak, sirloin, ground beef
Fish: Cod, Halibut, Haddock, Tuna, Trout, Mahi Mahi, Salmon – preferably wild-caught: frozen or fresh
Shrimp – frozen or fresh
Other Seafood: mussels, oysters, crab, lobster etc
Sausages: read the labels: Applegate is our preferred choice
Pre-made burger patties: read the labels
Deli meat: Applegate or read the labels
Canned tuna (wild caught): Wild Planet, Safe Catch
WHOLE30 SAUCES, DRESSINGS AND CONDIMENTS
Coconut Aminos
Red Boat fish sauce
Apple Cider Vinegar (Bragg's)
Nom Nom Paleo Sauces
4th and Heart Ghee
Primal Kitchen: Mayonnaise, Ketchup, BBQ Sauce – Whole Foods Whole30 Salad Dressings: Green Goddess Dressing, Caesar Dressing, Ranch Dresssing, BBQ Sauce, Ketchup
Tessamae's Organic Ketchup, Organic BBQ Sauce, Cilantro Lime Ranch Dressing, Lemon Pepper Vinaigrette
Chosen Foods Mayonnaise
Whole30 Snacks at Whole Foods
Some affiliate links are included below:
With Whole Foods changing up their stock fairly regularly, these are the best snacks they have to offer now:
1. 365 natural almonds
In addition to their bulk section, Whole Foods has a large variety of nuts and seeds. 365 Everyday Value is Whole Foods personal line and it's usually cheaper than other brands!
Photo: Whole Foods
2. Chomps
Basically a healthy version of the Slim Jim. But with real ingredients. It's a great high protein, low carb snack.
3. Guacamole

Avocado is my #1 keto snack of choice. It's full of healthy fats and the perfect way to get fiber and potassium into your diet. And if you don't feel like making your own guacamole – Whole Foods has a ton of guacamole with no added sugars.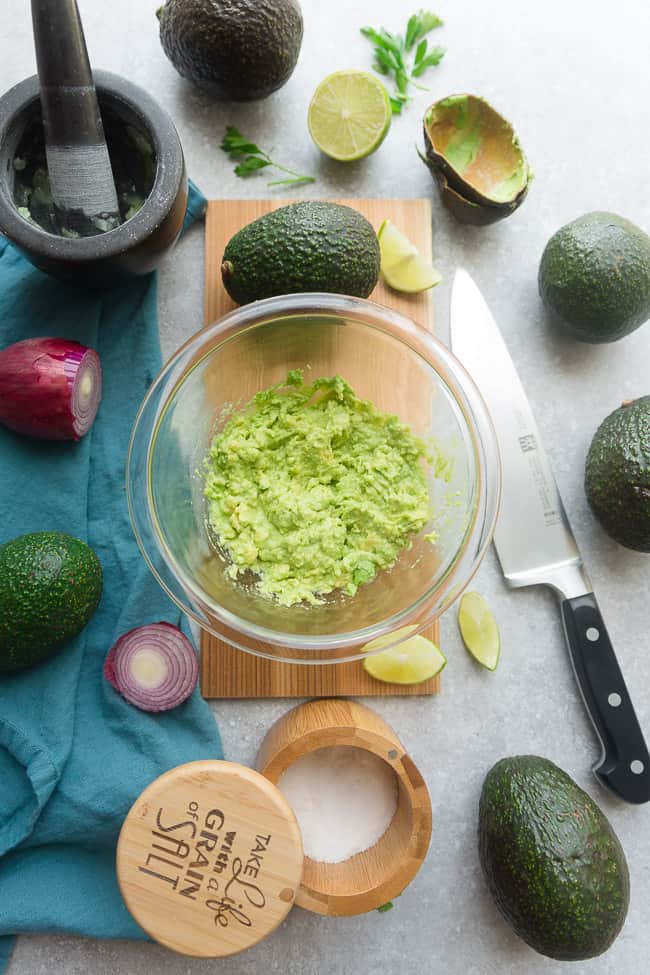 4. Seasnax Seaweed Snacks
Seasnax provides seaweed snack and seaweed chips that are perfect for some Whole30-approved snacking. They are vegan, gluten-free, and non-GMO.
5. Nut and seed butters
And if you're looking for almond butter, cashew butter or sun butter, Whole Foods has an extensive collection with no added sugars.
6. Epic Bar

An all natural jerky that's made of game meat is healthy, natural, and a perfect Whole30 snack. Most Epic Bars are Whole30 compliant, but a few contains brown sugar. Avoid the Bison Bacon Cranberry and the Wild Boar Bacon.)
Here are some other favorite Whole30 compliant snack bars:
Primal Pacs. Jerky, protein bars, and other Whole30-approved meat snacks.
Wild Zorra Bars. Meat and veggie protein bars with fun flavors like "curry masala turkey with spinach and dates."
Unofficial Whole30 Compliant Bars
RxBars. These sweet & simple protein bars never contain more than 7 ingredients, which are listed right on the packaging. Using dried egg whites for a major source of protein, these bars taste great while keeping you full.
Yawp Bars. These nutrient-dense protein bars use whole, unprocessed ingredients and boast fun flavors like Coconut Chai!
Larabars. These snack bars are a very popular Whole30 snack due to their wide array of flavors and availability at many grocery stores. These fruit and nut bars pack a great taste while staying complaint.
Photo: Whole Foods
7. Chimichurri
This is by far the best chimichurri you can find in a bottle. It tastes fresh and has all clean ingredients. Perfect on eggs, chicken, steak and over zucchini noodles – it's Whole30, keto and paleo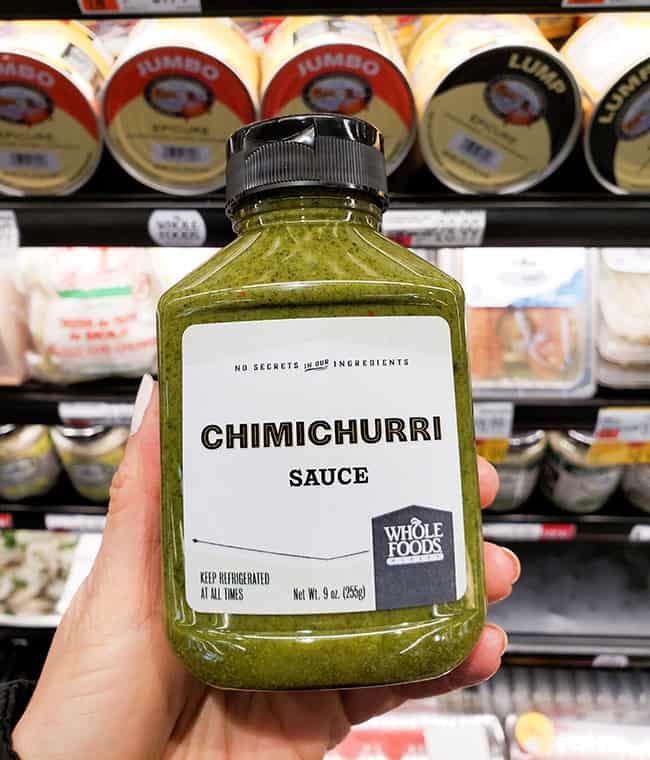 Foods You Should Not Buy at Whole Foods
Healthy Organic Juices and Drinks – many of these are sweetened with organic sugar, agave or other "healthy" sweeteners that will have an impact on your blood sugar.
Protein Bars and Drinks – many snack bars and drinks are marketed as healthy these days but that doesn't mean they are. Many of these products are high in carbs or are made with a long list of questionable ingredients.
Low Fat Yogurt or Yogurt Covered Anything – many of the low fat yogurts are full of sugar. If you're craving yogurt, choose a brand that is high in protein, full-fat and low in carbs. Kite Hill – plain is an option for an occasional treat.
Organic Snacks such as Veggie Straws or Smart Sweets – Whole Foods has a massive selection of chips and sweets. However, many of them are made with weird ingredients and harsh on your digestive system
Some Whole30 recipes you might need:
Pad Thai Zoodles {Zucchini Noodles}