Mixed Berry Skillet Crisp with an oat crumble topping is the perfect easy and healthier dessert for using up summer or frozen berries. Best of all, it's gluten free, vegan, refined sugar free and takes less than 10 minutes to assemble with blueberries, raspberries, strawberries and blackberries.

Juicy sweet berries are one of my favorite things about summer. Whenever we have an overload of summer fruit, I can never resist tossing a bunch together with an oatmeal crust.
Who can resist some crumble bars or a juicy berry crisp? The great thing about this recipe for Mixed Berry Skillet Crisp is that you can use any combination of berries you have on hand.
They're always a huge hit and the best part is, they take less than 10 minutes to make. You can even use frozen fruit if that's what you have on hand.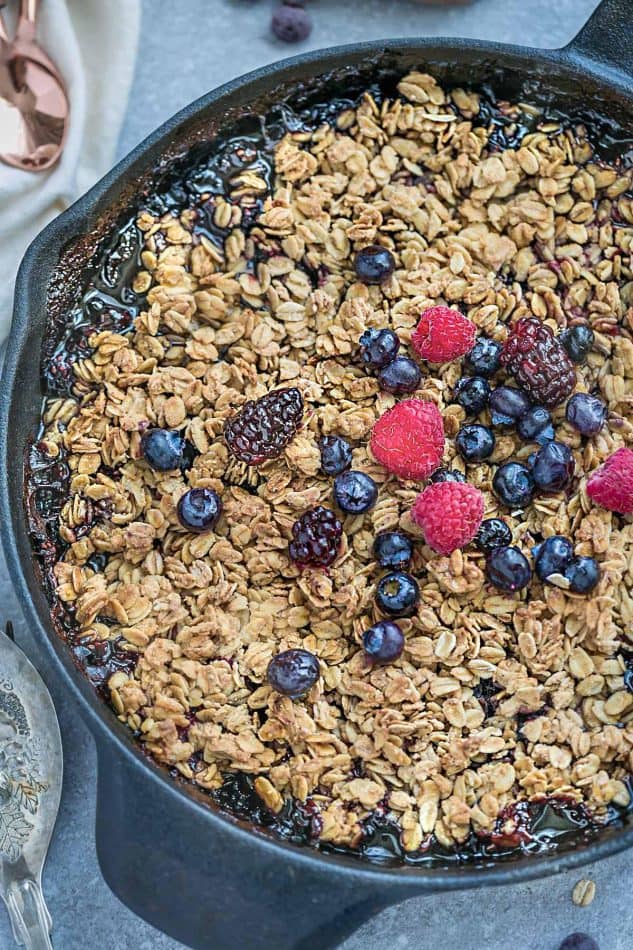 How to make this Mixed Berry Skillet Crisp
Just toss the berries together with some maple syrup and cornstarch (or arrowroot powder) to thicken up the juices. You can make spread the filling into a 9 or 10 inch skillet or a large baking dish. Next, you mix together the crumble topping with some oats, oat flour, maple syrup, coconut oil, cinnamon and salt. Use gluten free oats if necessary.
If you don't have oat flour on hand, you can make your own by tossing 1 cup of oats into your food processor or high speed blender and pulse until it is finely ground. Regular or almond flour would work here as well.


Don't forget to serve it with a scoop of vanilla ice cream. So easy ingredients and delicious!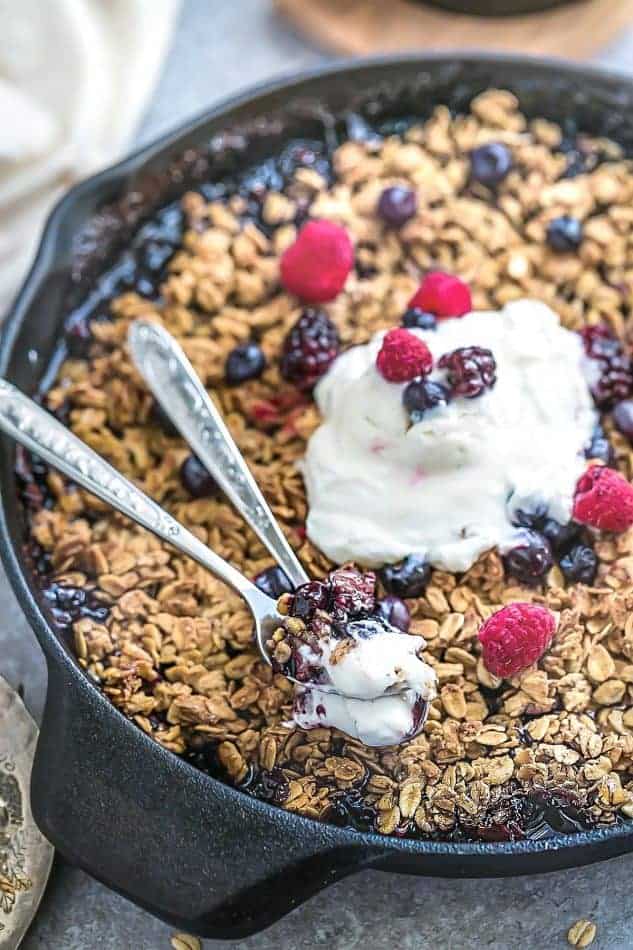 [mpprecipe-recipe:522]
Fresh Cherry Berry Crumble Bars