These Strawberry Protein Balls are packed with protein and take less than 10 minutes to make. Just a few simple pantry ingredients like almond flour, protein powder, and freeze-dried strawberries and naturally sweetened  They make the perfect no-bake low carb, vegan snack and are sugar-free, gluten-free, dairy-free and paleo-friendly.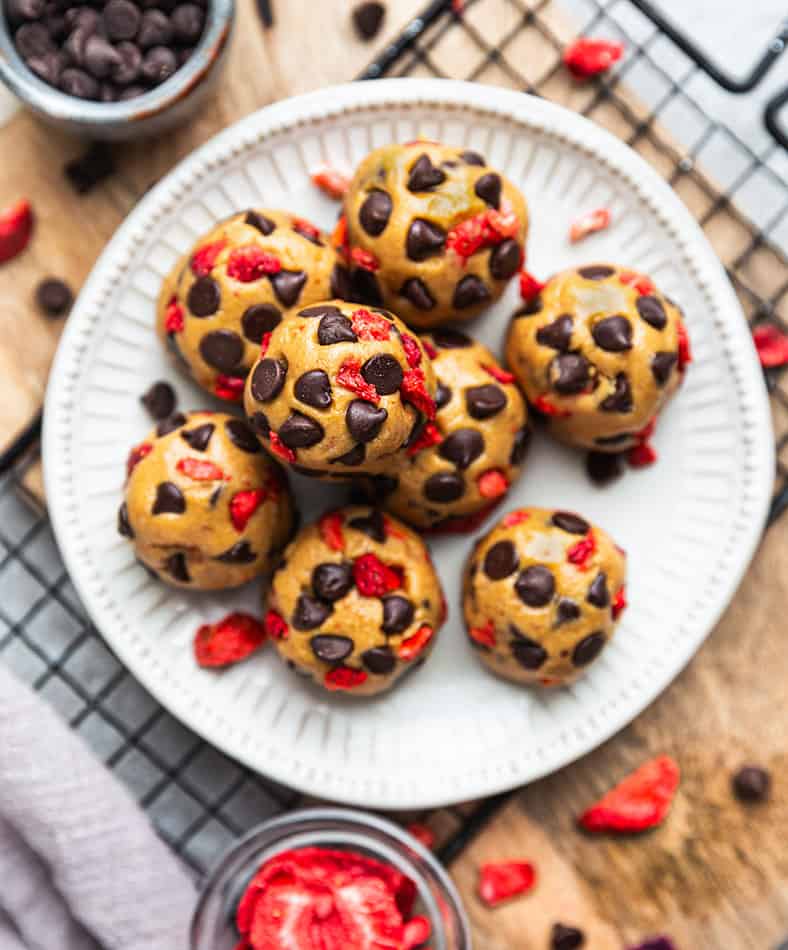 PIN HERE for later and follow my boards for more recipe ideas
Easy Strawberry Protein Ball Recipe
Looking for an easy and healthy snack for on the go? These Strawberry Protein Balls are easy to make and jam-packed with hearty and delicious ingredients. Made with almond flour, protein powder, almond milk and naturally sweetened with maple syrup. You can throw them together in minutes and store them in the fridge all week long!
Need more protein ball recipes? You'll find 12 more delicious Protein Balls here.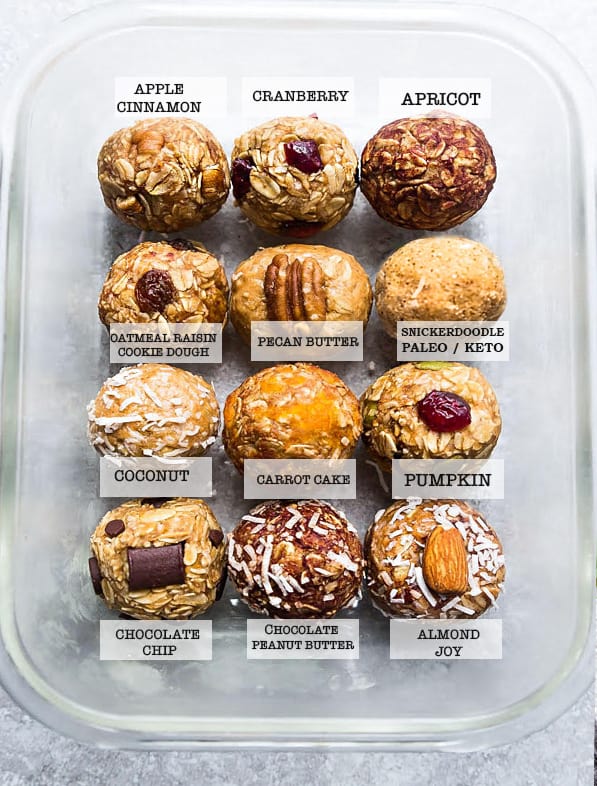 What Are Protein Balls?
These no bake protein bites are basically little balls of superfood made with cashew butter, protein powder, and naturally sweetened with maple syrup. They're an ultra-nutritious, ultra-satisfying snack for any occasion. These strawberry energy bites are so chewy and flavorful, and they work with gluten-free, paleo, vegan, dairy-free and grain-free diet plans!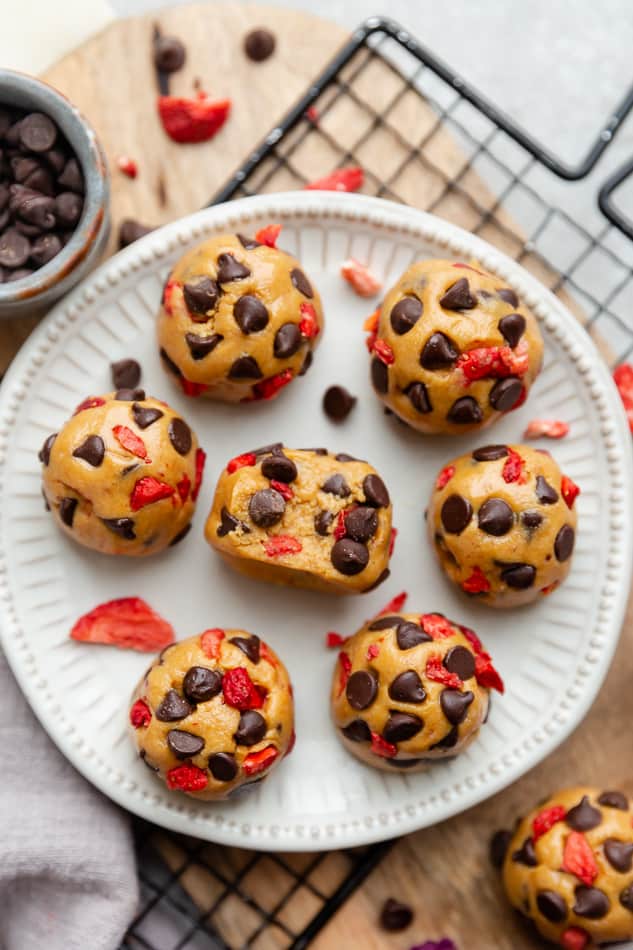 Are These a Healthy Snack?
You bet! Even though these strawberry bliss balls are sweet and yummy, they're very good for you as well. They are packed healthy fats and the nuts provide protein, carbs and more. Overall, these strawberry energy balls are a well-rounded snack that will fuel your body and make you feel amazing!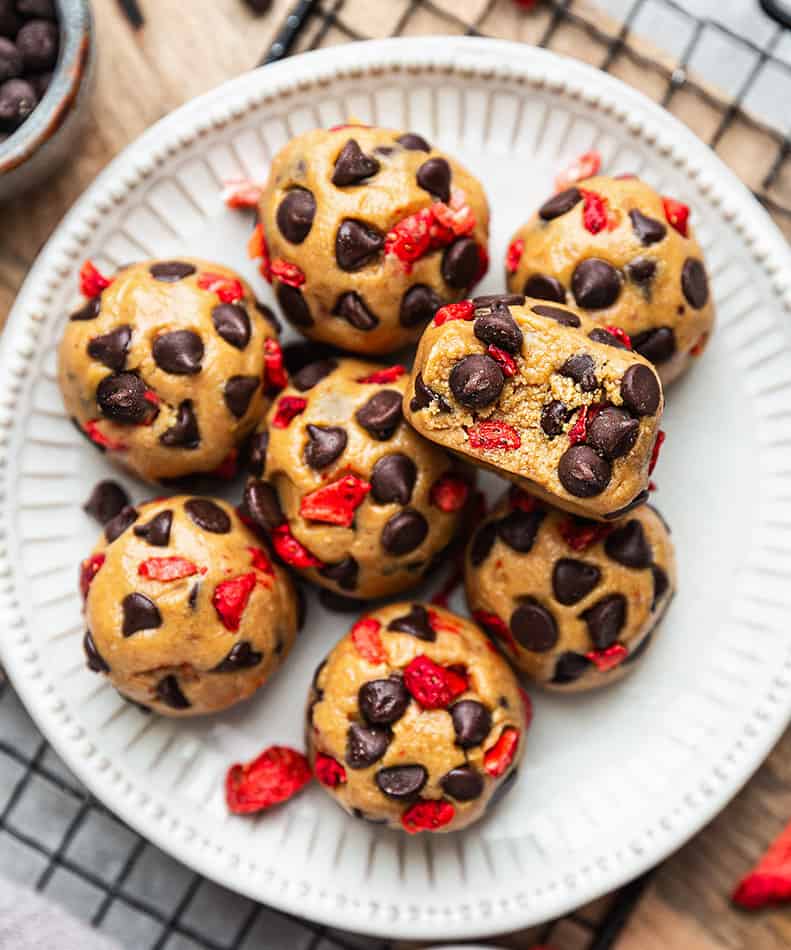 Ingredients you need
Strawberry protein bites come together with a handful of hearty ingredients. You can make substitutions to suit your preferences or stick with what's listed below.
Nut Butter: we like cashew butter for the best truffles but you can also use almond butter, peanut butter, sun butter or tahini if you want nut-free cookie dough balls.
Pure maple syrup: you'll need 3 tablespoons or add more or less to taste. You can also sub with Lakanto SF maple syrup OR preferred sticky liquid sweetener of choice. Date syrup, coconut flower nectar syrup or honey if not vegan
Almond milk: or use any plant-based dairy-free milk such as oat milk or cashew milk. You can use regular milk if not vegan.
Almond Flour: I used superfine blanched almond flour for this vegan truffles recipe.
Vanilla extract – A good quality vanilla extract is essential for maximum yumminess.
Cinnamon + Sea Salt: for flavor and helps to balance out the sweetness
Protein Powder: we like NuZest Just Clean or Sprout Living Pea Protein but you can use your favorite. We have not tested this with a Whey protein powder since we wanted to keep this recipe vegan but feel free to do so if it fits with your dietary preference. You can also sub with coconut flour if you prefer not to use protein powder.
Freeze-dried strawberries: We buy ours from Target, Trader Joe's or Amazon. You can aslo sub with Dried cherries, freeze-dried raspberries or blueberries if you like!
How to make Strawberry Protein Balls