How to make a Veggie Platter with 4 variations! Here's a simple vegetable tray that you can make in less than 20 minutes. Learn everything you need to know to assemble a veggie tray, plus tips and tricks for various dietary options. Includes a vegan tray, a low carb snack plate and options for Whole30 and paleo, low carb snack platters.


PIN HERE for later and follow my boards for more recipe ideas
THE PERFECT SNACK PLATTER
Trying to eat healthier but have a party to go to or having guests over? There's nothing better than serving up a healthy vegetable tray for your guests to enjoy. Depending on what you add to your veggie plate, they are great for any guests that are Whole30, vegan, vegetarian, low carb, keto, paleo and gluten free.
WHAT'S A  VEGGIE PLATTER?
A veggie tray or a crudite platter is simply a platter with fresh vegetables you arrange onto a large plate, platter or try. They are the easiest because they require no cooking and no baking so you don't have to turn on your hot oven on those crazy humid days. Plus, you can use any vegetables you like or have in your fridge.
Having a variety is key when you're feeding a crowd — that way there is something for everyone.
So are you ready to learn how to make the best veggie platter for your next party?
Awesome! A crudites platter is crazy easy and takes just a few minutes to put together. Here, you'll find a few different ways that you can assemble a snack plate that is a sure way to impress your house-guests.

And if you're looking for more ideas, we've already got a few popular snack boards on our site that you can check out here:
How to Make the Best Cheese Board
WHAT GOES ON A VEGGIE PLATTER?
A variety of fresh vegetables
Dip – sweet or savory: hummus, ranch dip, guacamole, cashew cream cheese etc.
Crunchy snacks such as nuts, seeds or crackers
Fruit
HOW TO ARRANGE A VEGGIE PLATTER:
1. THE PLATTER:
There are lots of items you can use as your veggie plate:
2. VEGETABLES
Use a variety of fresh vegetables that are fresh and in-season.
Choose your favorites and wash and dry them before placing them on the platter.
Leave some vegetables whole and cut the vegetables in a variety of shapes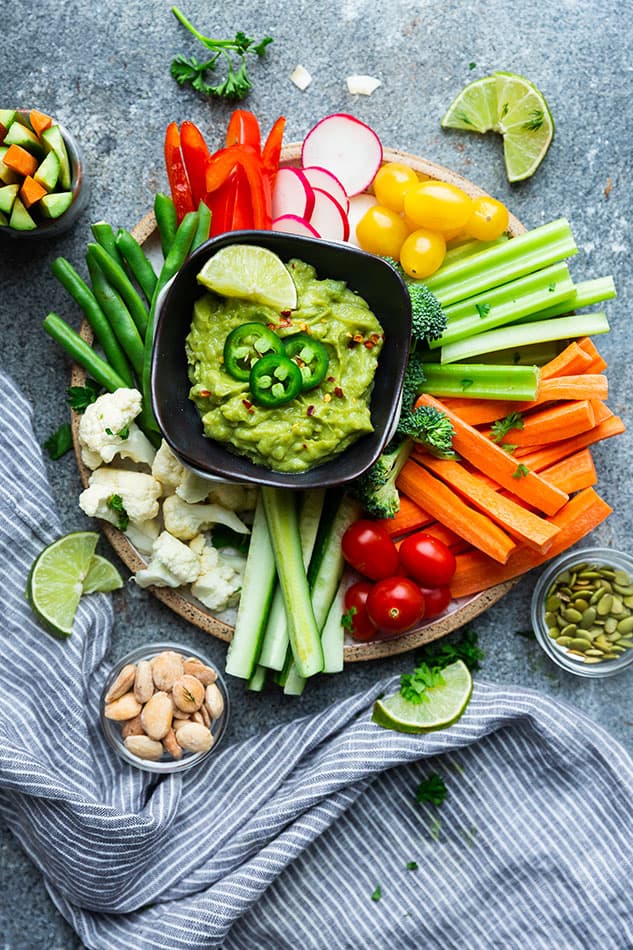 Pick a variety of about 3-5 vegetables depending on how large your platter is. Choose soft vegetables and sturdy crunchy vegetable for a variety.
Bell Peppers
Broccoli
Carrots
Cauliflower
Celery
Cherry / Grape Tomatoes
Cucumber
Green Beans
Radishes
Other vegetables that would be great: Asparagus, Olives, Snow Peas, Snap Peas, Zucchini
It's a good idea to arrange the dips first on your snack plate and then start assembling the rest of the ingredients around then.
For these snack platters, we used:
Ranch dip
Salsa – pico de gallo
3. CRUNCHY SNACKS/CRACKERS FOR THE BEST VEGGIE PLATTERS:
Depending on any dietary restrictions your guests might have, you can add up to 2-3 different types of crackers. Some conventional square crackers to crunchy or long bread-sticks are some great breads to start off with.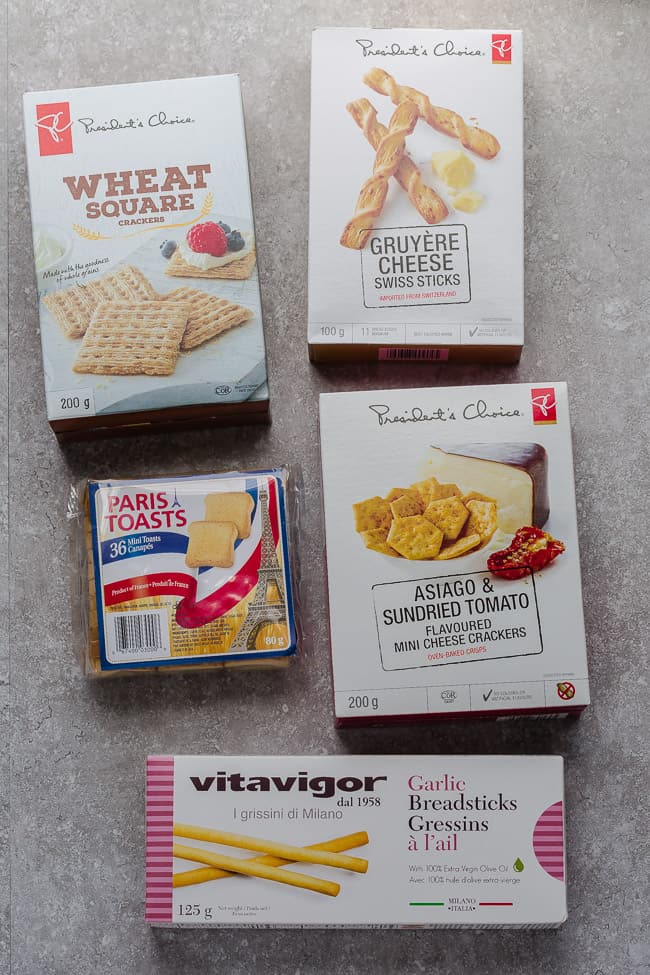 Just lay them on the cheese board around the meet and wherever there are opening.
Use plantain chips for Whole30 or use paleo friendly crackers  like Simple Mills, Jilz or Siete Tortilla Chips.
FOR LOW CARB / KETO -FRIENDLY – Leave out the crackers and use crispy cheese bites (Whisps) and pork rinds instead.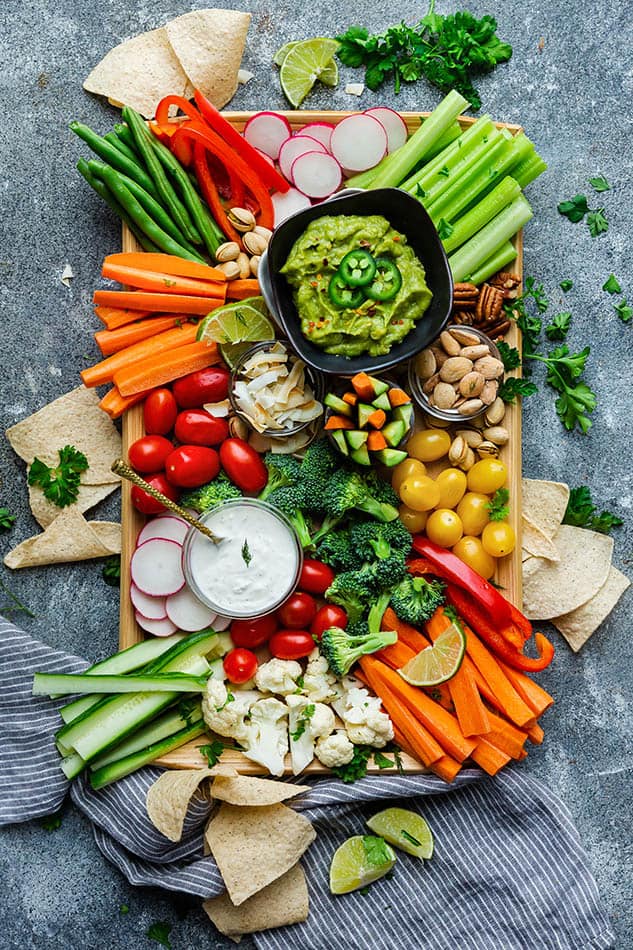 4. WHAT FRUITS & VEGGIES ARE BEST IN A SNACK BOARD?
Adding fresh fruit not only adds a bright pop of color but they also add flavor and texture.
Use a variety of dried and fresh fruit you like or have on hand.
For these cheese boards:
Dried Apricots
Fresh Berries (Strawberry, Blackberry, Blueberry, Raspberry)
Cherries
Freeze-Dried Raspberries – low carb
Grapes
Plaintain Chips
Watermelon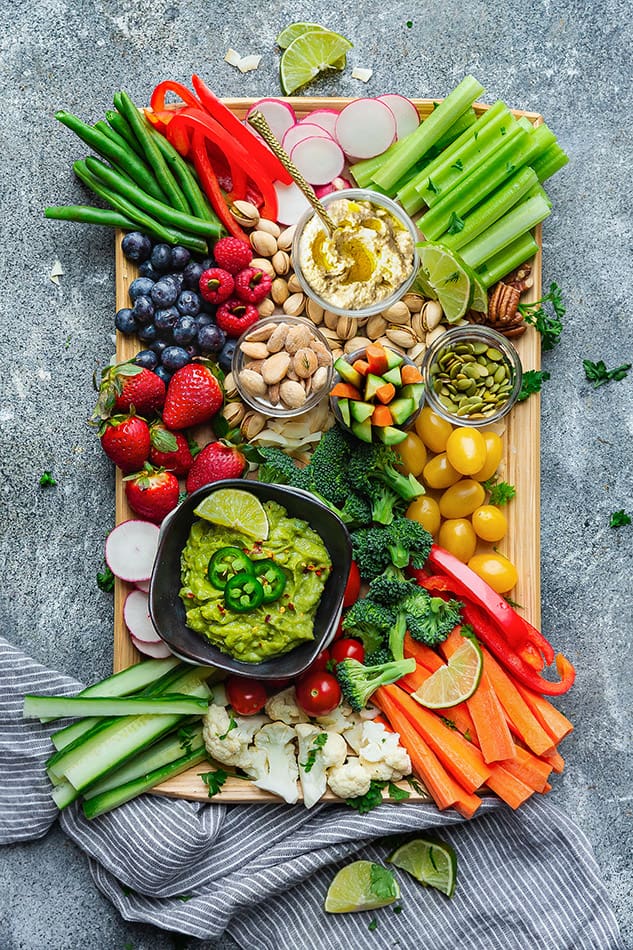 5. NUTS AND OTHER EXTRAS/CONDIMENTS
Use your favorite nuts, sauces and spreads.
almonds – low carb
cashews
pecans – low carb
macadamia nuts – low carb
Pili nuts – low carb
pistachios
walnuts
6. USE UP EXTRA INGREDIENTS TO FULL UP THE SPACES
Fill up any opening spots with the remainder of ingredients of your choice. To add some fun pops of color, add fresh herbs or fresh flowers.
And there you have it!
You don't HAVE to include all of the items we used.
Pick a few of your favorites or things you have in your pantry.
You can even create separate boards for various categories.
More easy snack platters:
How to Make the Best Cheese Board (6 Variations)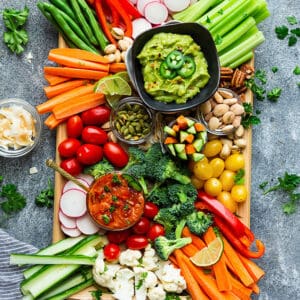 Veggie Platter
Keyword:
appetizers, crudite platter, easy party snacks, easy potluck recipes, homemade appetizer recipes, homemade snack recipes, how to make a cheese board, party appetizer recipe, vegetable platter, veggie plate, veggie platter
Ingredients
FRUITS & VEGETABLES:
Fresh vegetables

broccoli, cauliflower, carrots, cucumber, grape tomatoes, green beans, radishes & red bell peppers

Fresh berries or other fruits

strawberries, blueberries, blueberries plus your favorites
OTHER INGREDIENTS:
2-3

varieties of crackers, breadsticks, mini toast bites

2-3

types of nuts

marcona almonds, pecans, walnuts, pili nuts, macadamia nuts, pistsachios, cashews plus your favorites

FOR LOW CARB: Use Cheese Crisps (Whisps) and pork rinds
Instructions
Wash and dry your vegetables.


Place the dips on a large cookie sheet, platter, slate board or wooden cutting board.

Arrange the vegetables around the dips.


Add crackers or crispy snacks.

Fill in gaps with fruits and nuts. Use small bowls or cups for extra dimension. Top with fresh herbs and flowers for a pop of color. Enjoy.