Over 25 healthy salmon recipes that are quick and easy to make and perfect for busy weeknights. Includes tips & tricks on how to cook salmon in the oven, on the stove & how to grill.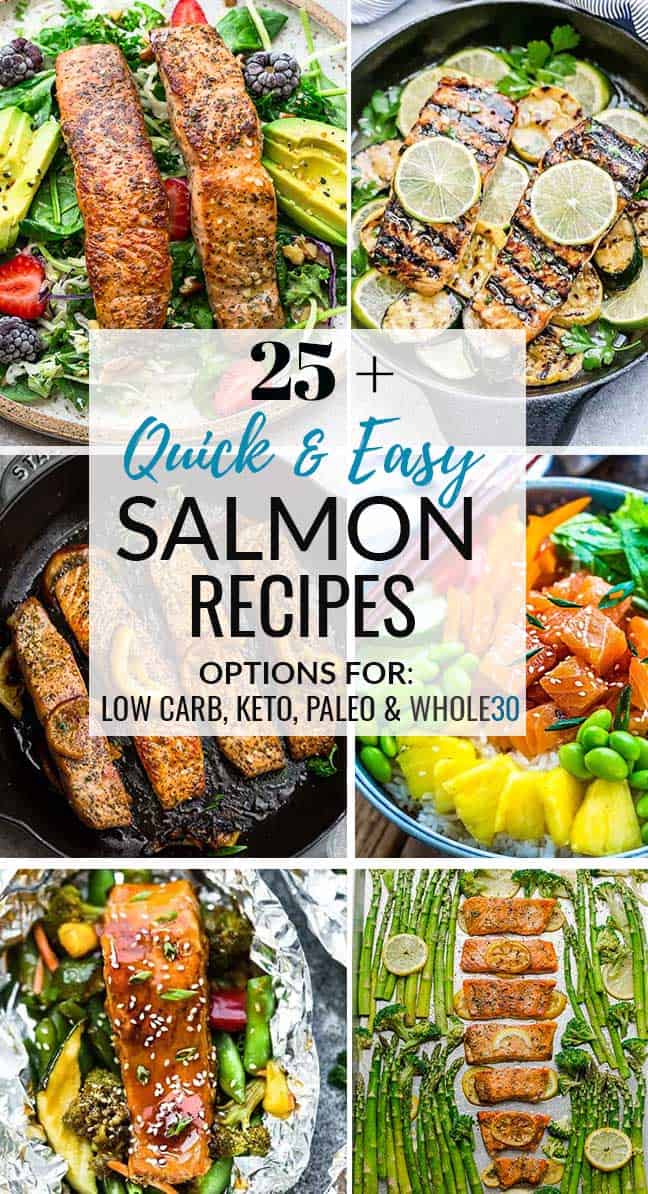 Article written by: Marissa L.
Salmon is hands down our favorite fish to make. It's healthy, tasty and loaded with omega-3 fatty acids, protein, vitamin B and potassium. Plus, salmon is delicious and perfect if you're looking for a meatless protein for Lent and bonus that it's also low carb, keto, paleo or Whole30 compliant.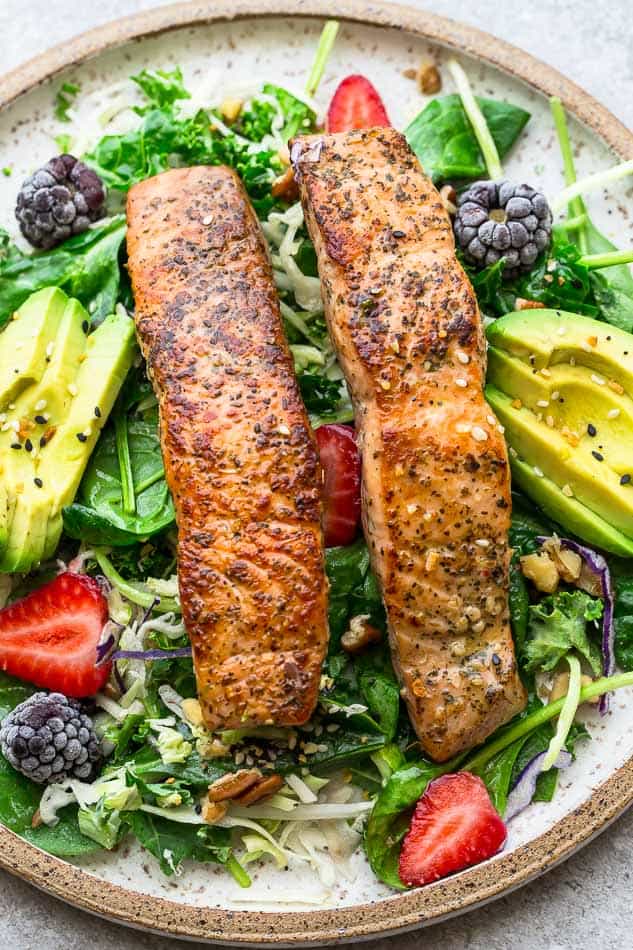 PIN HERE for later and follow my boards for more recipe ideas
We eat salmon 2-3 times a week at my house since it's incredibly easy to prepare and the kids love it. You really can't go wrong with its firm meaty flesh that's rich and full of flavor.
The best part about having salmon on the menu is that there are tons of different ways you can cook it without getting bored.
Pan Fried Salmon
Oven Baked Salmon
Grilled Salmon
Air Fryer Salmon
Instant Pot Salmon
Foil Pack Salmon
Depending on what you're craving, there's no wrong choice when it comes to how to cook salmon since they all taste delicious and it makes the perfect quick lunch or healthy dinner option.
The key to making the best salmon is not to overcook it. Salmon cooks very quickly so you'll want to keep an eye on it. When the fish starts to flake easily with a fork and the flesh looks opaque, it mean it's ready to eat!
Pan Fried Salmon / Seared Salmon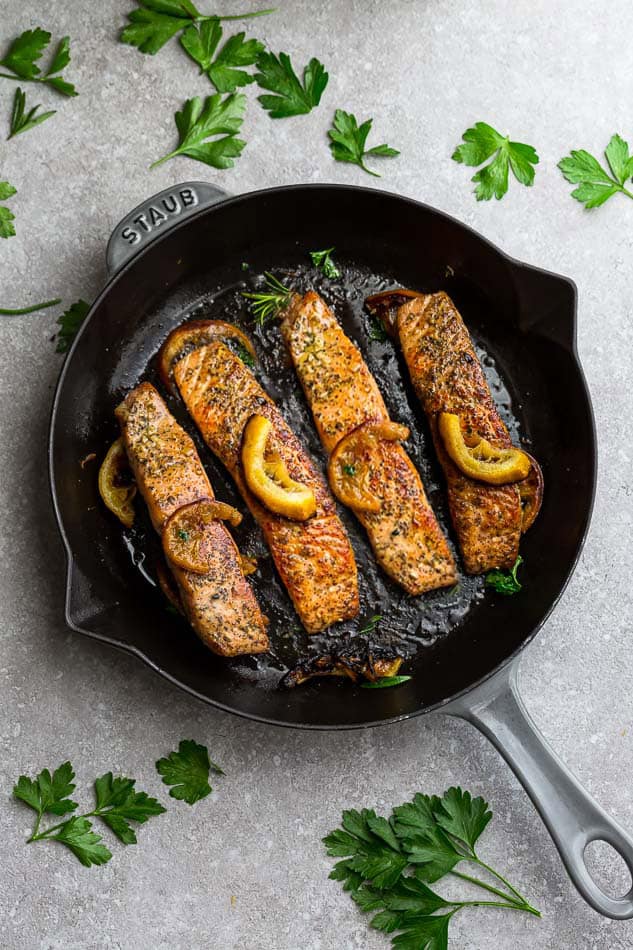 Cooking salmon on the stove is the quickest and easiest way to prepare salmon. All you need is a hot skillet and your stove to develop that perfectly crispy, crunchy skin. It's one of my favorite methods when I want dinner on the table quick on those busy weeknights.
How to pan fry salmon: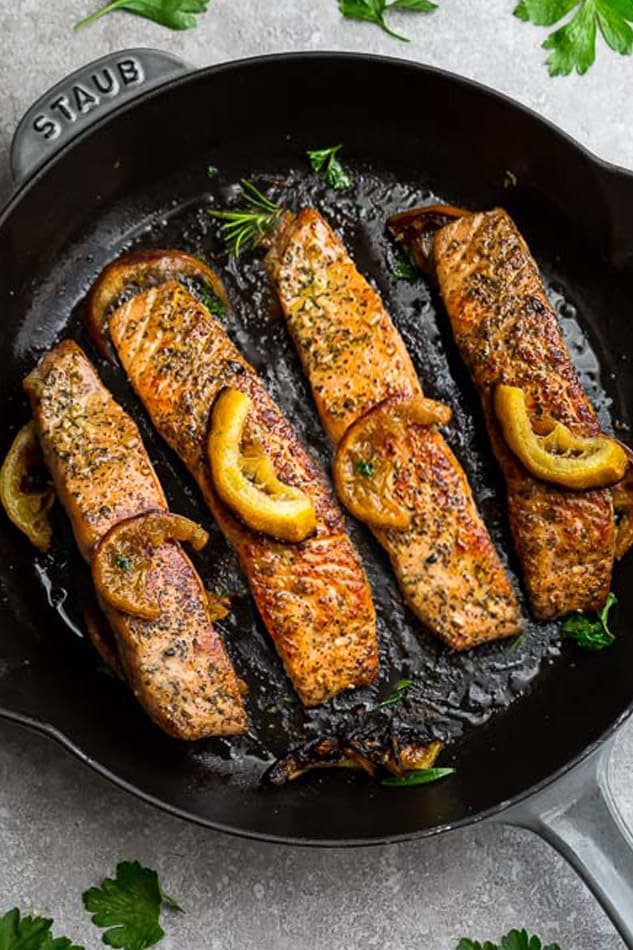 To get that crispy golden skin on your salmon fillet, you're going to pat the skin down with a paper towel. Season the salmon with some salt, pepper and garlic powder. Heat avocado oil, garlic ghee or olive oil in a cast-iron skillet on medium high heat.
Place the salmon skin-side down without disturbing it for 5-6 minutes. Using a wide spatula, carefully flip the salmon and cook for another 2-3 minutes. Add a splash a lemon and enjoy.
Oven Baked Salmon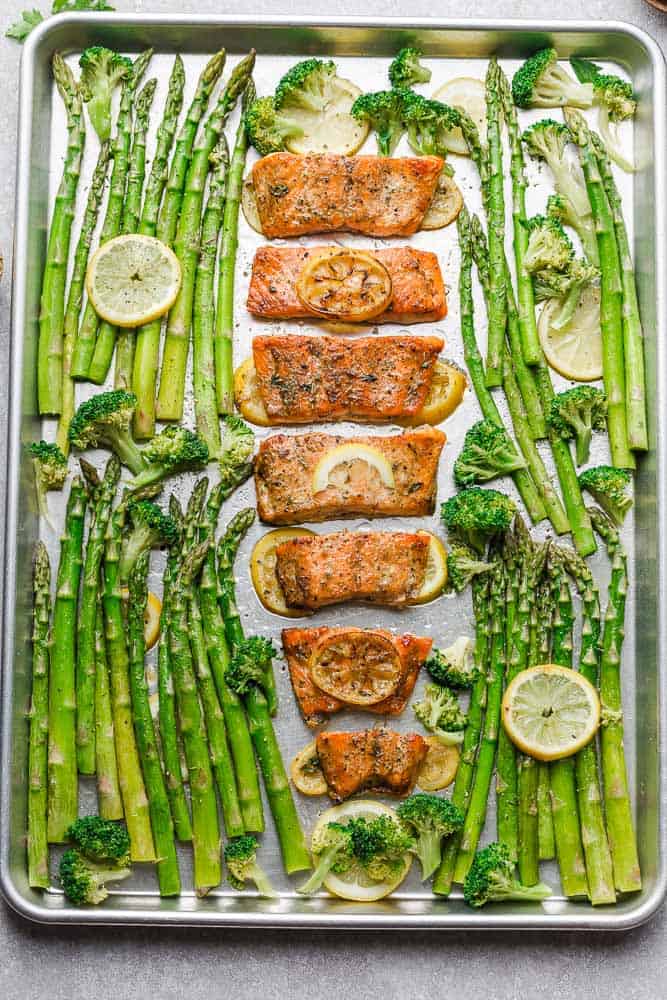 Another delicious way to cook salmon is roasting it in the oven. Oven roasting is especially perfect if you're going to making a large serving for a crowd or a dinner party. Plus, there's hardly any clean up and you don't even have to flip the fish.
How to cook salmon in the oven: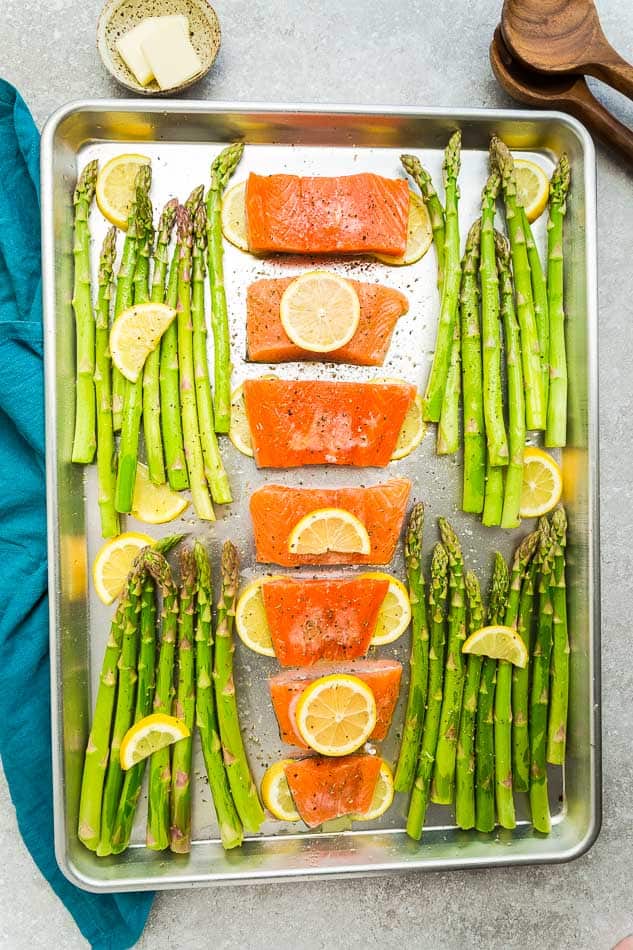 Preheat your oven to 400 F and grease or line your baking dish or sheet pan with parchment paper or foil for easier clean up.
Season your salmon with some salt and black pepper. Place the fillets skin side-down on your prepared baking dish or sheet pan. Bake in preheated oven for 12-15 minutes, depending on the size of your fish.
Oven Broiled Salmon
So what's the difference between broiled salmon and oven baked salmon?
The main reason why many people think that broiled salmon is the best is that you can get that golden browning without overcooking it. The high heat from the broiler is powerful enough to sear the surface of the fish while leaving the center perfectly tender and flaky.
How to broil salmon: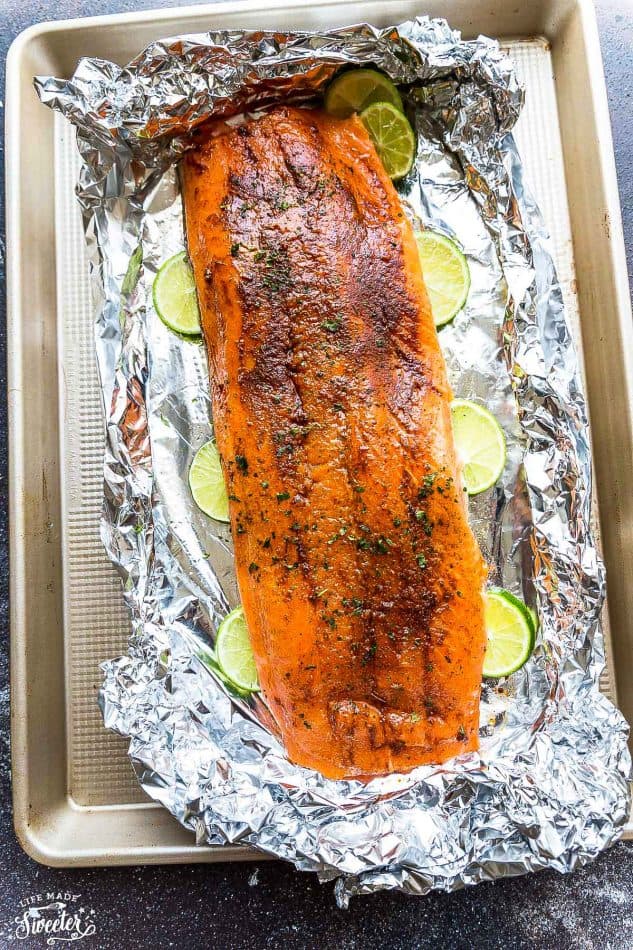 Turn the oven to broil with the oven rack placed 6 inches from the top. Grease or line a baking sheet pan with parchment paper or foil for easier clean up.
Season your salmon with some salt and black pepper. Place the fillets skin side-down on your prepared sheet pan.
Broil for 7-10 minutes or until the surface is browned and the center reaches a perfect 115 to 125°F.
Grilled Salmon
Grilling salmon is another delicious way to make salmon, especially during the summer when nobody wants to be stuck indoors over a hot stove.
It's quick to clean-up and adds a smoky flavor to the fish.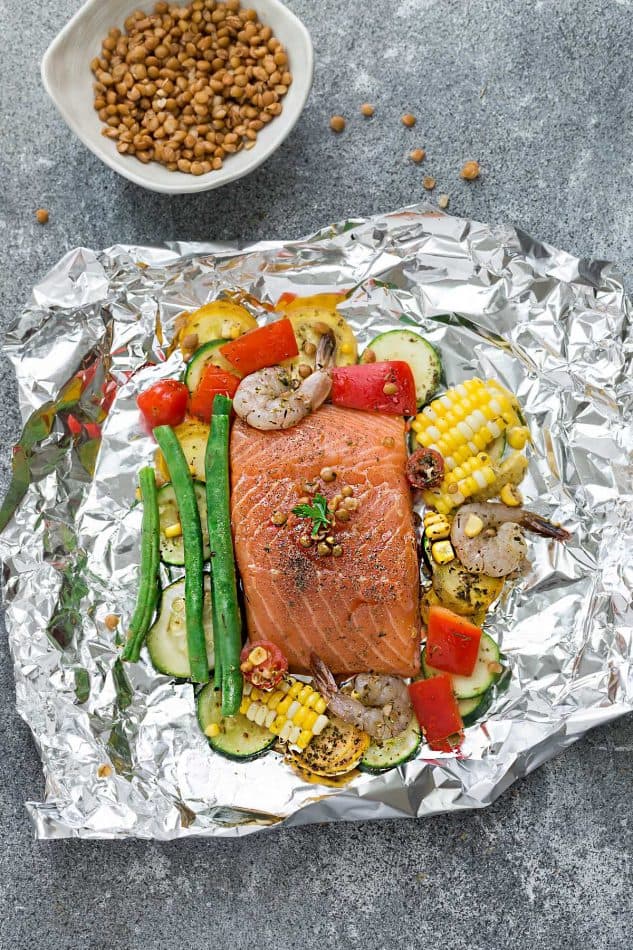 When it comes to grilling salmon, it's important to know which cuts are best for grilling. According to Food Network, salmon steaks and salmon fillets are the best choice.
The easiest way is to cook salmon on the grill is by placing it on a piece of parchment paper and then wrap with another layer of heavy duty foil. It makes clean up a breeze and the foil seals in all the juices and flavors.
However, if you are trying to get those perfect grill marks on your salmon, you will have to place the salmon directly on the grill.
How to Grill Salmon:
Preheat your grill for a few minutes on medium high heat and be sure to oil your grill generously. This prevents the salmon from sticking too much. Then cover the grill and cook for about 3-4 minutes, or until you see grill marks.
Use your tongs along with a wide spatula to help you gently remove from the grill.
HEALTHY SALMON RECIPES:
And if you're looking for some delicious salmon recipes, you're in luck! There are quite a few quick and easy salmon recipes on our site already since we eat it all the time plus, we've even scoured the web and gathered some of the best salmon recipes we could find.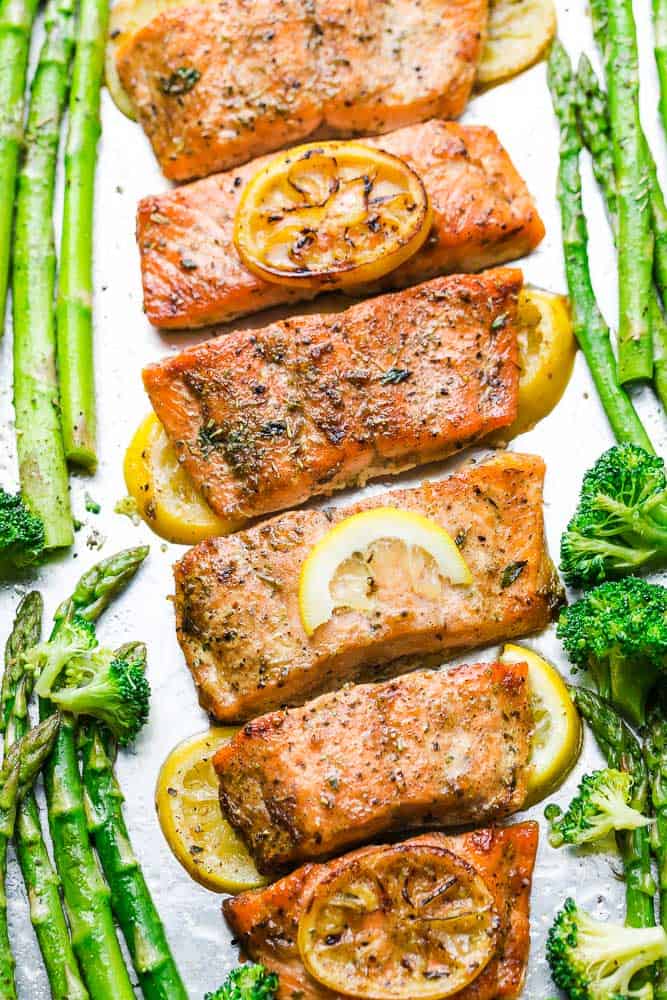 Easy Baked Lemon Dijon Salmon – Flavor the Moments
Salmon in Foil – Dinner at the Zoo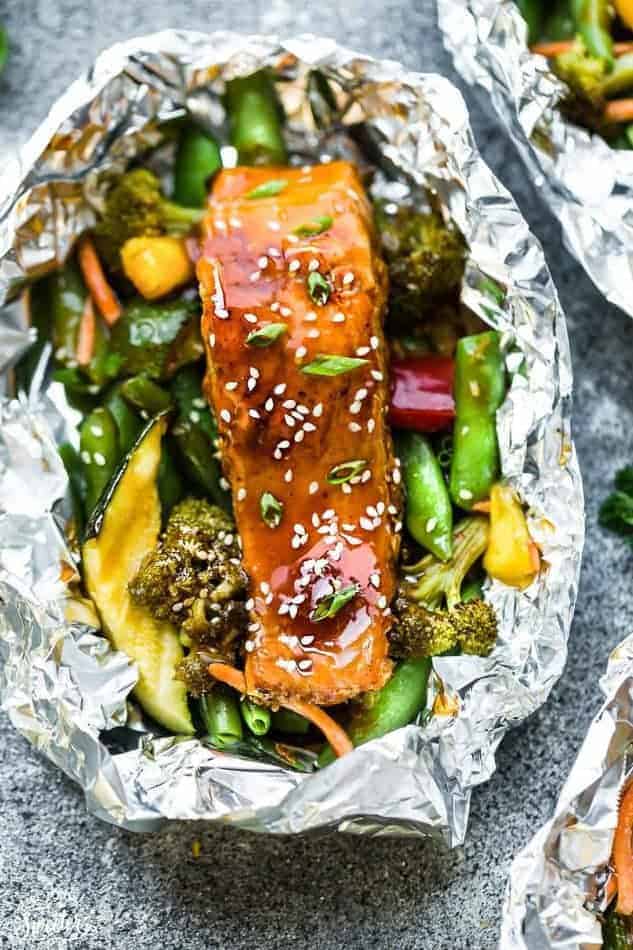 Broiled Salmon – Sweet Peas & Saffron
Honey Garlic Salmon – The Recipe Rebel
Baked Orange Sesame Salmon in Foil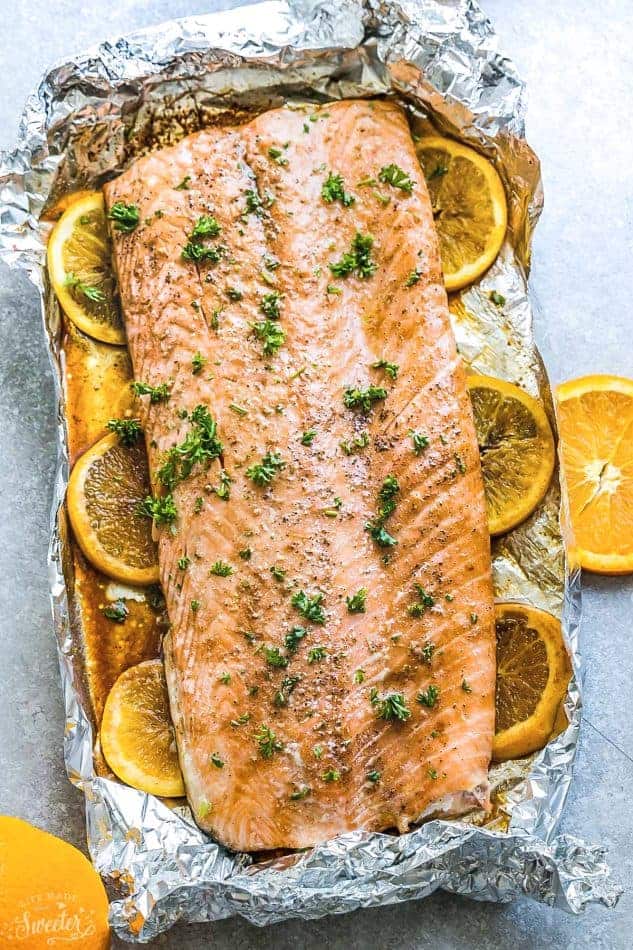 Salmon Power Salad – Kristine's Kitchen
Cashew Honey Soy Salmon – Carlsbad Cravings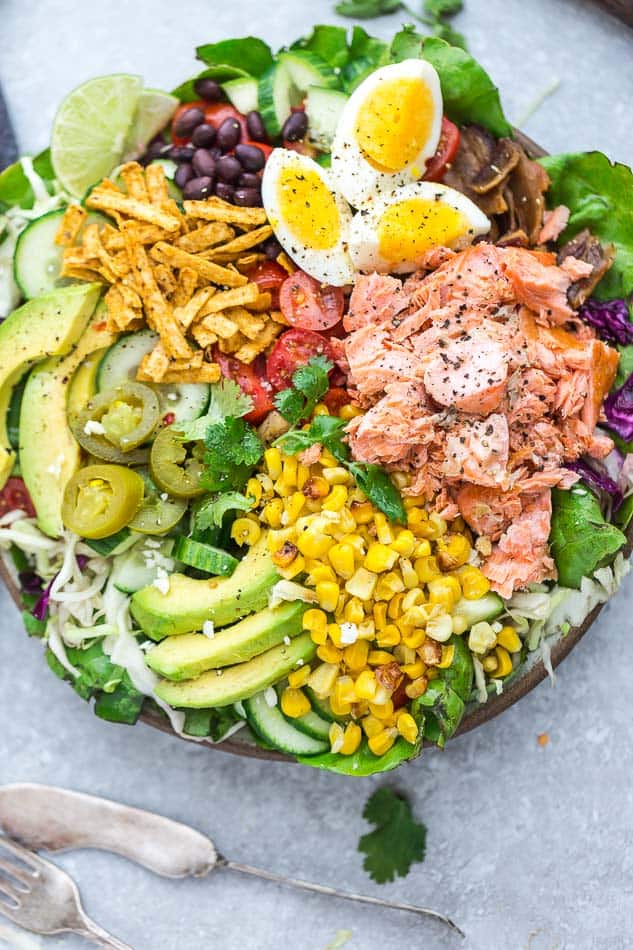 Pan Seared Salmon with a Creamy Dill Sauce – The Recipe Critic
Honey Sriracha Salmon – Fit Foodie Finds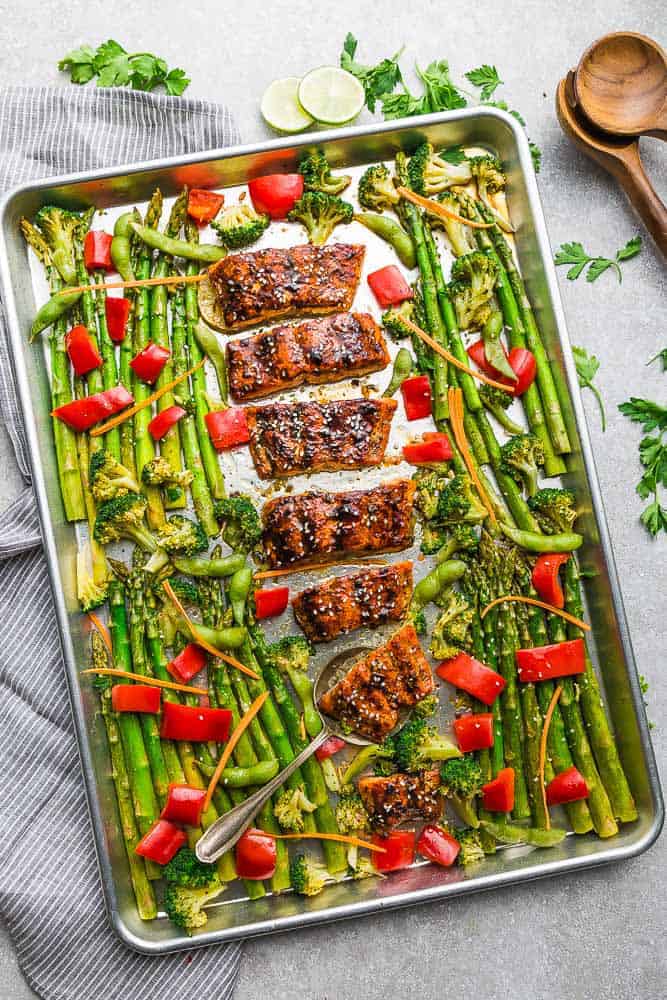 Salmon with Avocado – The Cookie Rookie
Healthy Air Fryer Salmon – White on Rice Couple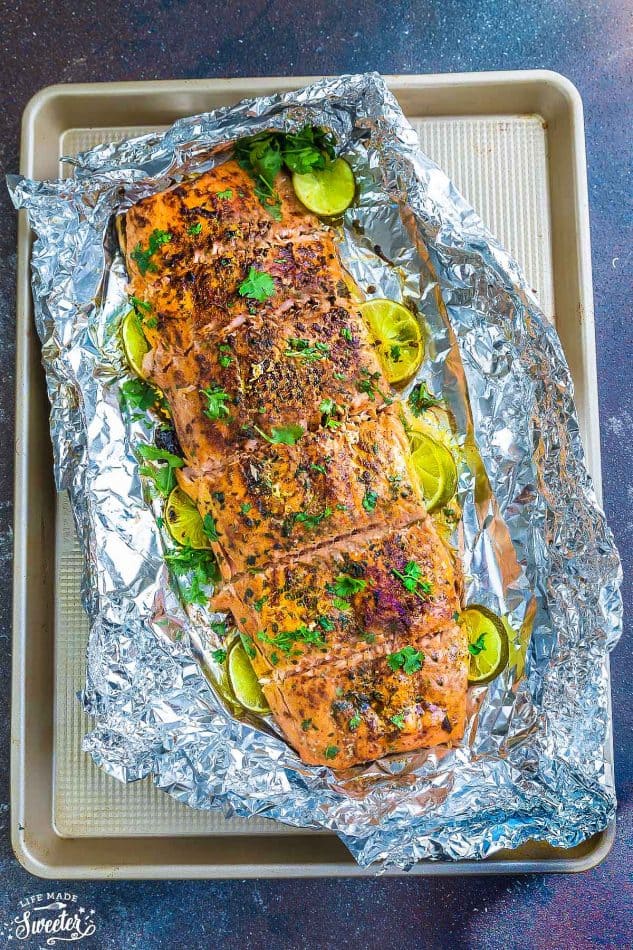 Salmon with Creamy Garlic Dijon Sauce – Cooking Classy
The Best Salmon Marinade – The Stay at Home Chef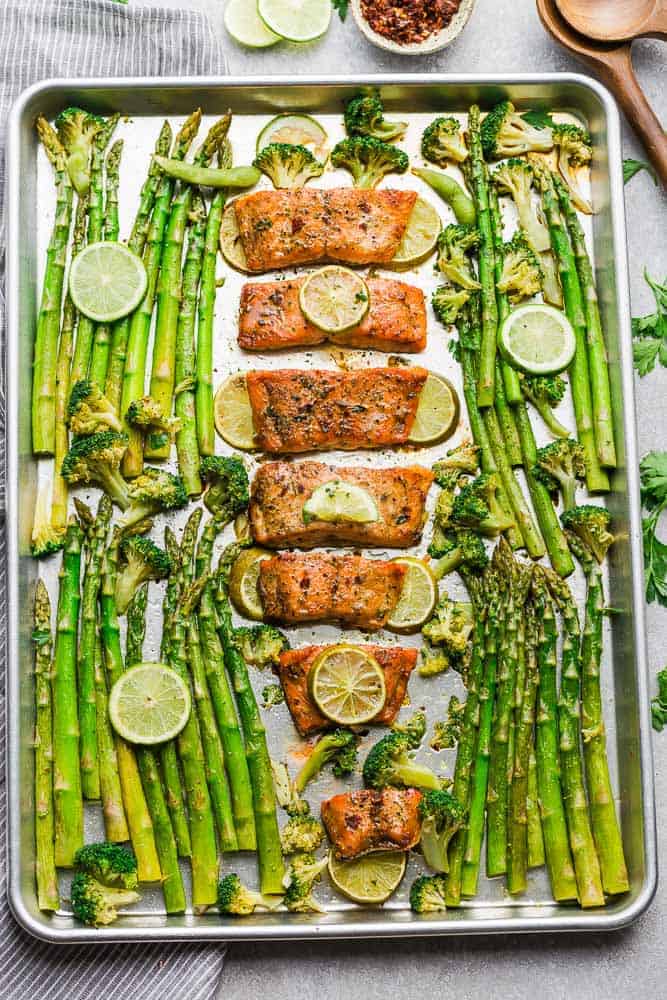 10 Minute Instant Pot Salmon – Super Healthy Kids
Balsamic Glazed Salmon – Well Plated
Pineapple Orange Teriyaki Salmon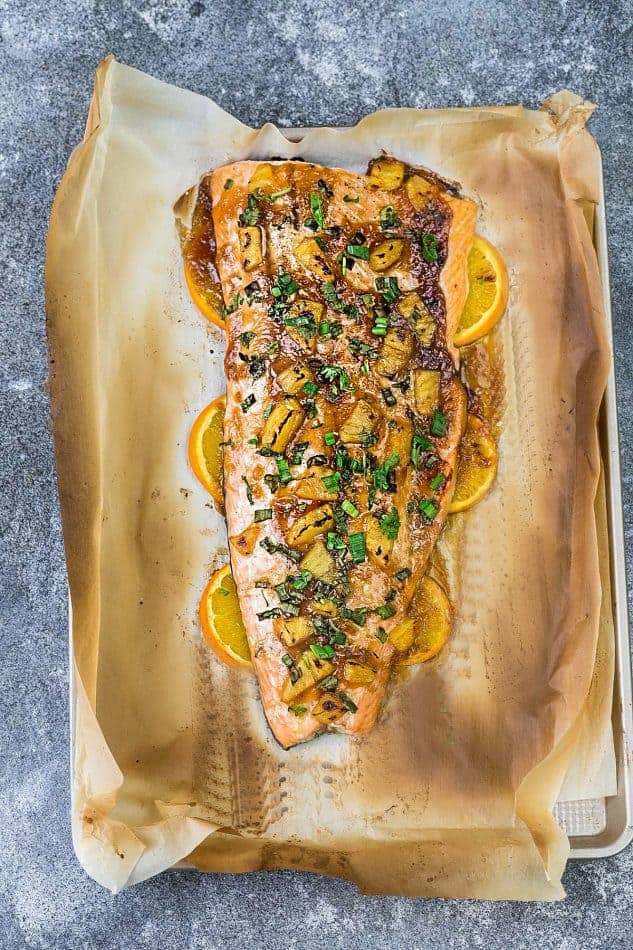 Salmon New Orleans – Le Creme de la Crumb
Firecracker Salmon with Peach Avocado Salsa – Ambitious Kitchen
Salmon Cobb Salad – Low Carb, Keto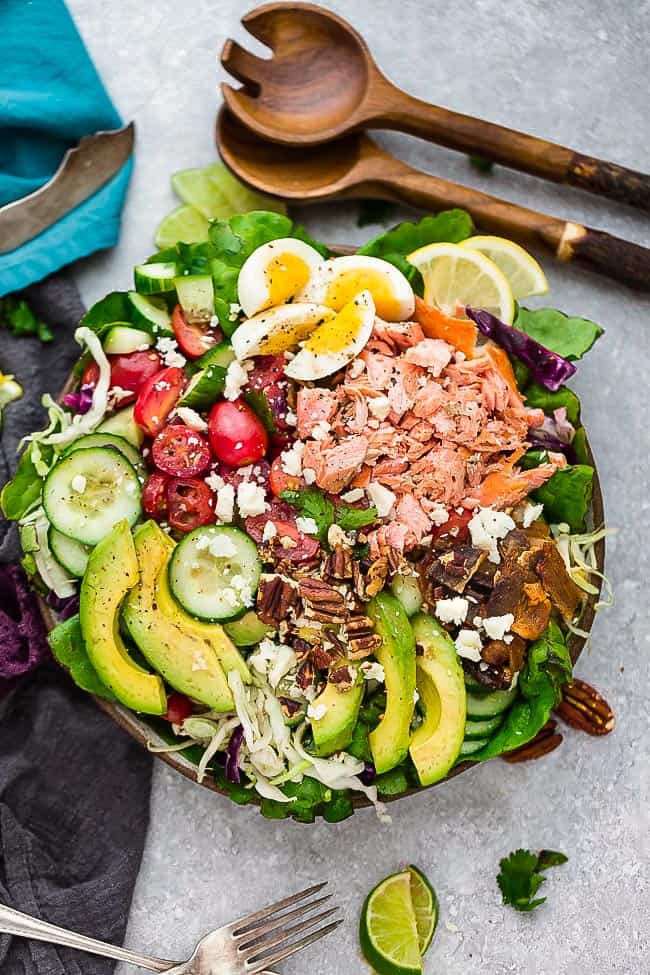 Honey Lime Salmon – Healthy Fitness Meals
Mojo Salmon Bowls – Chelsea's Messy Apron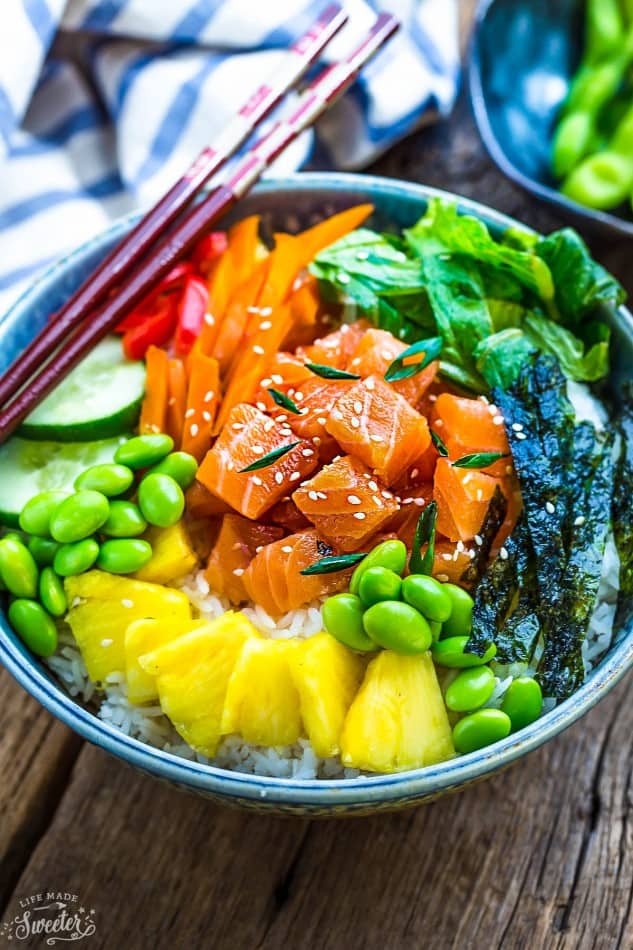 Garlic Butter Baked Salmon – Diethood
Kale Caesar Salad – Budget Bytes