7 Easy School Lunches (Healthy & Kid-Friendly) that are perfect for picky eaters. Tons of ideas for nut-free, dairy-free and gluten free options. No heating or microwave needed!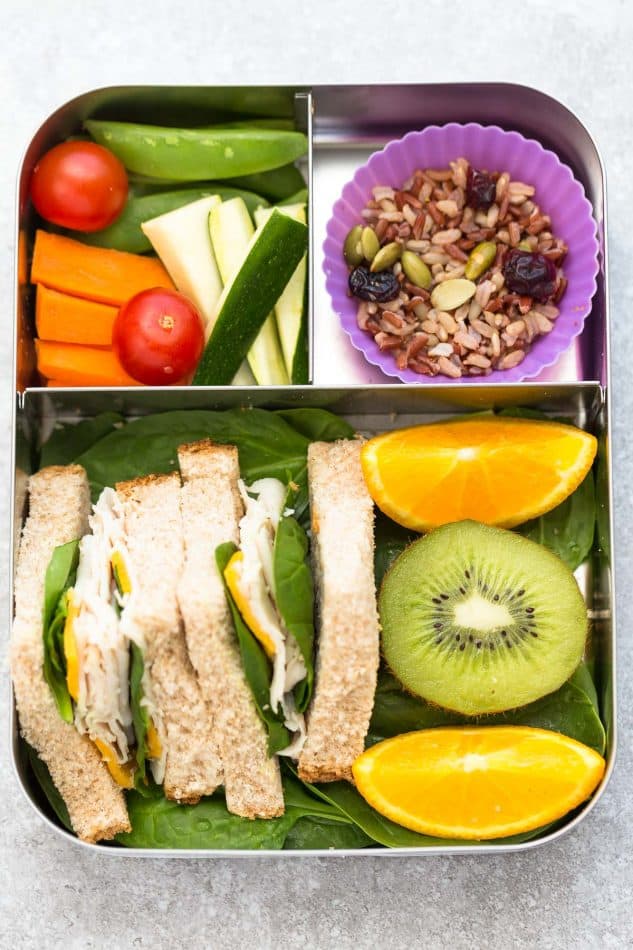 Pin for later and follow my Meal Prep / Healthy Lunchbox Board for more lunch ideas!
Some affiliate links included

It's that time of year again – back to school season is upon us! Around here, classes begin in September – the day after Labor Day.
This year, my oldest is heading into the first grade, and he couldn't be more excited. We're ready to get back to our regular school routine again but I'll admit that packing lunches can be a challenge.
FOR MORE SCHOOL LUNCH IDEAS, BE SURE TO ALSO CHECK OUT THESE SCHOOL LUNCH POSTS:
Healthy School Lunches for the New Year
5 Easy Bento Box Lunches for Fall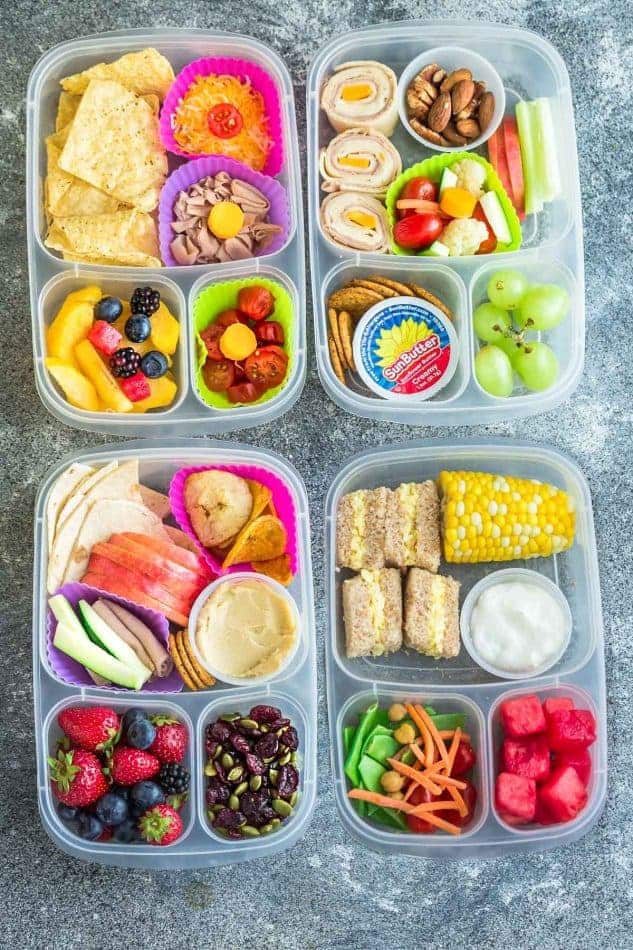 Most parents struggle with trying to balance nutritious choices with what your child will actually eat. Staying organized by planning ahead and having a variety of fresh, fun and healthy ideas helps make life easier with school lunches.
It's the best feeling to open that lunchbox at the end of the day and see that your kids loved everything that you packed.
********************************************************************************************************************
HELPFUL TIPS WHEN PACKING SCHOOL LUNCHES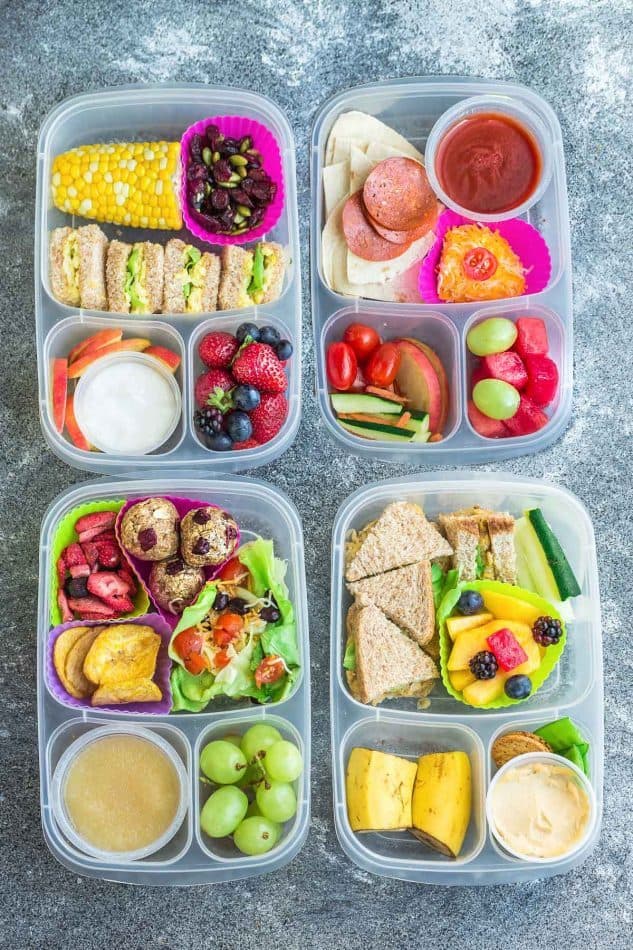 PLAN AHEAD
Make lunches ahead of time at night and portion off any dried snacks that keep well on Sundays for the rest of the week.

MIX IT UP
Include a variety so your child doesn't get bored. Switch things up and pair different snacks, fruits, carbs and protein. Leftovers like muffins, pasta salad or chilled sesame noodles are some great choices.
GRANOLA BARS
BREAKFAST COOKIES
Healthy Breakfast Cookies – 12 Ways
Zucchini Breakfast Cookies (Flourless)
ENERGY BITES
KEEP THINGS FUN WITH SOME DIY "LUNCHABLES"

Allow your child to put together their own DIY pizzas or wraps with dips and sauces to make things interesting.
Yogurt, hummus, guacamole and salsa are great for adding flavor to vegetables and fruit.
FOOD SAFETY
Many items will keep at room temperature but be aware of which will require an ice pack to stay cool. Also make sure that you are aware of any peanut or other food restrictions that the school might have in place. I've included many nut-free lunches and included notes for substitutions.
KEEP FOOD SEPARATE WITH A LUNCH BOX WITH DIVIDED COMPARTMENTS

Having a lunchbox with separate compartments and / or liners will help you remember to include all the components of a balanced meal.
Here are a few of my favorites:
PlanetBox – 5 Compartments
***********************************************************************************************************************
7 Easy School Lunches
I've included these easy and kid-friendly recipes, tips and tricks below to make preparing school lunches a breeze. The lunchboxes, silicone muffin liners and condiment cups can all be purchased from Amazon.
Feel free to mix and match or swap out any of the fruits and snacks to suit your tastes.
1. DIY Tortillas (Gluten free, Nut free, substitutions provided for dairy free)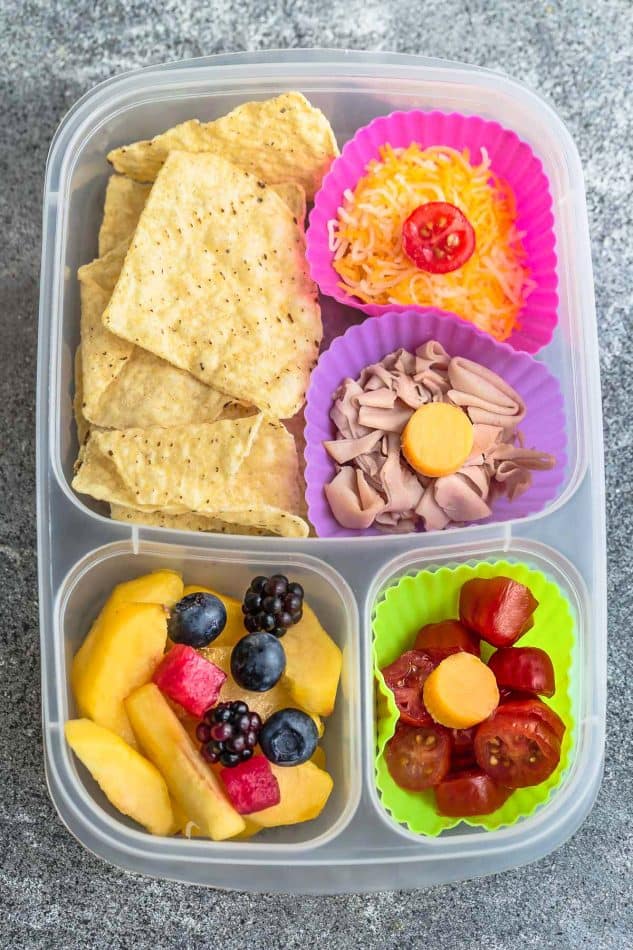 corn tortilla chips
shredded cheese (use vegan cheese or leave out for dairy-free version)
turkey
cheese, cut into circles (I used cheddar – use vegan cheese or leave out for dairy-free version)
fresh fruit – pictured above: peach slices, watermelon chunks, blueberries and blackberries
2. Turkey and Cheese Roll-ups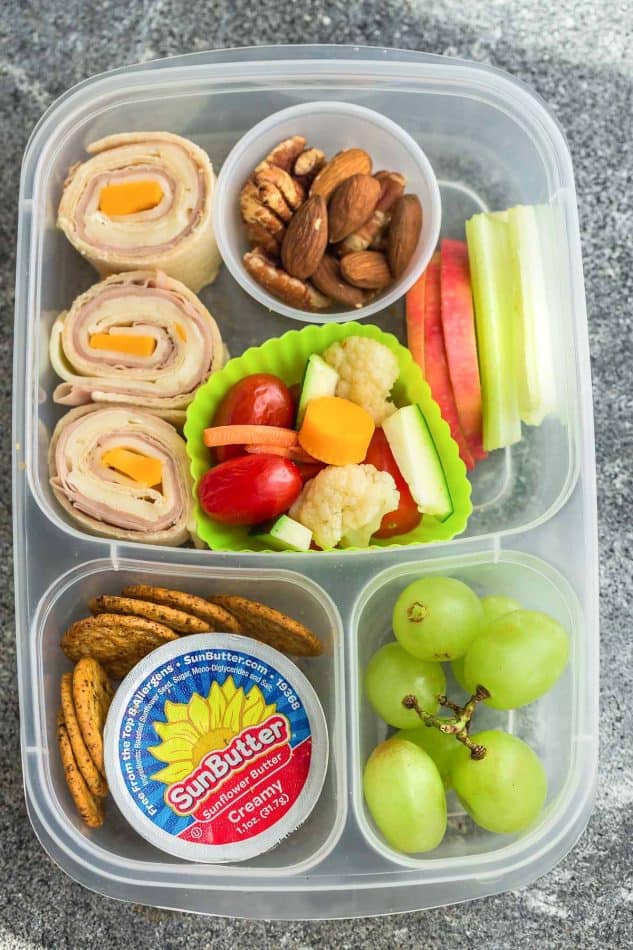 turkey slices, swiss and cheddar cheese slices)
raw almonds (leave out for nut free version)
raw veggies: celery, grape tomatoes, cauliflower and zucchini
multigrain crackers with sunbutter
apple slices
grapes
3. DIY Lunchables (Nut free, dairy free, substitutions provided for gluten free)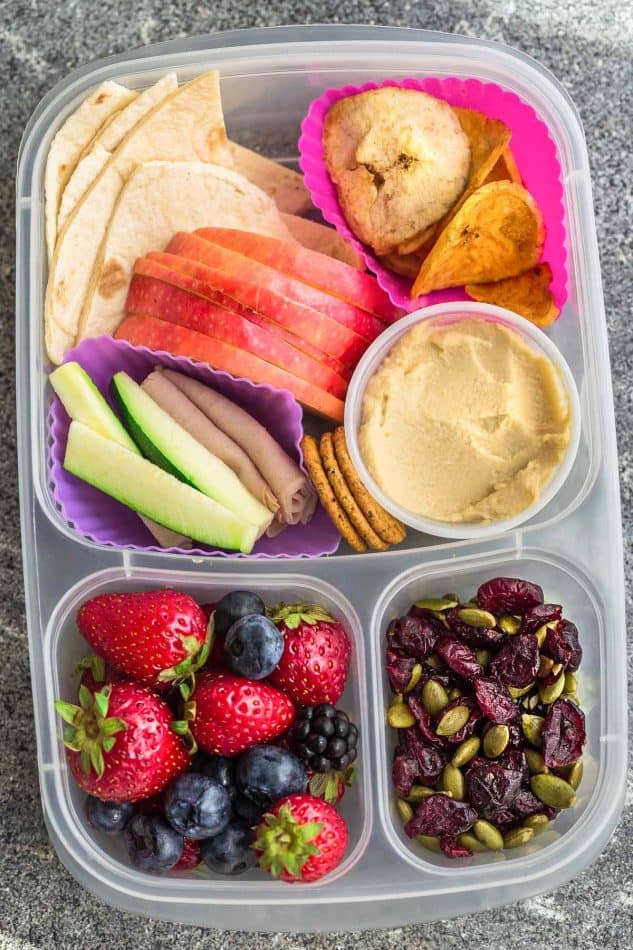 pita or tortilla triangles (use wholewheat or gluten free tortillas as needed)
plantain chips
zucchini or cucumber
turkey
apple Slices
wholegrain mini crackers (use gluten free crackers or leave out as needed)
hummus
fresh berries – (Pictured above: strawberries, blueberries and blackberries)
pumpkin seeds and cranberries
4. Healthier Egg "Salad" Sandwich – (Nut free, substitutions provided for gluten free)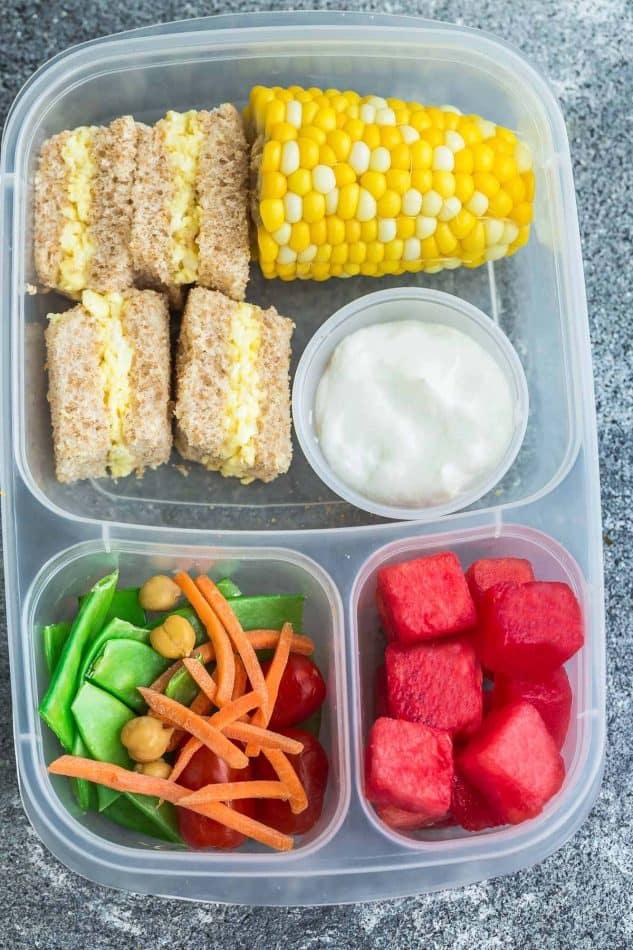 Healthier egg "salad" – scrambled eggs mixed with Greek yogurt, Dijon mustard, salt and pepper with multigrain bread (use gluten free as needed) – cut into bite-sized portions
cooked corn on the cob
raw vegetables – sugar snap peas, grape tomatoes, shredded carrots, canned chickpeas
homemade Greek yogurt ranch dip
fruit – cubed watermelon
5. DIY Pizza (Nut free, substitutions provided for dairy free and gluten free)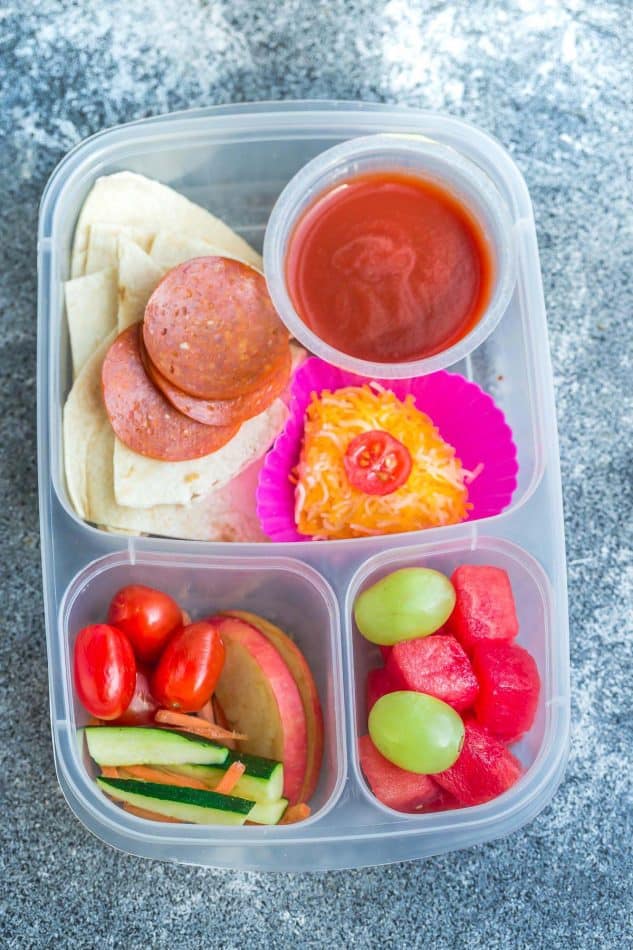 tortillas – swap for gluten free as needed
turkey pepperoni slices
pizza sauce or salsa
shredded cheese, grape tomatoes
raw vegetables – grape tomatoes, chopped cucumber or zucchini, shredded carrots
fresh fruit: cubed watermelon, grapes
6. Smashed Chickpea Sandwich (Dairy Free, Nut-free and substitutions for gluten free)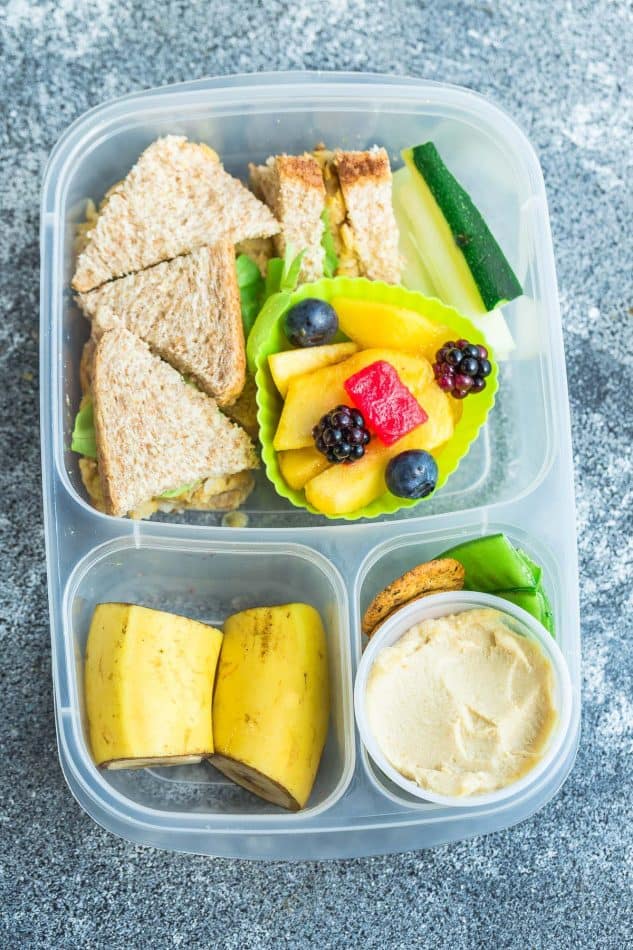 Smashed Chickpea Sandwich – with multigrain bread (use gluten free as needed) – cut into bite-sized portions – fill with smashed chickpeas, smashed avocado, salt & pepper, kale (or lettuce)
fresh fruit – peach slices, blackberries, chopped watermelon
raw vegetables – zucchini, cucumber and / or celery
banana
hummus with sugar or snap peas and multigrain crackers (leave out or use gluten free as needed)
7. Taco Salad (Gluten free)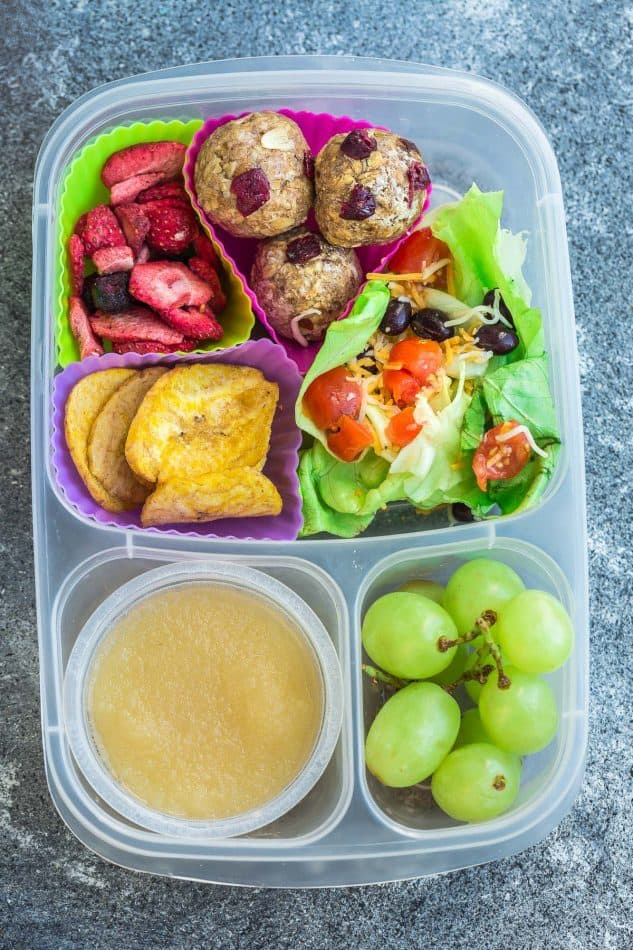 freeze-dried strawberries and blueberries
plantain chips
Taco Salad – lettuce, black beans, sliced tomatoes and shredded cheese (can leave cheese out for dairy free version)
unsweetened apple sauce
grapes
FOR MORE SCHOOL LUNCH IDEAS, BE SURE TO ALSO CHECK OUT THESE SCHOOL LUNCH POSTS:
Healthy School Lunches for the New Year
5 Easy Bento Box Lunches for Fall
More lunch round ups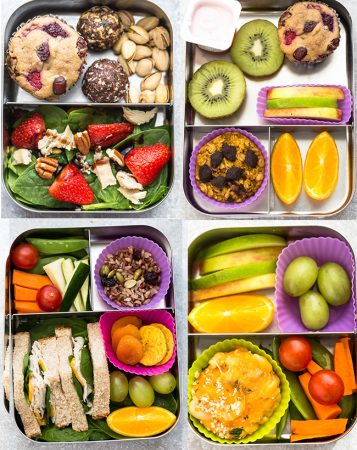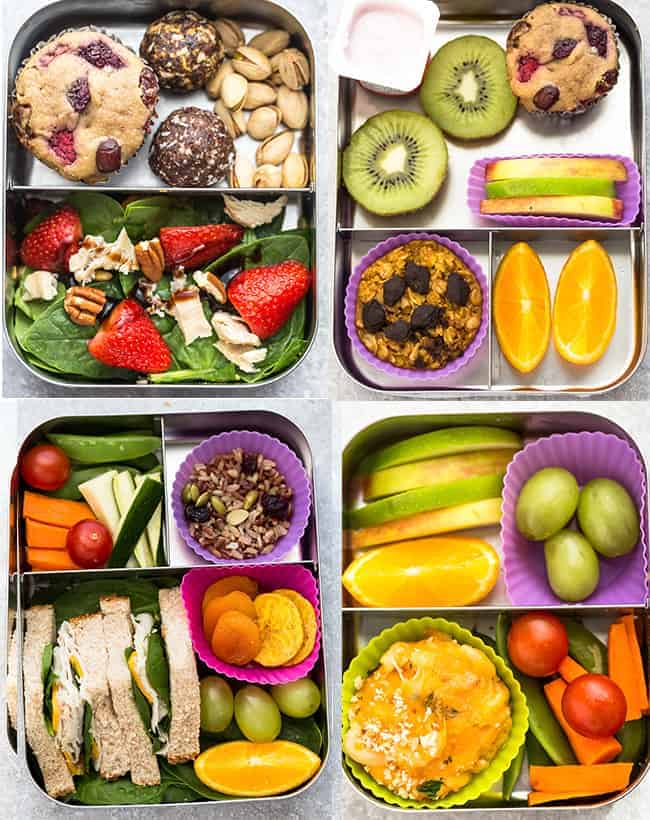 Healthy School Lunches for the New Year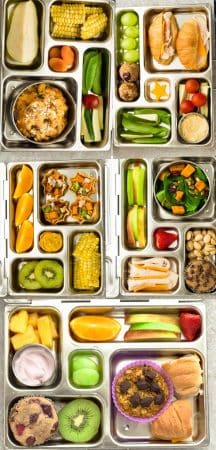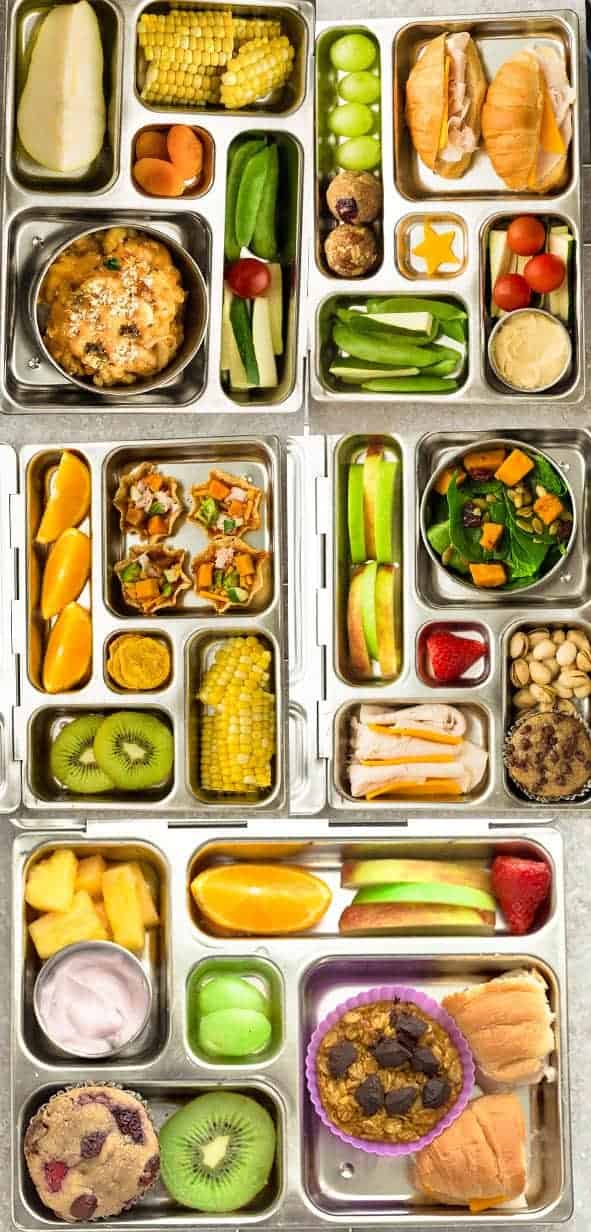 5 Easy Bento Box Lunches for Fall