35+ Healthy Salads perfect for lunch or dinner.  No more boring side salads with just plain lettuce! These amazing salads are all loaded with a combination of veggies, fruits, nuts, seeds, cheese and protein to keep you satisfied.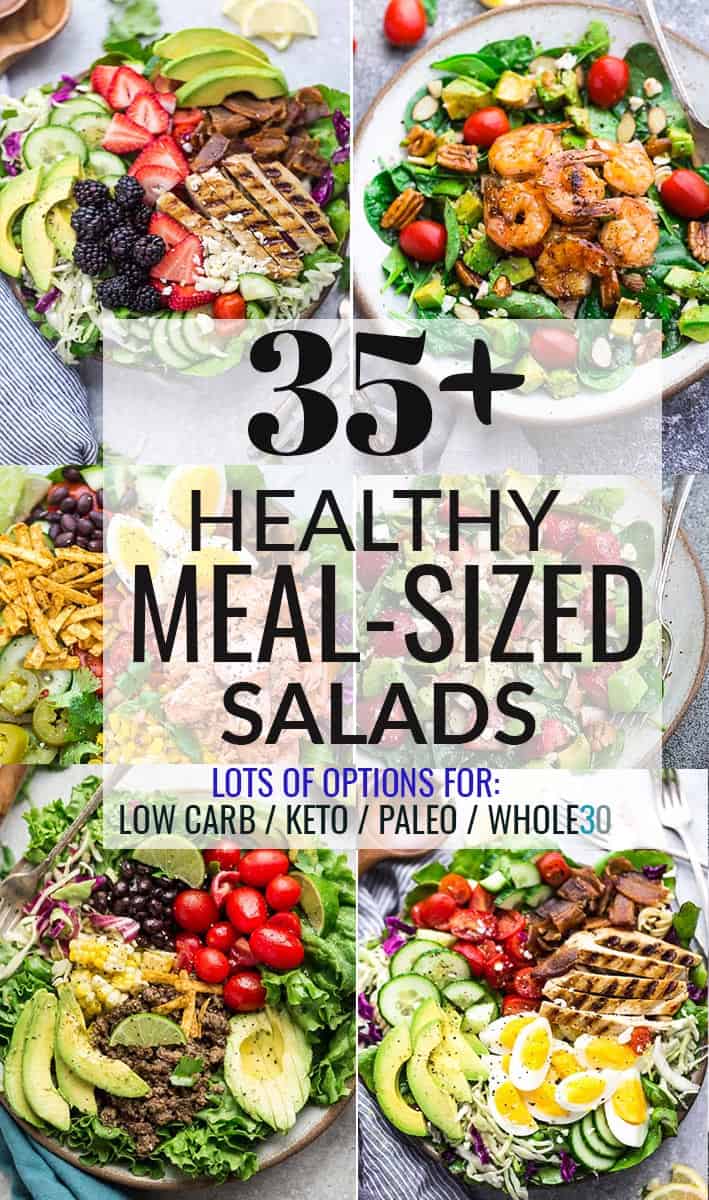 PIN HERE for later and follow our boards for more recipe ideas
Whether you are trying to consume more vegetables or just eat an all around healthier diet, you can't go wrong with loaded salads. Meal-sized salads are one of my favorite things to make when I need a quick and healthy dinner. The best part is, you can customize them with whatever you have in your fridge and pantry.
IS SALAD GOOD FOR WEIGHT LOSS?
In addition to a balanced diet and fitness routine, eating a salad every day is a great way to increase the amount of fruit and vegetables you consume.
Choose a variety of colorful vegetables with dark leafy greens and don't go overboard with store-bought mayonnaise-based dressings that can be high in fat, unhealthy oils and calories.
If you're usually still hungry after you've had a salad for lunch then meal-sized salads are just for you! Say no to wimpy salads and make main-course salads the stars of your weeknight dinners.
WHAT'S IN A HEALTHY SALAD?
Healthy meal-sized salads are not only packed with leafy greens, they're also loaded with protein, healthy fats, fiber and nutrients to help you stay full unlike the sad lunch salads you typically see. These salads are much more substantial and satisfying to help keep you going when that 3 pm afternoon craving hits.
HOW TO BUILD AN AMAZING SALAD:
1. CHOOSE A VARIETY OF LEAFY GREENS: 
Don't just stick to iceberg lettuce – branch out and add a few varieties to spice things up. A few of our favorites include:
Spinach
Ecsarole
Romaine lettuce
Butter lettuce
Microgreens
Darker greens: kale, chard and zesty arugula are low in calories and add dimension, crunch and loads of nutrients.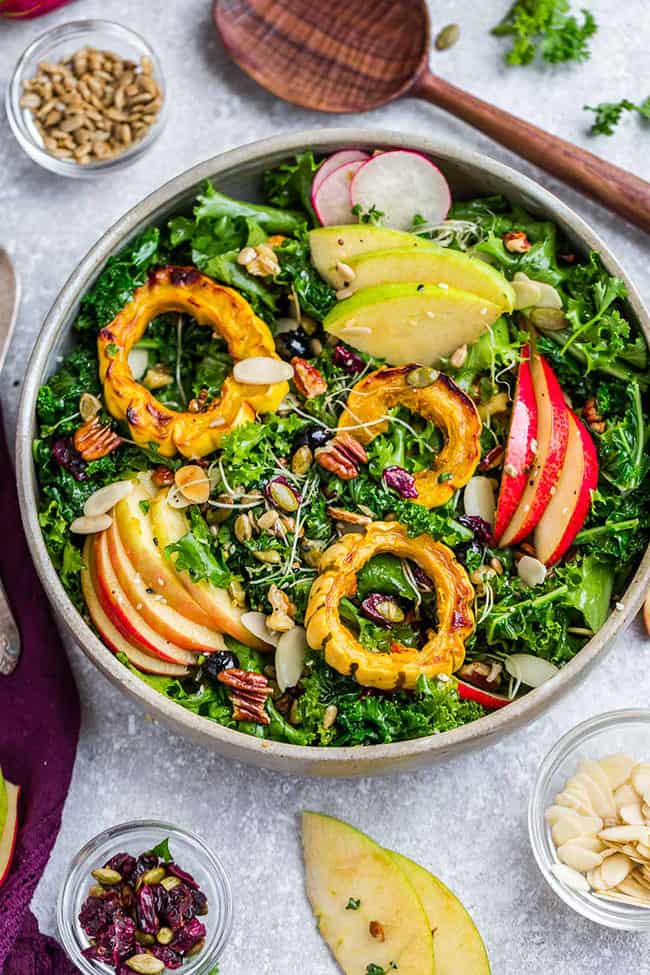 2. Add a variety of raw or cooked vegetables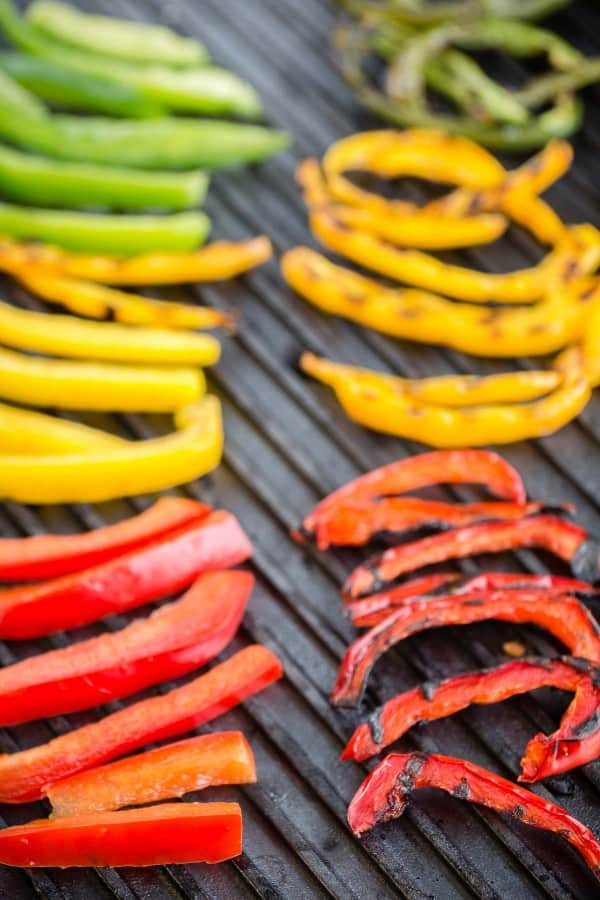 Include 1-2 grilled, roasted or raw vegetables for color and crunch. Some delicious veggie options are:
artichokes
avocados
bell peppers
broccoli
cauliflower
carrots (skip if very low carb or strict keto)
cucumbers
green beans
radishes
tomatoes
zucchini
delicata squash
roasted sweet potatoes, pumpkin or butternut squash (skip if low carb / keto)
3. Include fresh herbs
If possible, add fresh chopped basil, dill, parsley or mint take salads to a whole new level of deliciousness. They bring out those amazing flavors and are an easy way to boost the nutrition.
4. Add fruits or berries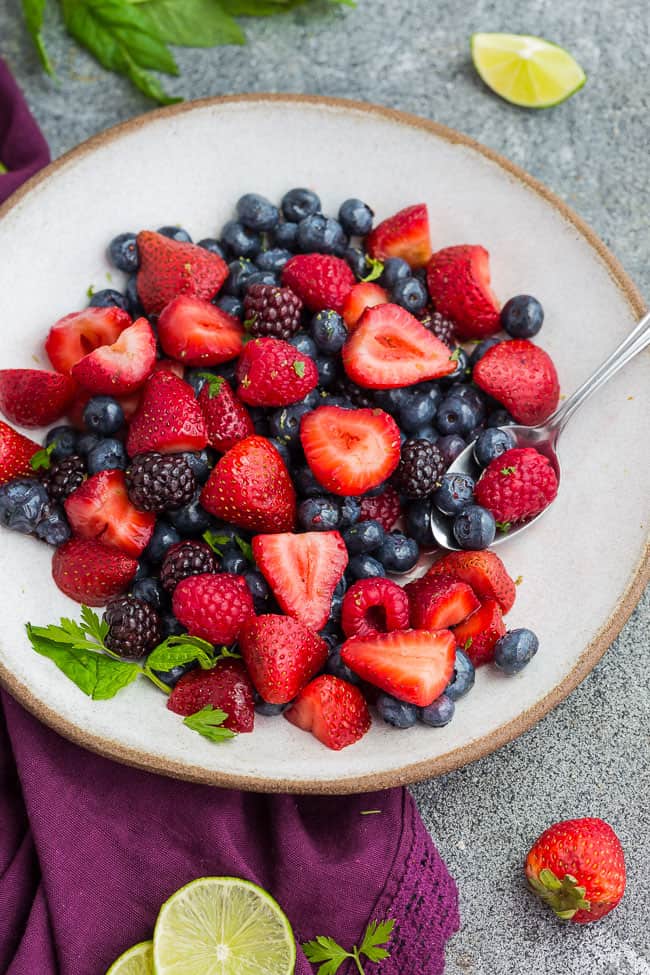 I am a big fan of adding fresh fruit to salads. They add that touch of sweetness, freshness and dimension that many bland and boring salads are lacking.
Mixed berries: blueberries, blackberries, raspberries, strawberries
Slices of: apples, pears, peaches, mango  (skip if low carb / keto)
Pomegranate arils, raisins, dried cranberries (skip if low carb / keto)
5. Add some protein: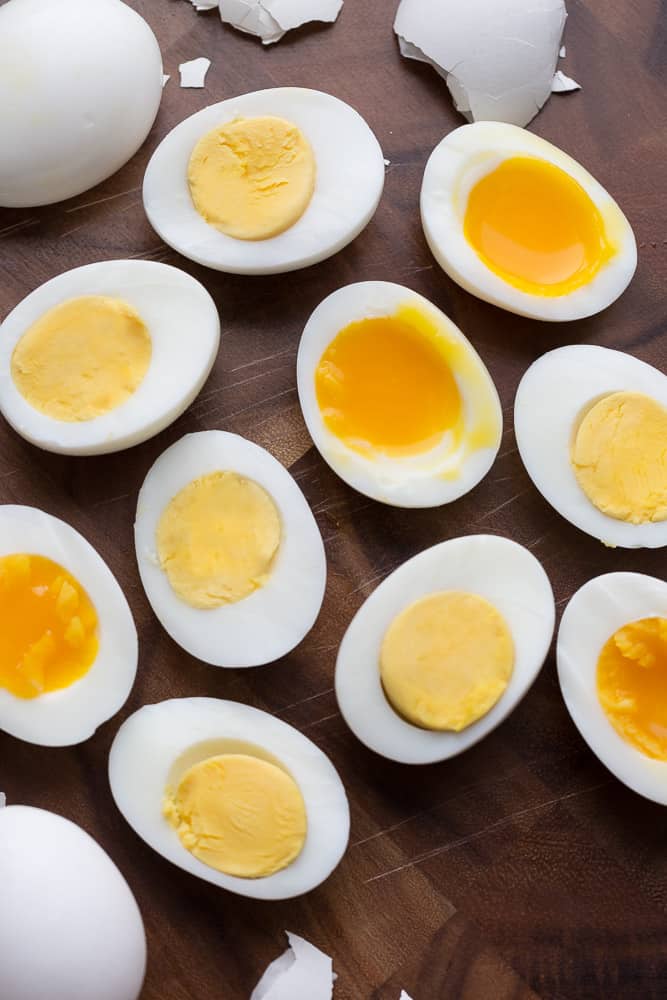 Including protein in your salad helps to fill you up and keep you satisfied. Choose your favorite healthy protein and try to skip anything that's fried or battered. Some great options include:

Hard-boiled egg
Leftover-cooked chicken breast or rotisserie chicken
Grilled or roasted turkey
Tuna
Shrimp
Salmon or other fish
Tofu (skip if low carb / keto)
Tempeh
Edamame (skip if low carb / keto)
6. Toppings:
Including nuts, seeds or toasted coconut are a nice way to add some crunch. They are a great source of healthy omega-3 fatty acids, protein and heart healthy fats.
Nuts: almonds, cashews, peanuts, pecans and walnuts
Seeds: hemp seeds, chia seeds, flax seeds, sunflower seeds and pumpkin seeds (pepitas)
Cheese: crumbed feta, gorgonzola, goat cheese OR cheddar, Monterrey jack, parmesan and cotija (skip if Whole30, paleo or dairy free)
Roasted chickpeas or grains: quinoa, wild rice (skip if low carb or keto)
7. Salad Dressing: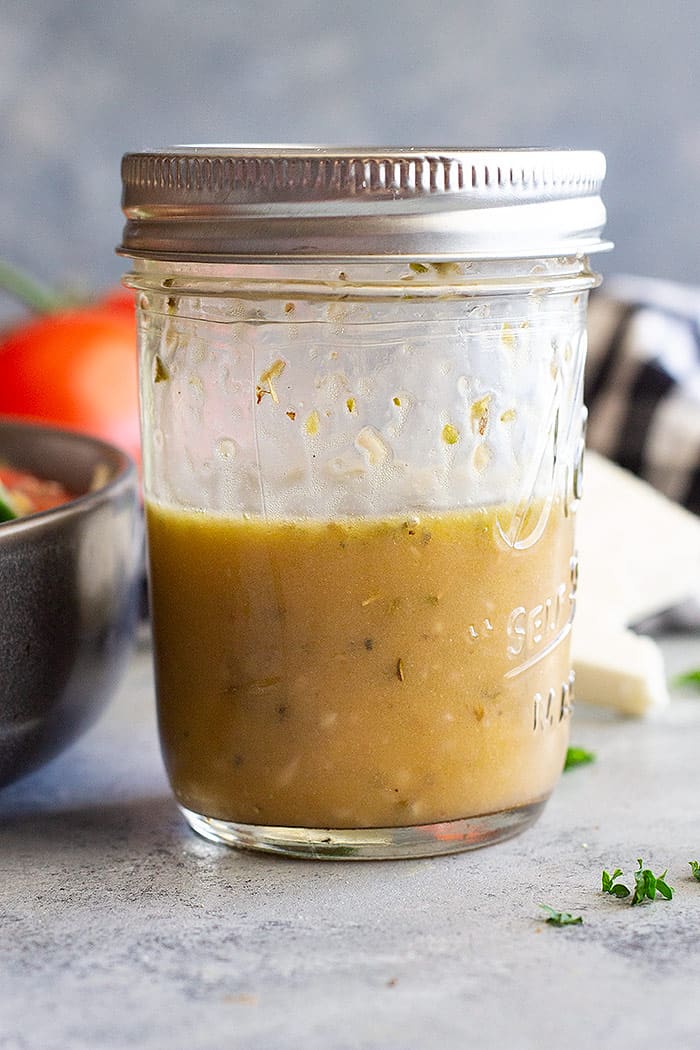 Photo: Greek Salad Dressing from Julie's Eats & Treats
Top your salad with your favorite store-bought brand or homemade dressing.
Homemade dressings are so easy to make. You can blend up a creamy avocado lime dressing or keep it simple with a vinaigrette made with some olive oil, lemon juice, vinegar salt and pepper.
And if you are going for a store-bought dressing, try to choose one that has a short ingredient list that is low in sugar and sodium.
Packing your salads with a variety of delicious layers of crunch, color and flavor is the key to building the best salad and far from rabbit food.
We've gathered lots of healthy and easy meal-sized salads that are loaded with protein and other nutrients so you'll actually feel full. There's something for everyone with low carb, keto, paleo and Whole30 friendly options. No more boring salads – it's time to step-up your salad world with these new and amazing salads!
HEALTHY MEAL-SIZED SALADS: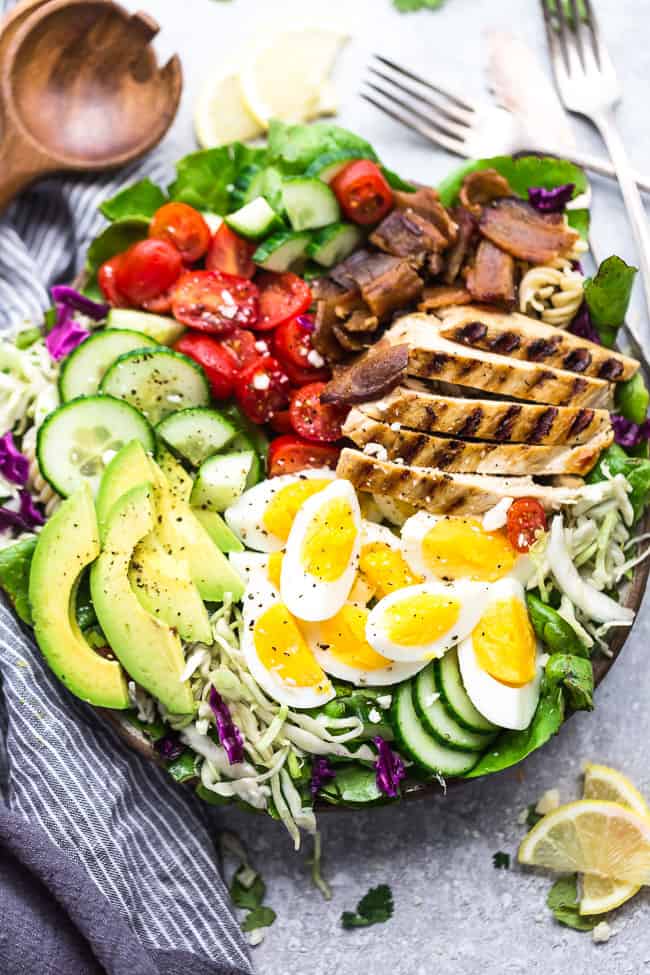 Low Carb / Keto with Paleo / Whole30 options
Low Carb / Keto with Paleo / Whole30 option
Shrimp Salad with Avocado and Spinach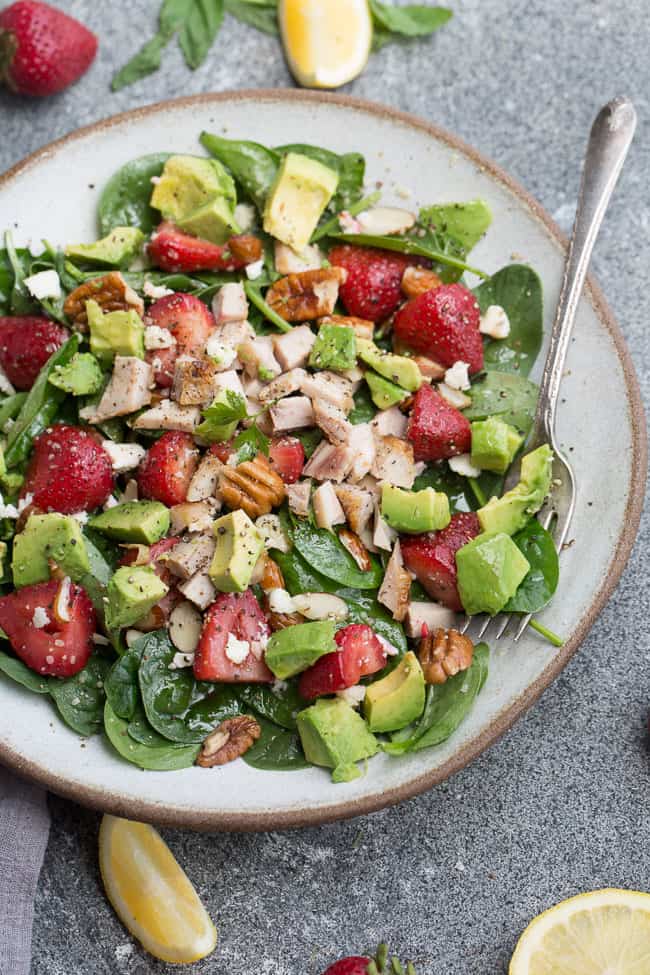 Strawberry Spinach Salad with Avocado Low Carb / Keto with Paleo / Whole30 option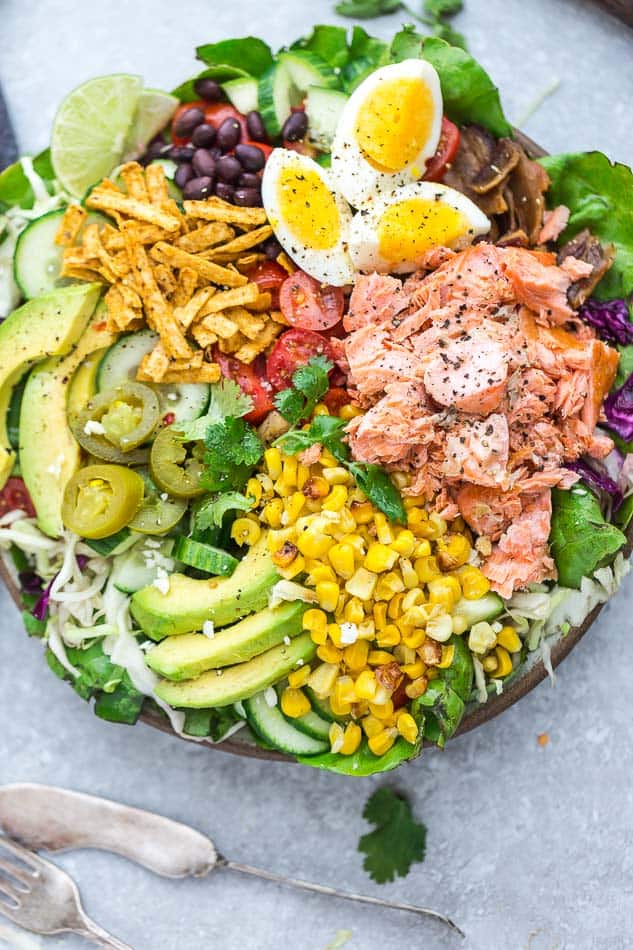 Gluten Free Paleo / Whole30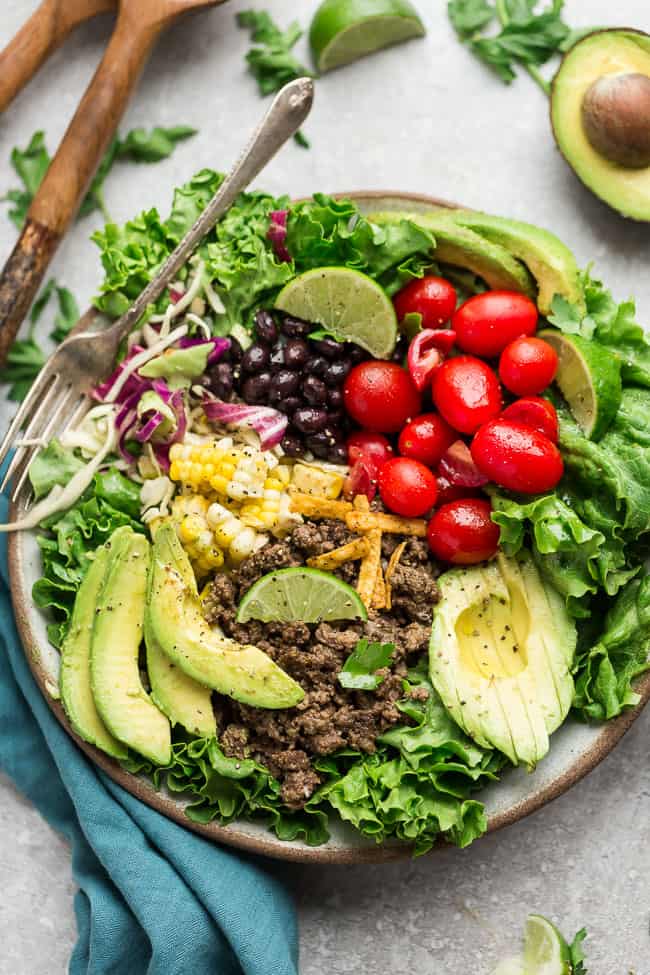 with Low Carb / Keto Options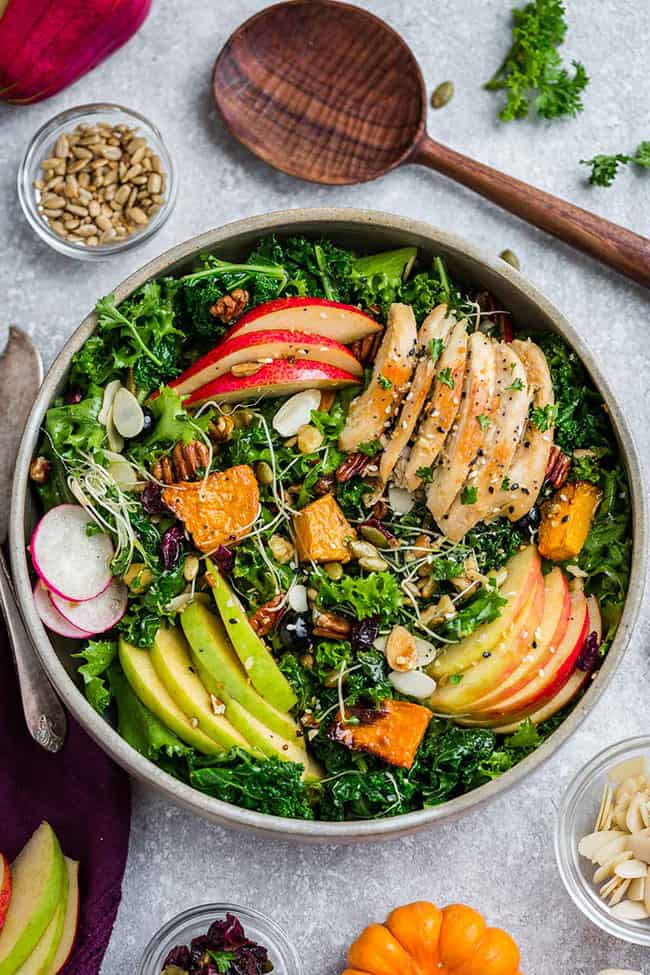 Harvest Fall Salad with Kale, Apples & Pumpkin
Gluten Free with Paleo, Low Carb, Keto & Whole 30 options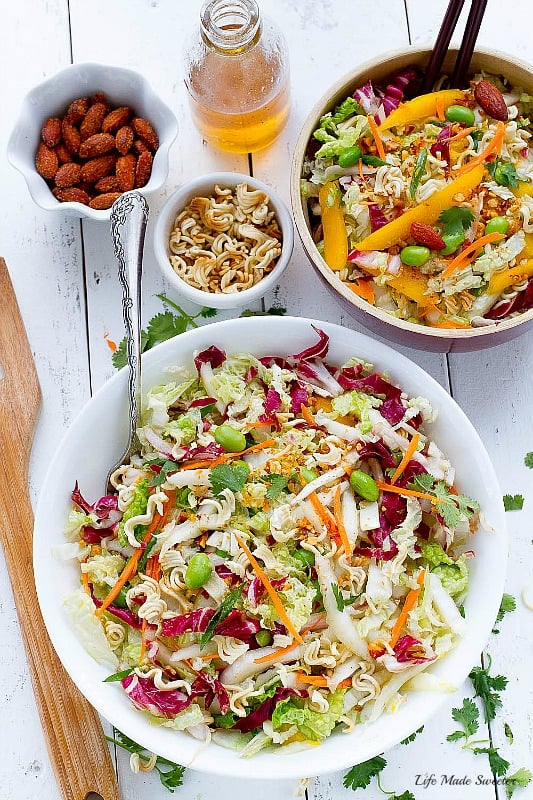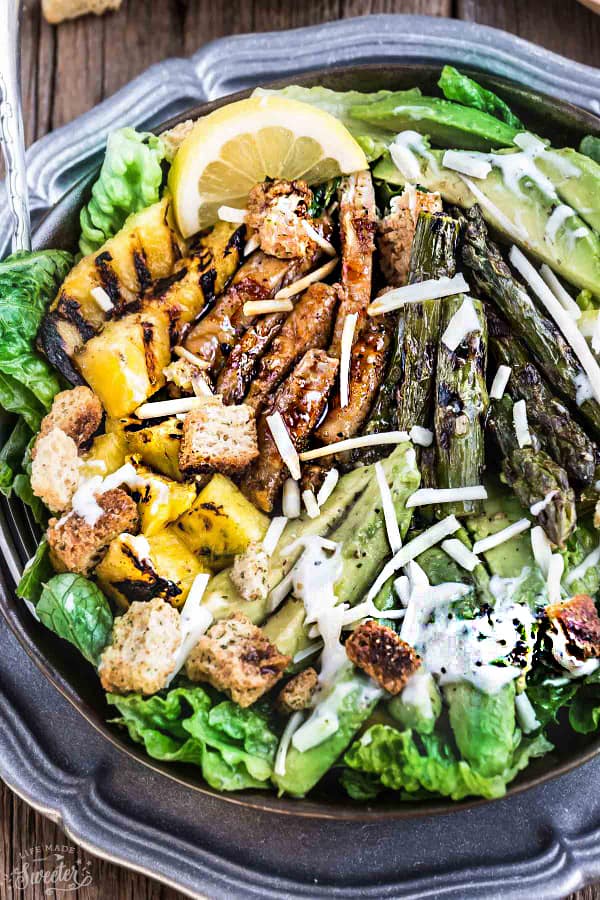 Grilled Pineapple Teriyaki Chicken Caesar Salad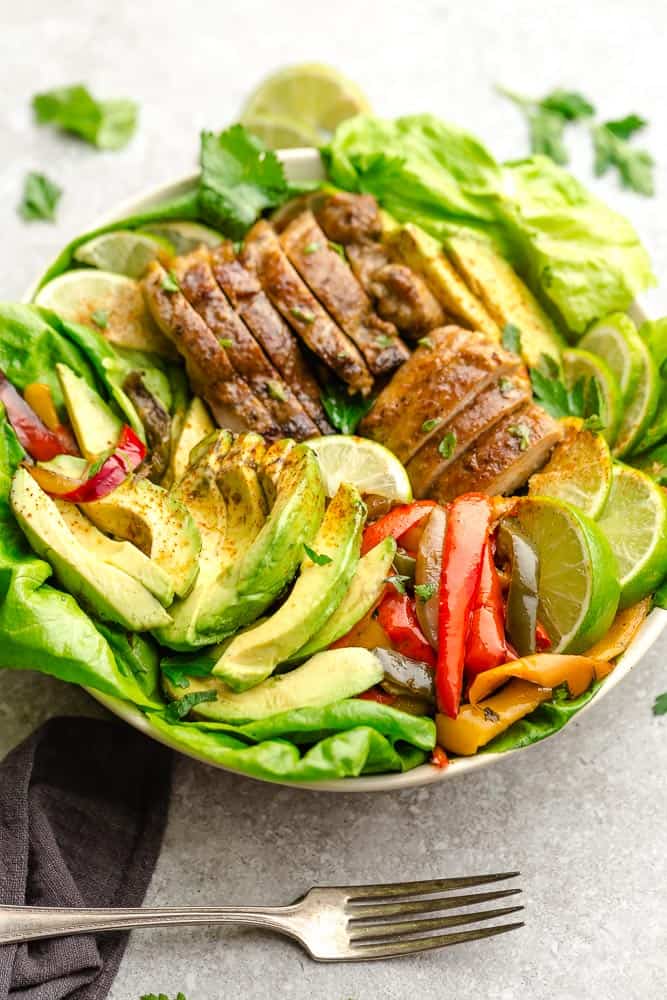 Low Carb / Keto with Paleo / Whole30 options
Low Carb with Paleo / Whole30 options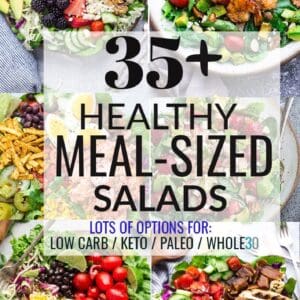 Healthy Meal-Sized Salads / Salmon Cobb Salad
Salmon Cobb Salad is a lightened up twist on the classic Cobb Salad. It's made with grilled or broiled salmon, cucumber, eggs, tomatoes, avocado, crispy bacon and a creamy and tangy vinaigrette. Low carb, keto , gluten free with Whole 30 & Paleo friendly options.
Keyword:
cobb salad, keto, low carb, lunch, salad, salmon
Ingredients
1

6-ounce salmon fillets

salt and black pepper to taste

1/2

teaspoon

garlic powder

1

tablespoons

fresh lemon juice

1

tbsp

olive oil

1

large avocado

, peeled pitted and cut into slices or chopped

4

cups

mixed green lettuce chopped

2

hard boiled eggs peeled and sliced

4

slices

bacon cooked and chopped

1

cup

grape or cherry tomatoes halved

1/2

cucumber sliced in rounds or chopped

1/2

cup

crumbled feta or blue cheese

, (leave out for paleo or Whole 30)
For the vinaigrette:
3-4

tbsp

apple cider vinegar

2

tbsp

sour cream

, (leave out for paleo or Whole 30 & swap in mashed avocado instead)

1/2

tsp

garlic powder

3

tbsp

extra virgin olive oil or avocado oil

Salt and pepper to taste
Instructions
Pat salmon dry. Rub both sides with olive oil and lemon juice. Season with salt, pepper and garlic powder.
To Grill Salmon:
Preheat grill to medium-high heat and cook for 4-5 minutes on each side or until the internal temperature reaches 62 F. Use a fork to flake the cooked salmon into bite-sized pieces and set aside.
To Broil Salmon:
Heat broiler and line a baking sheet with parchment paper (or foil). Place salmon on pan and broil 8 to 10 minutes or until fish flakes easily when tested with a fork.
Assemble the salad:
Whisk together all the ingredients for the vinaigrette. Drizzle 1 teaspoon over the sliced avocado (to prevent from browning).

In a large bowl, add the lettuce, then top with flaked salmon, eggs, avocado, bacon, tomatoes, cucumber and cheese. Drizzle with dressing right before serving.
Nutrition Facts
Healthy Meal-Sized Salads / Salmon Cobb Salad
Amount Per Serving (1 g)
Calories 430
Calories from Fat 468
% Daily Value*
Fat 52g80%
Carbohydrates 6g2%
Protein 10g20%
* Nutrition facts are provided as a courtesy using the WPRM recipe calculator. It is best to make your own calculations to ensure accuracy. We expressly disclaim any and all liability of any kind with respect to any act or omission wholly or in part in reliance on anything contained in this website. Percent Daily Values are based on a 2000 calorie diet.
PIN HERE for later and follow our boards for more recipe ideas