The ultimate guide on How to Use An Air Fryer tip. All you need to know on the various air fryer models plus tips and tricks to get crispy air fried food.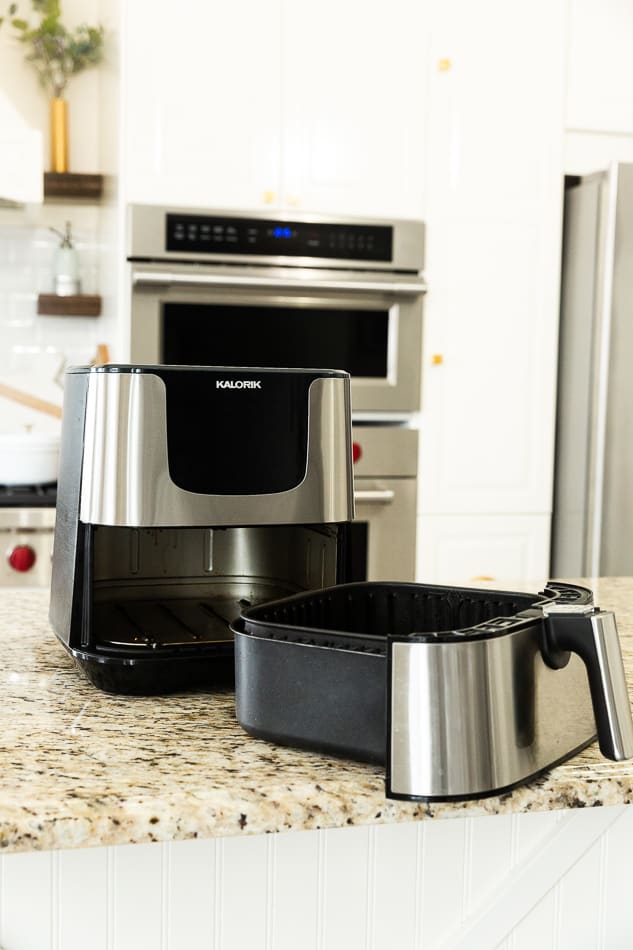 So, all of your friends are raving about their Air Fryers – but you haven't gotten one yet? Now's the time! The air fryer seems to be emerging as the must-have gadget trend in healthy, easy cooking.
If you're new to air frying and feeling a bit timid around this exciting new contraption, we've got you covered! In this air fryer guide we'll answer all of your burning questions. Like, "What exactly is an air fryer?" and "What should I look for when choosing one?" We'll go through each of the pieces of an air fryer and discuss what you can plan to make in it. You'll be air frying in no time!
What is an Air Fryer?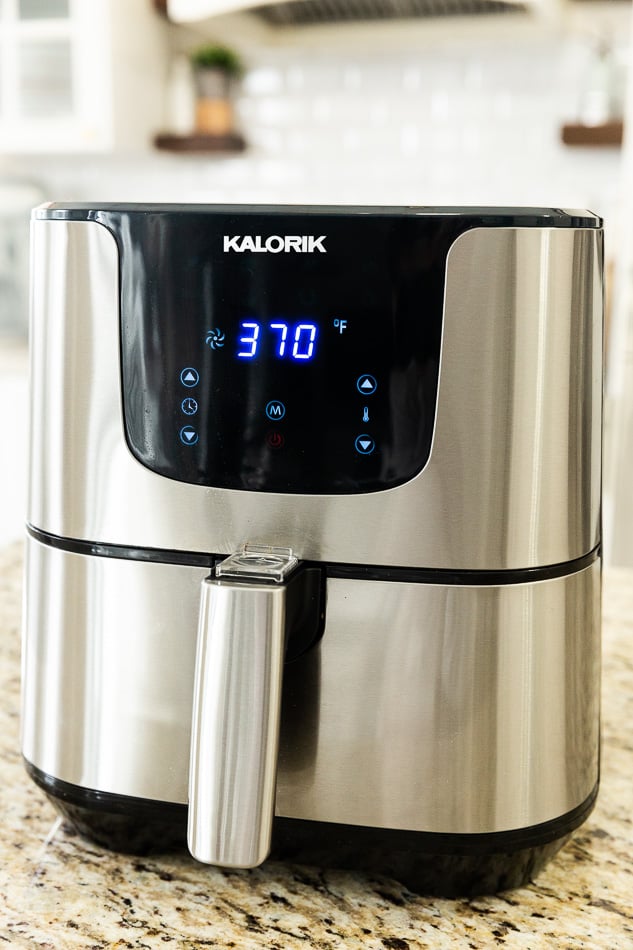 The first thing to clear up is that an air fryer is NOT a deep fryer.
It is basically a tiny, but powerful convection oven. It cooks food at high temps while circulating the hot air around the food at the same time. It's used to roast, broil, and bake. The extremely hot air circulation gives your food a fried texture instead of actually deep frying it in fat. So, you can expect the texture to be a little bit different – but far healthier, with less mess, and just as yummy!
What to Look for in an Air Fryer
There are two common types of air fryers on the market. The first is a basket air fryer and it's used for just air frying. These kind of look like a coffee maker.
Your other option is a multi-function air fry system. In addition to an air fry setting, they are also able to toast and dehydrate. These look a lot like a toaster oven.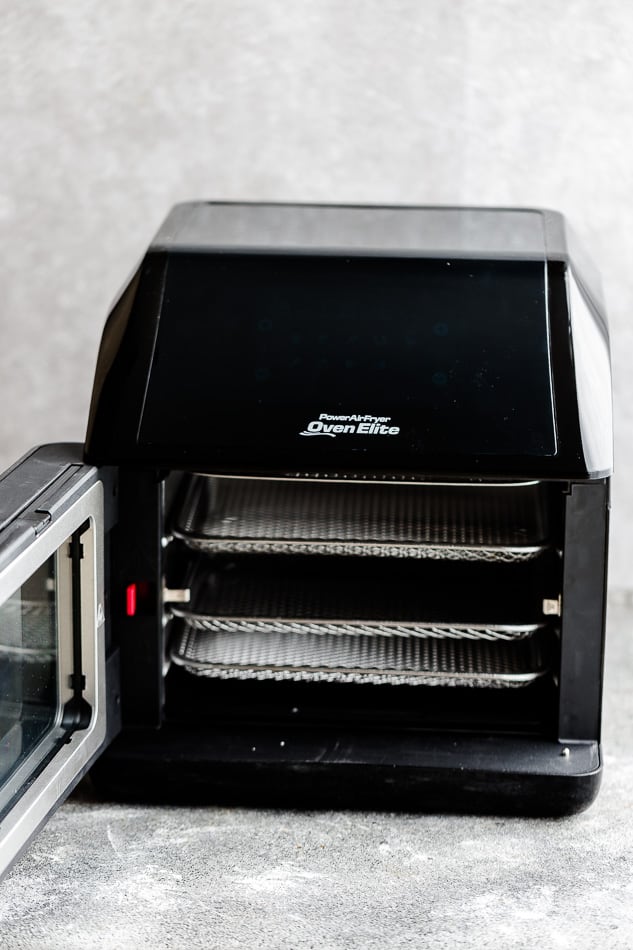 Some things to consider:
A multi-function air fryer will take up more room on your counter.
The multi-function air fryer will be able to cook more food in one batch.
Choosing your air fryer will depend on what you want to use your air fryer for. If you'll use the multiple functions and you don't mind giving up precious counter real estate – opt for the multi function. If you just intend to air fry and you like your counter space, grab a basket air fryer.
Parts of an Air Fryer
Whether you chose a basket air fryer or a multi-function air fryer, it is likely to have the same three important parts. The base, the basket, and the basket base.
The base is the main part of the air fryer. It contains the buttons, and heating elements as well as all electrical components. This part can be wiped down with a rag by hand and must never be submerged in water.
The basket base is the part that holds the basket. It collects crumbs and oil that fall through the holes in the basket. This can be cleaned by hand in your sink or it can be run through the dishwasher.
The basket attaches to the base and holds the food. This piece can be washed by hand or run through your dishwasher.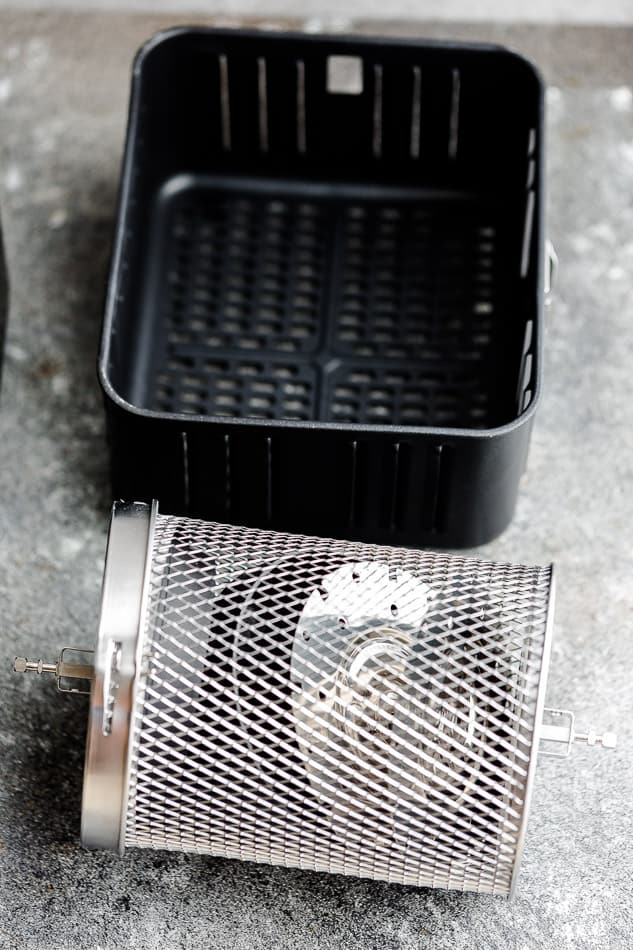 What Can I Make in an Air Fryer?
For starters, fries for days. I mean – isn't that what we're all here for?
Here are some other delicious options:
Onion rings
Calamari
Steak
Fish
Chicken
Veggies
How to Use an Air Fryer
Your air fryer is pretty simple to use. Before your first time using it, consult your user manual as many models suggest running empty for a 10 minutes before using it to cook food.
It will essentially work just the same as using your oven – preheat, add food, monitor and flip as needed, remove when the time is up, and cool.
How to Achieve Even Cooking
Unlike a traditional oven, your air fryer circulates the hot air, so you'll achieve even cooking without any stress. When cooking meat, it may help circulation to flip half way through. You can do this easily with a pair of tongs. It's also helpful to open the air fryer every 5 to 10 minutes to give your food a little shake or flip.
How to Get Better Browning
I think we can all agree that when we're craving fried food, we want it to have a crunchy, browned exterior. Here are a few tricks to achieve better browning:
Toast your bread crumbs – toast those little guys up before you bread your protein. This will make your crust even crunchier.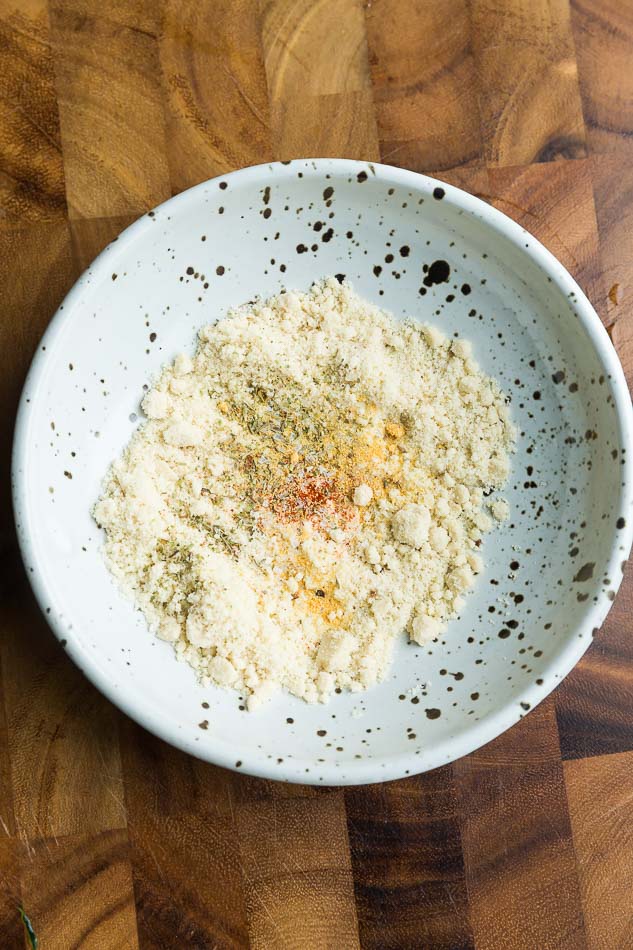 Spray with vegetable oil – a little oil goes a long way. I know, air frying should need oil but a little bit really does make a difference. It's still far less than you'd use in a deep fryer.
Brush with egg wash – for any dough your cooking in the air fryer, a quick brush with an egg wash will make it crispy and glossy.
Pat food completely dry – the more moisture you remove before popping it in the air fryer, the crispy it will be!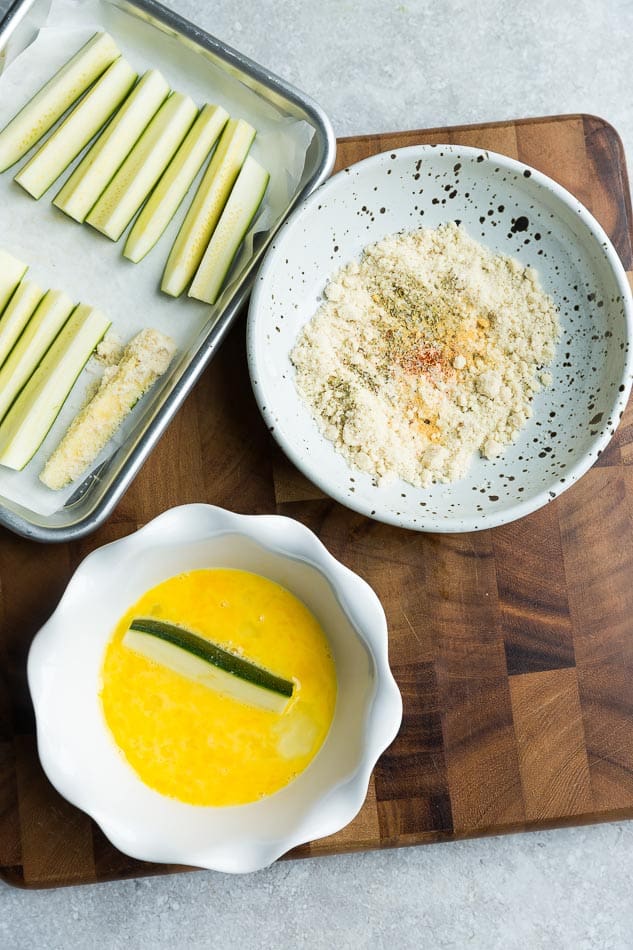 Is an Air Fryer Healthier than Deep Fryer?
We definitely think so since you are using less oil. You can check out all the health benefits here.
Air Fryer 101 – Air Fryer Tips and Tricks
Here are a few air fryer tips and tricks you may not be following that will make a word of difference in your results.
Don't forget to preheat – spending the few minutes it takes to preheat before inserting your food into the air fryer will make for more even cooking.
Don't overcrowd the basket – give your food some space. Since air frying relies on air circulation, if you over crowd, you are limiting that circulation.
Don't skip the oil entirely – a little bit of oil is a good thing for the air fryer!
Make sure you are washing your air fryer correctly and regularly
My Favorite Air Fryer Recipes