Thinking of doing the Whole30 and wondering what you can buy at Trader Joe's? This Trader Joe's Whole30 shopping guide includes a comprehensive list of Whole30 snacks and groceries plus things to avoid.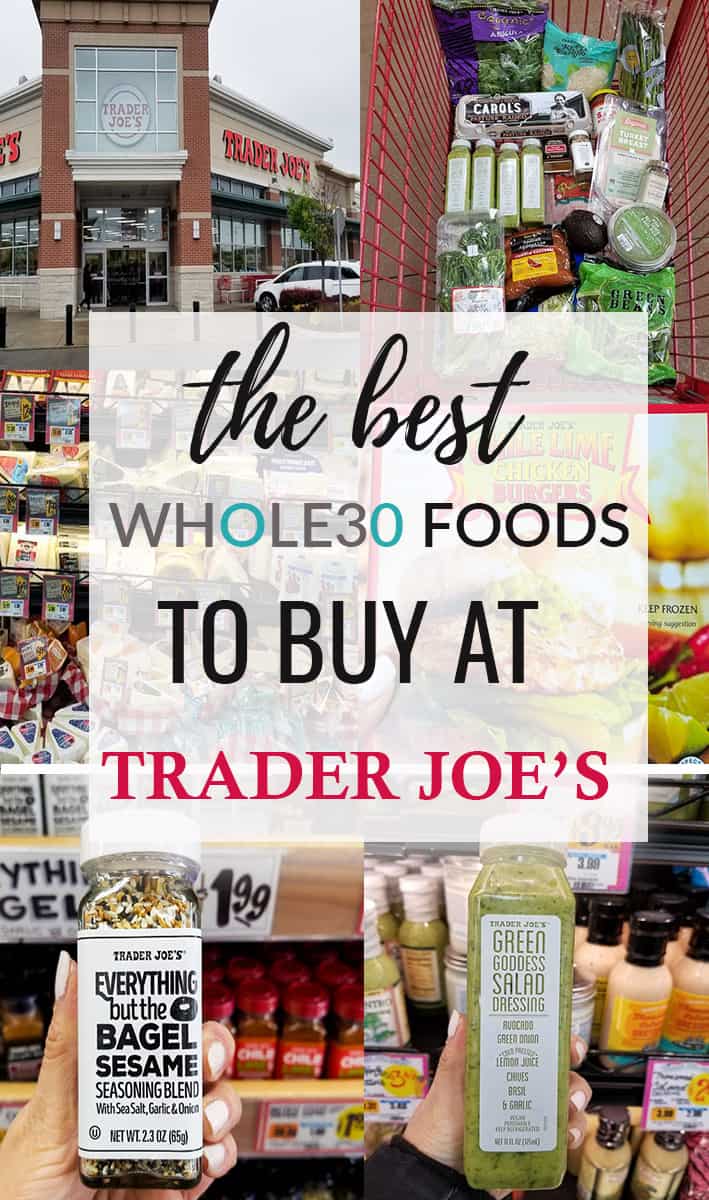 PIN HERE for later and follow my boards for more recipe ideas and shopping guides
WHOLE30 SHOPPING GUIDES
Alright folks, it's that time of year again. January signifies different things for everyone – a new year, new goals and many of you are probably looking for healthy ways to hit the reset button and plan to do a round of Whole30.
Ever since posting two of our popular blog posts on The Best Keto Foods to Buy at Whole Foods and The Best Keto Foods to Buy at Trader Joe's, we've been getting lots of requests to post one for the best Whole30 foods to buy at Trader Joe's.
If you follow us over on Instagram, you'll know that we are big Trader Joe's fans and we always get tons of DM's and questions on what Trader Joe's products we buy every time we go to Trader Joe's.
And if you don't have a Trader Joe's nearby, you can also check out our popular blog posts for Target Whole30 Shopping List, Whole30 Costco Shopping List and Guide and Whole30 Whole Foods Shopping List and Guide for Whole30 compliant foods.
SO WHAT EXACTLY IS WHOLE30?
WHOLE30 is a nutritional diet plan that focuses on eating real-food for 30 whole days.
This food plan is designed to help you change how you feel and eat by:
eliminating / cutting out all problematic foods that may be making you feel bad such as:

grains
legumes
soy
dairy
alcohol
added sugars
artificial sweeteners
and processed foods containing any of these ingredients

consume all sorts of:

vegetables,
fruits
eggs
quality meats
fish
nuts
seeds, and healthy fats.
WHAT IS TRADER JOE'S?
Trader Joe's is a popular American specialty grocery chain with a variety of fresh produce and healthy signature food items. It has been voted one of the top food market to shop at since you can find lots of bargains and unique products that you don't see anywhere else.
Trader Joe's is one of my favorite grocery stores to shop at for keto, paleo and Whole30 products since they have lots of options for those with dietary food restrictions.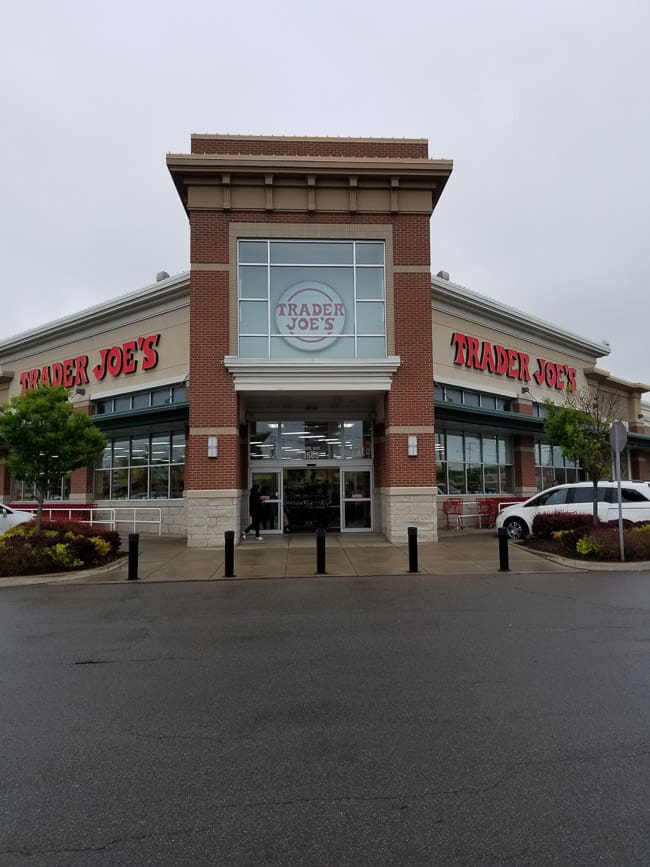 WHY WE LOVE TRADER JOE'S
Our little ones absolutely love it whenever we go to Trader Joe's. We definitely can't blame them – it's since it's such a fun place to shop.
They have mini shopping carts for kids and have free juice and coffee for the adults as well as tasty samples (sometimes it's the infamous cauliflower gnocchi) to munch on while you shop.
We live about 30 minutes away so I always end up leaving with a full cart of our favorites to stock up our pantry.
TRADER JOE'S PRODUCTS:
So if you've ever wondered what is Whole30 compliant at Trader Joe's, this ultimate Whole30 shopping list of What to Buy at Trader Joe's is for you.
And, don't forget to check out this Whole30 Prep and Shopping List that gives a more detailed breakdown of which foods and ingredients are Whole30 compliant what you should avoid.
More helpful Whole30 guides include: Whole30 Restaurants and our Whole30 Meal Plan with tons of Whole30 Recipes.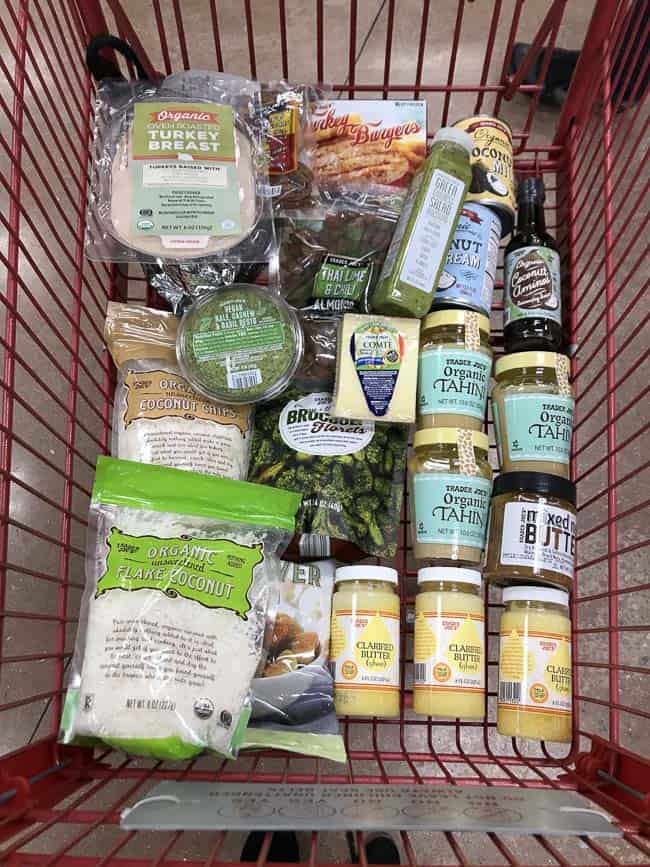 DO SOME RESEARCH AND READ NUTRITIONAL LABELS
As always, since everyone's goals or preferences are different, it's important to read the ingredient and nutrition labels.
Always check your labels to make sure the ingredients are compliant as some of the TJ's employees have told me that some refrigerated items are prepared differently in certain parts of the country. 
And please remember that since ingredients on products can change from time to time, this Trader Joe's Whole30 2021 shopping list should fit into a Whole30 plan at the current at the time of publishing this blog post.
If you do spot something that changes, be sure to let us know so we can update it!
TRADER JOE'S SECRET SHOPPING TIPS:

1. Shop during off-peak hours – Trader Joe's tends to be the busiest on Saturday afternoons, so it's best to avoid the store the store on those days if you want to avoid the crowds and ensure that your favorite products are in stock.
2. They have a great return policy – Not happy with your purchase. You can return the product with your receipt for a full refund – no questions asked.
3. Get the best bang for your buck on their extensive frozen food section – stock up on frozen foods.
4. Fun fact – did you know that Trader Joe's is happy to let customers "try before you buy" their ready-to-eat goods in-store? All you have to do is ask a store associate.
5. Shop their Fearless Flyer for the latest in-store deals and specials.
6. Stock up on popular items. If you're a fan of Trader Joe's cauliflower pizza crust, Everything But the Bagel Seasoning, Sweet Chili Sauce, pancake bread & cauliflower gnocchi, those are usually the first to go so it's a good idea to stock up if they fit your macros.
MY FAVORITE TRADER JOE'S WHOLE30 SHOPPING LIST FOR 2022:
With Trader Joe's changing up their stock fairly regularly, here are the best Whole30 foods to buy at Trader Joe's in 2022.
1.  Ghee / Clarified Butter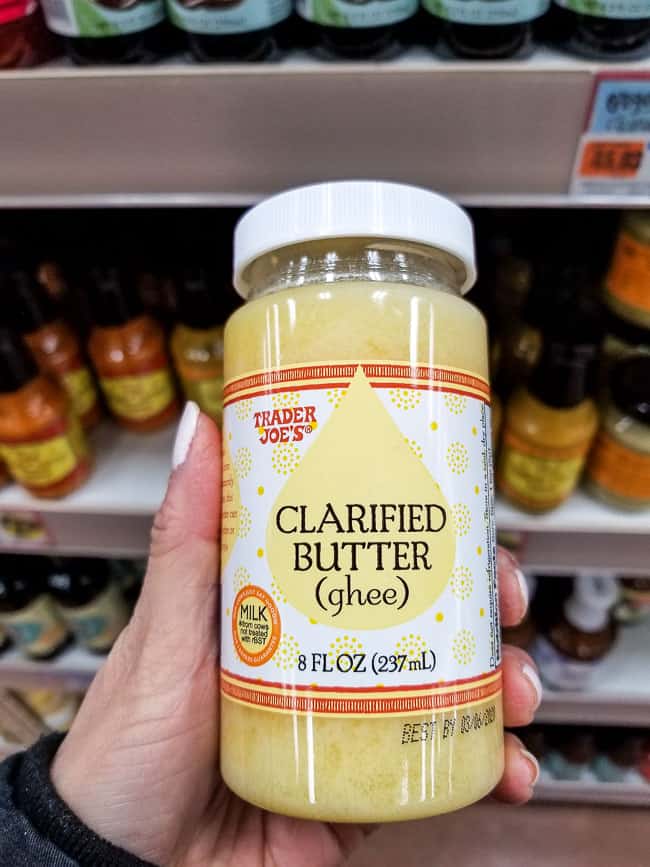 Ghee is highly-clarified butter that has less lactose because the milk solids have been removed. We use it to cook eggs, saute vegetables and in baking.

My Trader Joe's carries ghee at a great price so we always stock up.
2. Nuts, almond flour and chia seeds

Trader Joe's has a large variety of their in house nuts and seeds and it's usually cheaper than other brands – especially the roasted Macadamia Nuts.
3. Chomps beef and turkey meat sticks
These snack sticks are basically a healthy grass-fed version of the Slim Jim. But with real ingredients. They work great if you're looking for a high protein snack.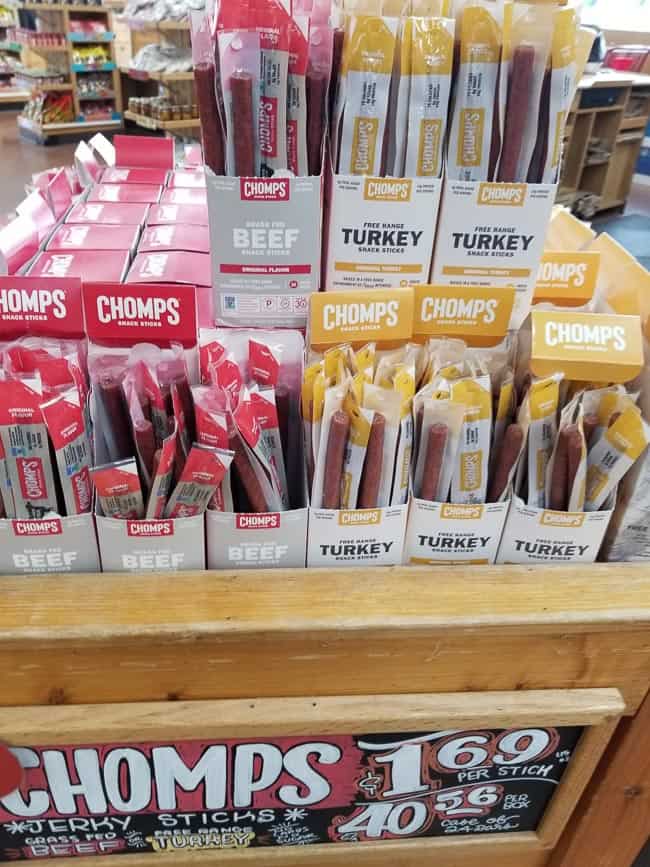 4. Guacamole

Avocado is my #1 Whole30 snack of choice – they have the full-size versions which are a great snack for on the go. And the mini teeny tiny avocados which are half the size and great for avocado toast. Avocado is full of healthy fats and the perfect way to get fiber and potassium into your diet. And if you don't feel like making your own guacamole – Trader Joe's has a ton of guacamole with no added sugars.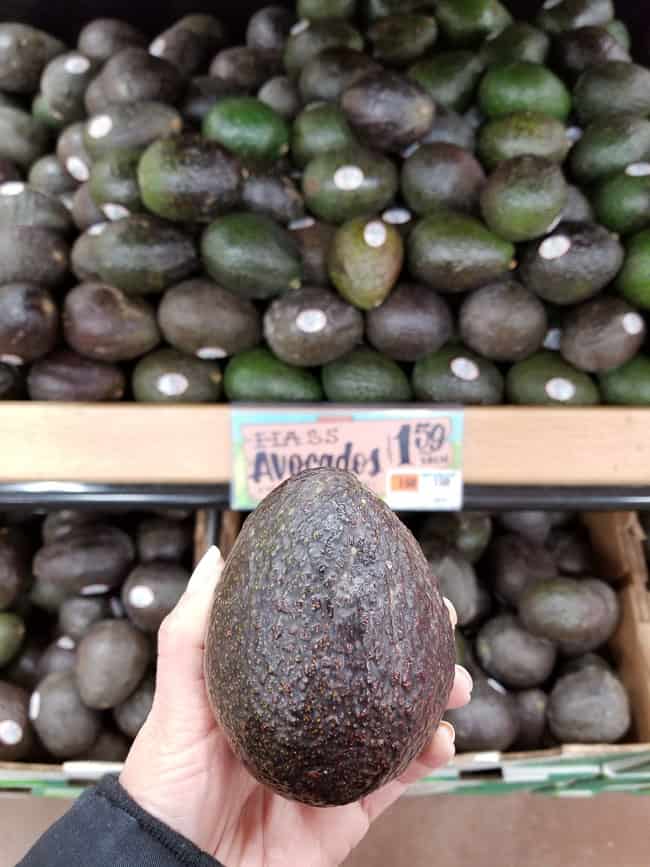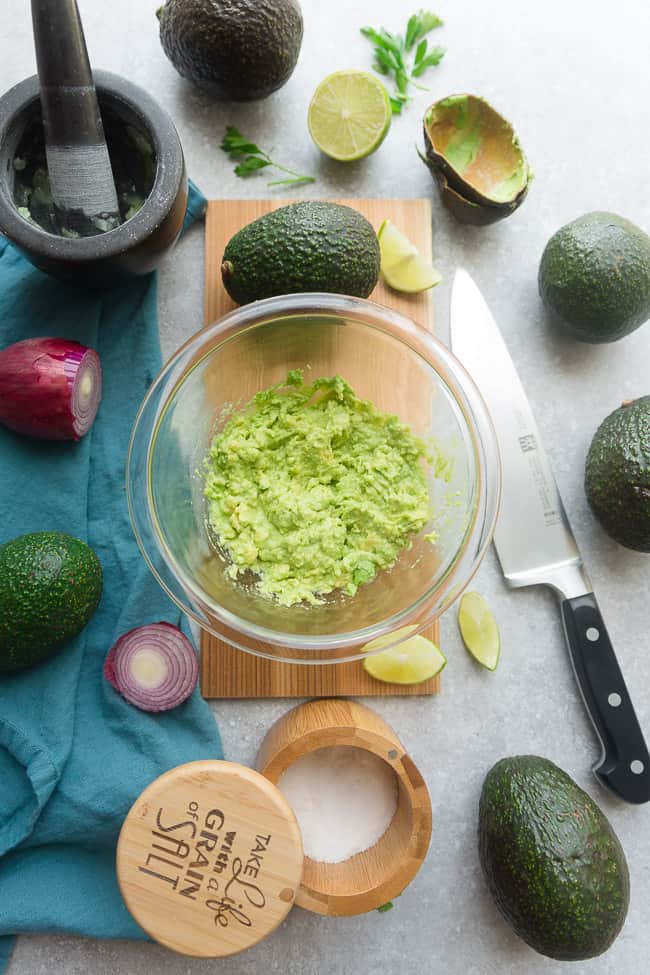 5. Organic Coconut Aminos
Coconut aminos is a low-glycemic, vegan, low carb, Whole30, paleo and gluten-free alternative to soy sauce. It is made from the aged sap of coconut blossoms and salt and is one of my favorite Trader Joe's products. They have it for such a great price so we always stock up on this as well.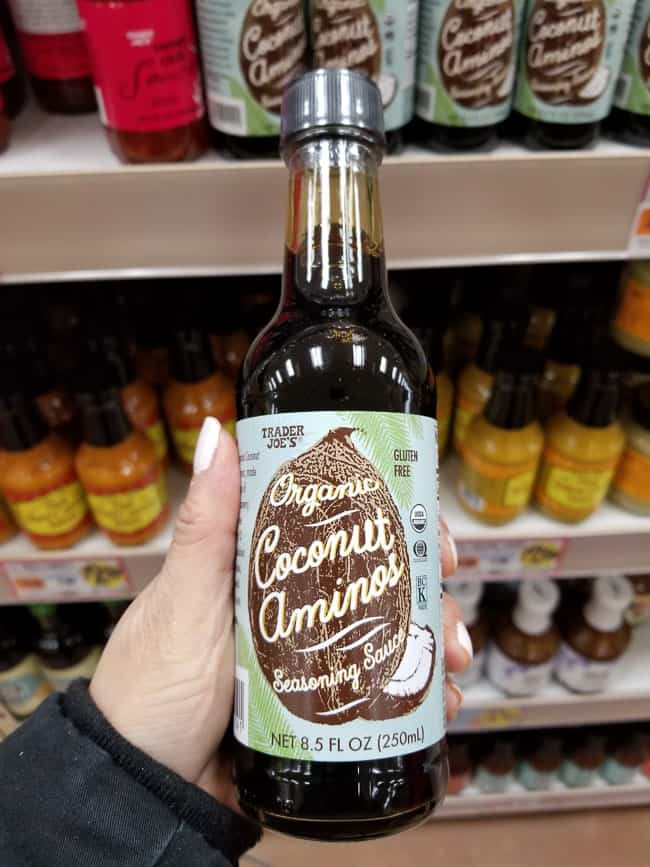 6. Organic Oven Roasted Turkey
Their in-house brand is comparable to Applegate with only 2 ingredients – free range turkeys with no added hormones, no nitrates, and no antibiotics.
We buy this deli turkey all the time to pack for our kids' school lunchboxes.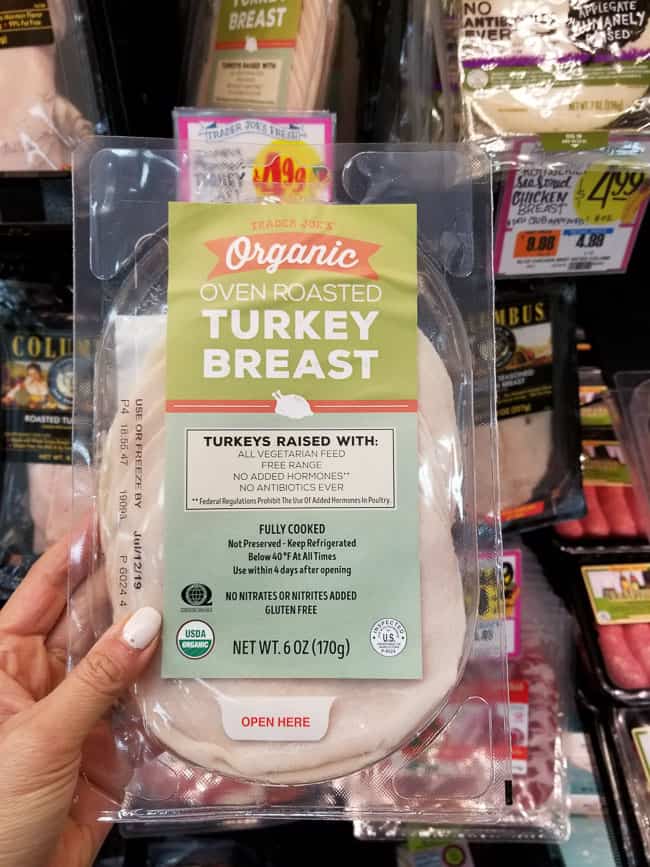 7. Grass-fed meat
Trader Joe's is one of the cheapest places where you can buy frozen grass-fed meat. They have great prices on burgers and this ground beef is only $5.99 for 16 oz.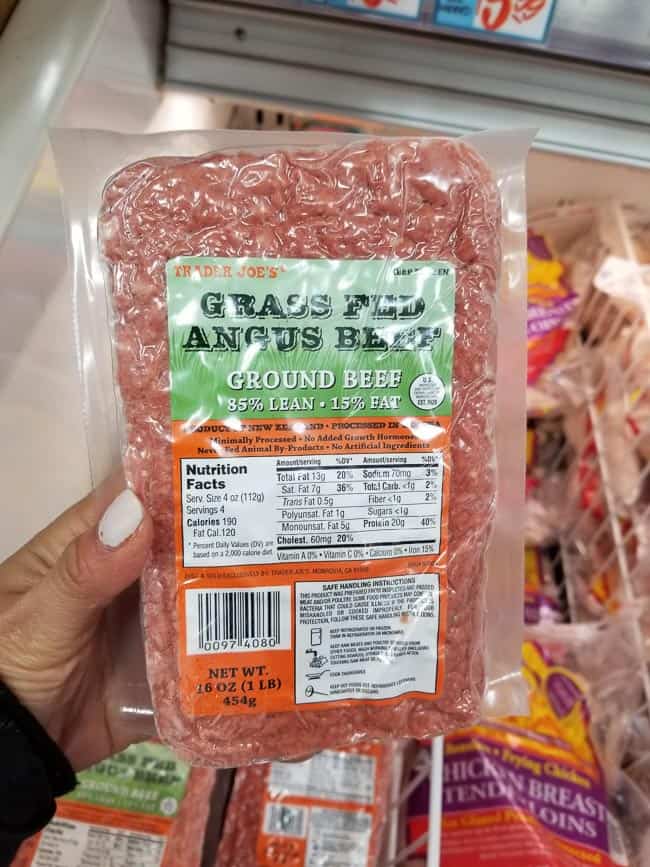 8. Epic bar

All natural game meat snacks that are healthy, natural, and a perfect Whole30 compliant snack.
Peanuts and peanut butter are not Whole30 compliant but if you're looking for almond butter, cashew butter, tahini or sunflower seed butter, Trader Joe's has an awesome collection with no added sugars.
We always get the no added sugar sunflower seed butter for the kids to take to school and my personal favorite has to be the Mixed Nut Butter with roasted cashews, hazelnuts, Brazil nuts, walnuts and pecans.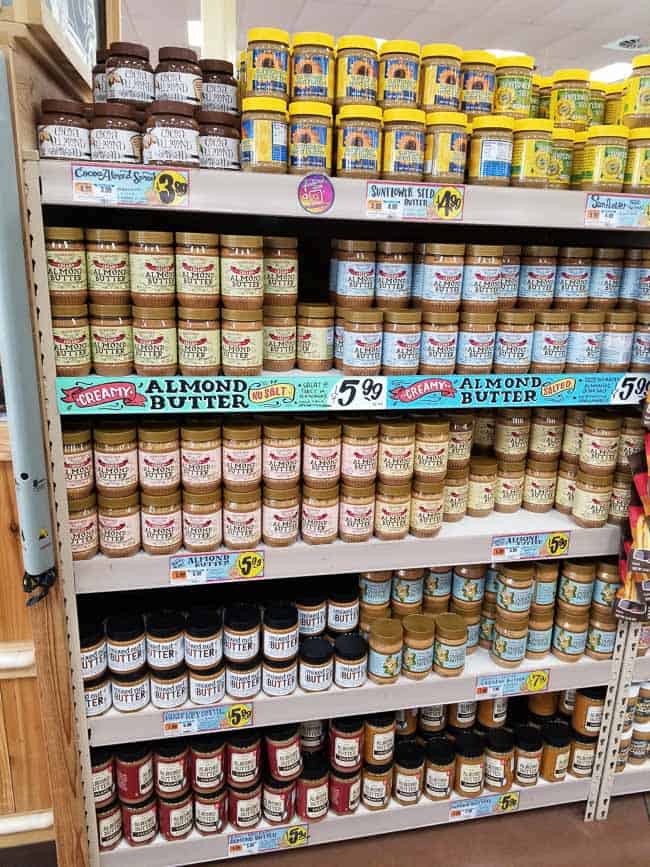 11. Salsa, Dips and Condiments
My husband is a total salsa freak and people are always asking us which Trader Joe's salsa is the best? Although the Pepita Salsa is a top contender, his other favorites are:
Non-refrigerated
Organic Thick & Chunky Salsa
Salsa Verde
Salsa Autentica
Hatch Valley Salsa
Garlic Chipotle Salsa
Organic Tomatillo Roasted Yellow Chili Salsa
Double Roasted Salsa
Refrigerated
Mild Pico de Gallo
Extra Hot Habanero Ghost Pepper Salsa
Salsa Especial
They're fresh and flavorful with a great ingredient list and perfect for burrito bowls and fajitas.
Dips – perfect for adding to meats or dipping veggies
Vegan Kale Cashew Basil Pesto
Garlic Spread Dip
Italian Bamba Hot Pepper Sauce
Jalapeño Lime Almond Dip 
Romesco Dip
Zhoug Sauce
Condiments
Napa Cabbage Kimchi
Raw Sauerkraut
Spicy Brown Mustard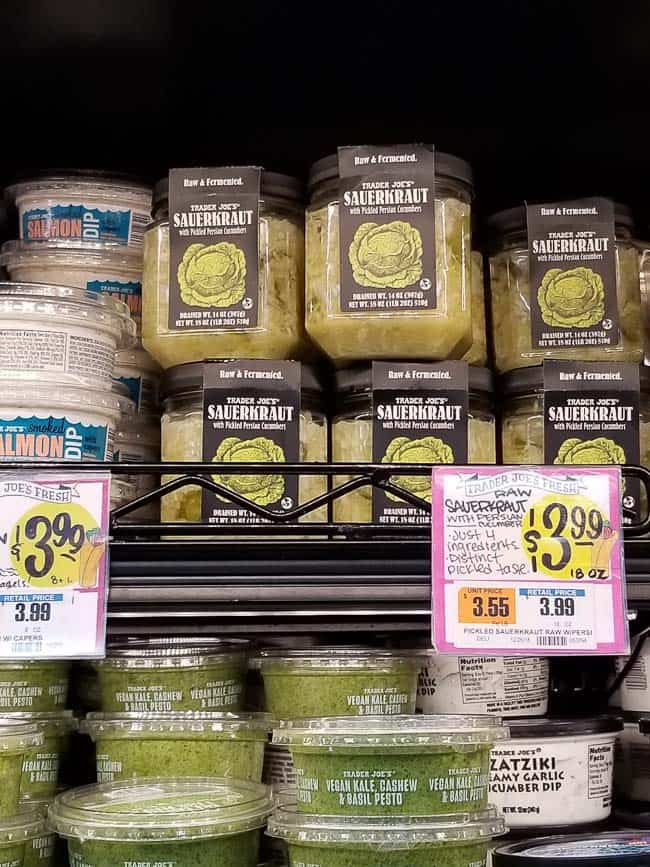 12. Green Goddess Salad Dressing
This is by far the best salad dressing you can find in a bottle. It tastes fresh and has all clean ingredients. It's perfect on any salad, eggs, chicken, steak and over zucchini noodles – it's Whole30, keto and paleo.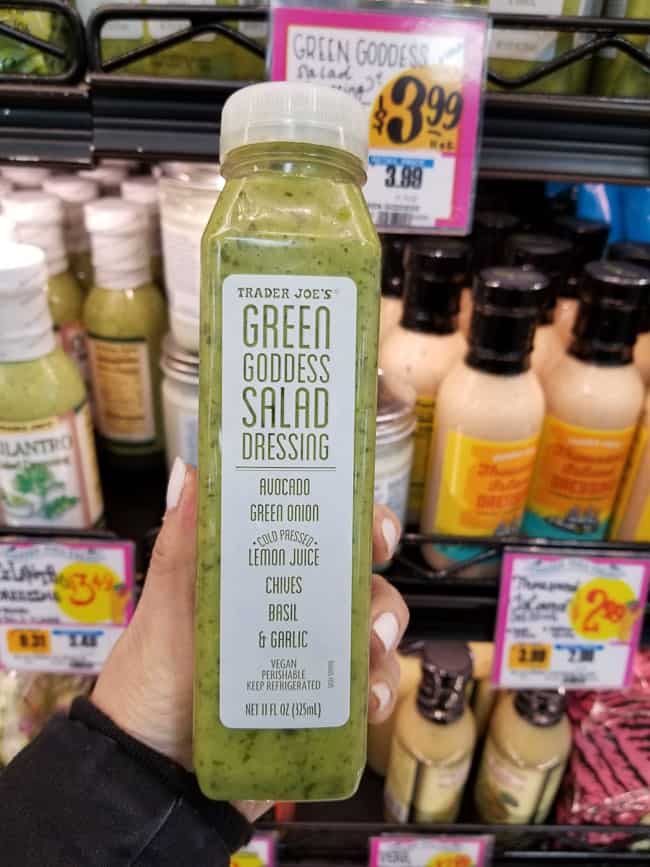 13. Frozen vegetables and frozen berries
rainbow cauliflower – add to stir-fries, roast in the oven or air fryer
Brussels sprouts – roast in the oven or the air fryer
green vegetable foursome
zucchini spirals, butternut squash spirals  – perfect in stir-fries or this Zucchini Noodles with Shrimp
organic strawberries – yummy for snacking or Whole30 Smoothie Bowls
raspberries – great for smoothies and snacking
14. Deli Section
Traditional carnitas – a convenient Whole30 protein option for the husband
Some of the chicken sausages are Whole30 – Organic Italian Chicken Sausage, Roasted Garlic Chicken Sausage and Jalapeño Chicken Sausage – convenient Whole30 protein option
Uncured bacon – be sure to look for the No Sugar Dry Rubbed Uncured Bacon since this is the only Whole30 compliant bacon at Trader Joe's and it makes convenient Whole30 breakfast protein option
Sliced prosciutto
Pork belly
Grass fed beef sirloin roast
Roast chicken breast – for adding to salads
Seafood:

Smoked Salmon Trio, Salmon Filets, Wild Sockeye Smoked Salmon, Everything But the Bagel Seasoned Smoked Salmon and Hardwood Smoked Ahi Tuna
Fresh Sea Scallops
Frozen foods and other Whole30 convenient Trader Joe's products we love:
Turkey Burgers  – clean ingredients, tastes delicious, high in protein & low in carbs
Chili Lime Chicken Burgers – clean ingredients, tastes delicious, high in protein & low in carbs
Shrimp – toss it on the grill and add it to salads or tacos
Chicken Thigh Meat – toss it in the Instant Pot for: Instant Pot Lemon Chicken with Garlic
Organic Chicken Breast Meat and Chicken Breast Tenderloins – cooked in the air fryer
Wings – great in the air fryer for the kids and the husband
Grassfed Angus Beef Burgers
Wild Sockey Salmon – we love making Air Fryer Salmon with this
We also love these seafood burgers but unfortunately they are not Whole30:
Premium Salmon Burgers – clean ingredients, tastes delicious, high in protein & low in carbs
Tuna Burgers – clean ingredients, tastes delicious
Easy Whole30 Snacks We Love
seasoned kale chips – clean ingredients & a crispy & healthier alternative for when you're craving chips
broccoli florets – clean ingredients & a crispy & healthier alternative for when you're craving chips
crispy okra – clean ingredients & a crispy & healthier alternative for when you're craving chips
freeze-dried blueberries, strawberries, raspberries – no sugar added & great for the kids' lunchboxes
roasted coconut chips, organic coconut flakes – great for snacking
dried unsulphured apricots and figs – no sugar added & great for the kids' lunchboxes or when you're craving something sweet
DOES TRADER JOE'S SELL PRODUCE?
Fresh Vegetables / Fruit
Trader Joe's has a diverse selection of organic fruits and vegetables at a great price. I love their convenient salad mixes and and prewashed vegetables.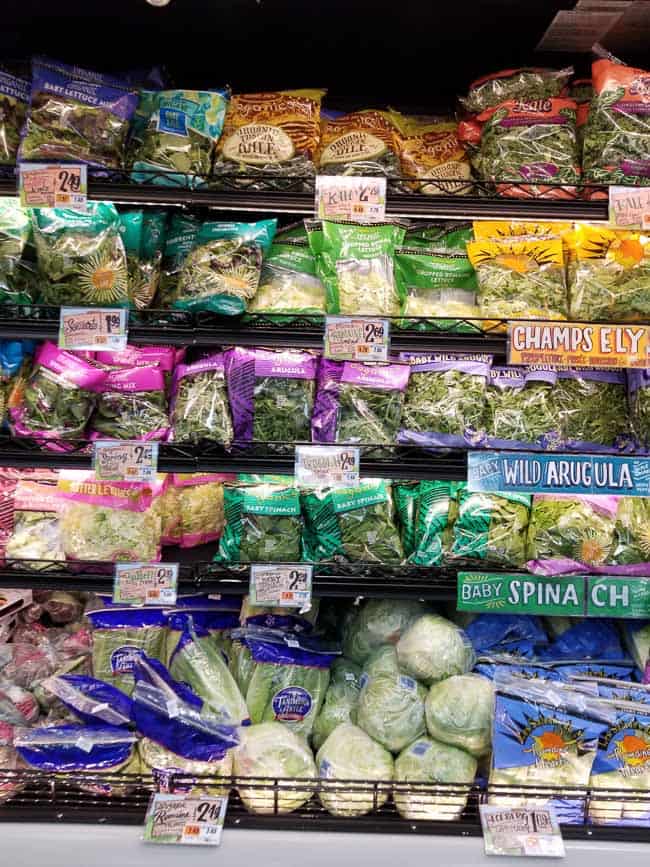 Also, don't forget to check out their conveniently prepared fresh foods:
With pre-sliced fruits and veggies like broccoli rice, cauliflower rice, jicama sticks, Brussels sprouts, kale, arugula, shredded cabbage, coleslaw, jicama wraps, asparagus, artichoke, chopped green beans and celery, sauerkraut you can find a fresh snack on the go!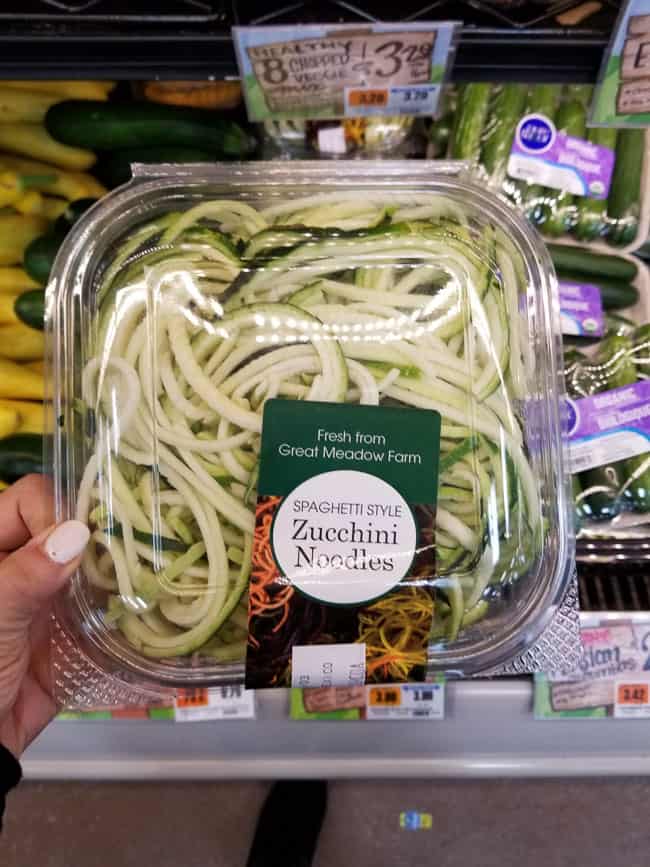 As you can see, their organic berries are on sale at reasonable prices.
DOES TRADER JOE'S SELL MEAT?
Trader Joe's has a small section of fresh meat and seafood. It works in a pinch if you're already in there and don't want to make another stop. But the prices are so much more expensive than Costco and the packages don't have a ton in them.
Other Whole30 Foods to Avoid at Trader Joe's
So here are some of the non-compliant things you shouldn't buy at Trader Joe's:
Broccoli Crust Pizza – contains high carb flours
Cauliflower Pizza Crust – contains high carb flours – you can check out our Low Carb Cauliflower Pizza Crust recipe HERE
Healthy Organic Juices and Drinks – many of these are sweetened with organic sugar, agave or other "healthy" sweeteners
Protein Bars and Drinks – many snack bars and drinks contain lots of fillers and sweetener with a long list of questionable ingredients and are not permitted on a Whole30 diet.
Veggie Straws or Corn Tortilla Chips – Trader Joe's has a massive selection of chips and sweets. However, many of them are made with high carb fillers and sweetened with weird ingredients and harsh on your digestive system
Some Whole30 recipes you might need:
Zucchini Noodles with Teriyaki Chicken